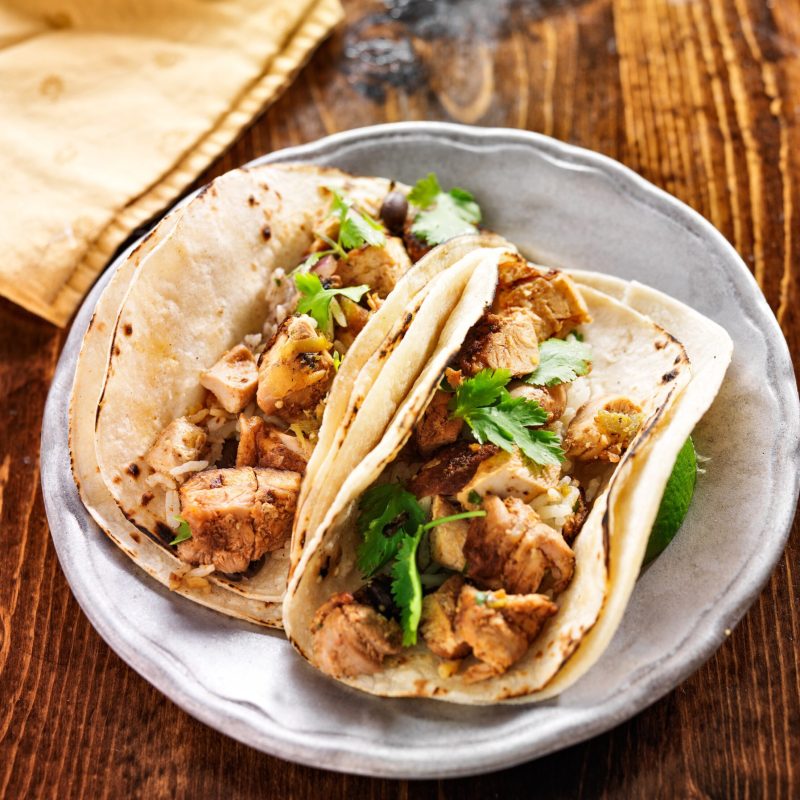 The Kansas City area — both the Missouri and Kansas sides — may be known for barbecue, but given the growing Hispanic population on the Kansas side, you'll find authentic tacos including asada, carnitas, cactus, and tripe, many prepared right in front of you. The restaurants are often located inside markets that sell freshly made tortillas and sauces, plus plenty of meats, spices, and specialty items like pork rinds and chicken feet.
After a trip to La Paz, Mexico, I wanted to see how the local tacos compared, so a friend with the Kansas City Kansas Convention and Visitors Bureau took me on a two-day taco tour. I sampled tacos from eight different restaurants during my delightful — and flavor-filled — excursion. I tasted traditional tacos like beef steak and shrimp as well as unique options like tongue and even a fruit taco.
Bonito Michoacan
At Bonito Michoacan we sought out authentic tacos and were not disappointed. No ground beef in a fried shell here. Instead we tasted three tacos: asada (beef steak), chicharron (pork skins with green tomatillo sauce), and lengua (beef tongue). The pork skins were soft and had a texture I'd never tasted in a taco. The steak taco was tender and flavorful. I'd only ever tasted beef tongue once before when I was a child. My aunt served it and made me try it. Perhaps this caused an aversion, but it was my least favorite of the three.
Most of these restaurants offer a condiment bar with a variety of sauces plus onions and other accompaniments, and Bonito Michoacan was no exception. That said, without knowing the heat of each sauce, I was careful to sample a little of each on the side.
Bonito Michoacan is a popular lunch spot and when we arrived the line in this cafeteria-style restaurant and market was long. As you pass through the line, you'll see a variety of Mexican dishes. The chile relleno looked delicious, but we were on a taco mission (I plan to return to try it another time). The variety, flavor, and authenticity of the tacos were spot-on. Bonito Michoacan is a definite favorite.
El Camino Real
There's a live performance waiting for you at El Camino Real. As soon as you walk in the door of this small restaurant, you'll see the chefs searing meat on the grill and placing it into soft corn tortillas. Just like street vendors in Mexico, there's a huge slab of grilled pork on a spindle that the chef slices from to create El Camino Real's al pastor tacos. We sampled the al pastor — or spit roasted– pork with pineapple and also tried chorizo and steak tacos. The tacos are served with cilantro, onion, and lime on top.
El Pollo Rey
Although still authentic Mexican food, El Pollo Rey is a little different than the other KCK taco restaurants we tried. Grilled chicken is their specialty, and you can see the large grill filled with chicken as soon as you walk in. It's charred and succulent, even if it is a bit smoky inside from the grill. We ordered the half chicken with homemade tortillas. Choose between a full chicken, half chicken, or buffalo wings.
The meals come with rice, beans, salsa, tortillas, and a baggie of pickled onions. At the end of the counter was a basket of the largest avocados I've ever seen. We ordered one and the person taking our order cut and scored it for us and placed it with the order. The chicken is amazing and El Pollo Rey is a local favorite.
El Torito Supermart
At El Torito Supermart you'll discover a large market with an abundance of meat selections, enormous fried pork skins, fresh fruits, spices, and other authentic Mexican foods. The store is as busy as the restaurant on the other side of the building. There, we sampled shrimp, cactus, and fish tacos, plus a succulent strawberry agua fresca — a fruit-infused drink that was sweet and slightly tart. It was my first time tasting cactus, or nopales, tacos and I was enamored with this vegetarian option that looked almost like green beans.
Torchy's Tacos
Torchy's Tacos is a small chain that serves "damn good tacos," if they do say so themselves — and we wholeheartedly agree. What started with a taco truck in Austin, Texas, has now grown to over 90 locations in 11 states. Start with a Peg Leg, which is a frozen margarita with a Corona turned upsidedown in it. (Unless it's morning, in which case you can sample a breakfast taco.) You can't go wrong with a little Hillbilly Queso — a green chili queso with chorizo. Then be sure to order a couple tasty tacos.
Each interestingly named creation comes with its own sauce on a corn or flour tortilla. The Republican features a jalapeño and cheddar sausage topped with pico de gallo, cheddar jack cheese, and poblano sauce on a flour tortilla. The Democrat has barbacoa, avocado, cotija cheese, cilantro, onions, and a lime wedge with tomatillo sauce on a corn tortilla. No matter where you stand politically, these two tacos will get your vote!
Carniceria Y Tortilleria San Antonio
You'll feel like you've stepped into a Mexican grocery and restaurant at Carniceria y Tortilleria San Antonio. Plan to peruse the aisles of food, smell the fresh-made tortillas and baked goods, and marvel at the diversity of spices, meats, and canned goods. Browsing really is an excursion in itself. Then take a look at the large menus hanging overhead. If you're not up on your Spanish, you may need to order based on the pictures. The tamales are exceptional — moist cornmeal with plenty of pork in the center and just the right amount of heat (if you like your food spicy, that is). We ordered our tacos with carnitas and also tried one of the tamales.
When my mom discovered this place accidentally, she said she came in, ordered something to go by pointing at a picture, and planned to leave when the food arrived. Instead, she sat down to taste it and wound up eating the meal right there, then ordering more to go.
Ninfa's
Popular with locals, Ninfa's offers a mix of American and Mexican food. The menu features platters including a meat plate, an enchilada plate, and a tamale plate. The entrees are served with rice, beans, and a flour tortilla. We had tasted so many varieties of tacos at this point that I was eager to sample something different — Ninfa's breakfast taco. I ordered the chorizo with egg served in a flour tortilla (this was the first taco we sampled not served in a corn tortilla). This came with soupy beans and fried potatoes. Instead of the chips-and-sauce appetizer many Mexican restaurants serve, Ninfa's servers bring out hot, fresh tortillas that are delicious slathered with butter and eaten immediately while you wait for your entrees.
Paleterias Tropicana
Paleterias Tropicana is a unique franchise with three Kansas City locations. The decor is bright and crisp with fun colors and a huge overhead menu with photos. Paleteria Tropicana gets creative with the taco incarnations it serves as evidenced by unusual items like fruit tacos. We ordered the Tacos Dorados, our only fried and ground beef tacos of the tour. They were crispy and juicy, just like you'd expect, and served with powdered cheese, avocado, sour cream, and a salad of shredded green cabbage, carrot, tomato, and cilantro.
The perfect end to our taco tour was an order of fresh-made churros with homemade ice cream.
The History Behind KCK's Taco Scene
Kansas City, Kansas, has a long and unique Hispanic heritage. Of the approximately 153,000-person population, 29.6 percent are Hispanic or Latino. According to the Kansas Office of the Governor, the history of the Kansas Hispanic community began with Mexican immigrants who came to Kansas to escape poverty or the Mexican Revolution beginning around 1900. This was influenced by the growth of the railroads and the need for labor during and after World War I. The area's Hispanic communities have grown, creating a need for Mexican grocers and restaurants. Given the restaurants and markets condensed within a small area of Kansas City, Kansas, it's the ideal place to take a tour and taste authentic Mexican cuisine.
Headed to Kansas City? Know these seven popular Kansas City barbecue restaurants and spend time in the Kansas side of Kansas City with these 15 things to do.