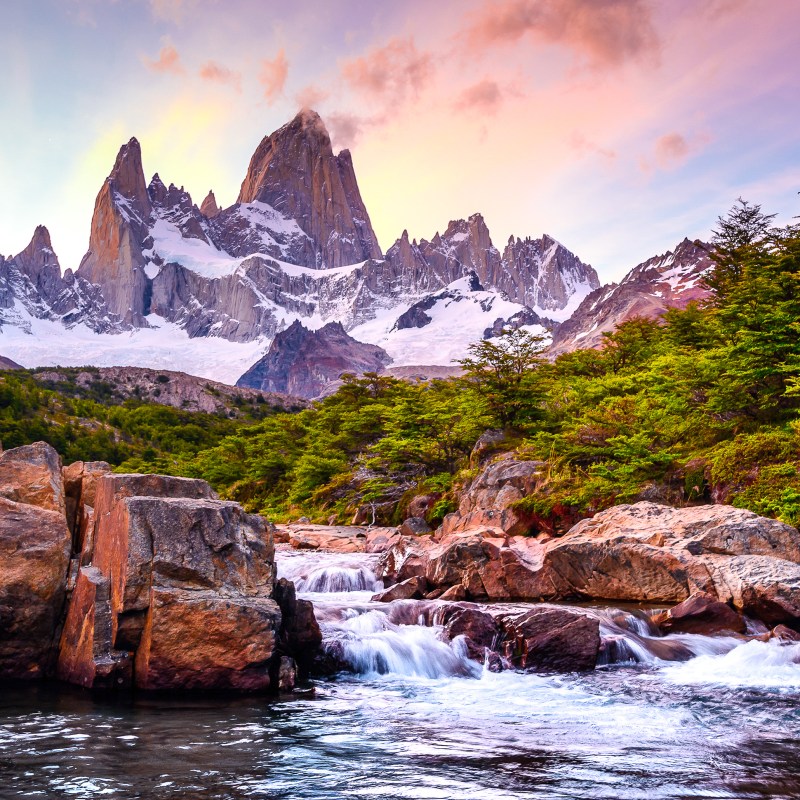 Argentina is one of my favorite places after a year and a half of world travel. In terms of land mass, it's the eighth largest country in the world, but having recently spent about four months in the country, I can't believe that one land has so much diversity.
I stood at the gateway to Antarctica, admired the beauty of Patagonia, hiked a glacier, drank fabulous wine, climbed rainbow-colored mountains, walked on salt flats, and was humbled by the convergence of nature in Iguazu.
While Argentina is an amazing place to visit, there are some surprising things you should prepare for if it's on your bucket list. Here's what I've learned.
1. Inflation Will Impact You Differently Every Day
The value of the Argentine peso is a moving target. If you're traveling with dollars or euros, food, lodging, and travel are cheap. The downside is that most people want to be paid in cash. This won't bother you until you enter the financial rabbit hole at an ATM.
First, you'll learn that national banks allow you to withdraw only 4,500 pesos per transaction; that's less than $100 as of October 2019. Luckily, this has nothing to do with your daily maximum withdrawal amount. Unfortunately, you'll pay a hefty fee for each withdrawal. Think a teller can help you? They told me to go back to the ATM and make multiple withdrawals. Picture the steam coming out of my ears. I also found that my U.S. bank card worked like a bullet in a round of Russian roulette. I had to try all the machines in a bank lobby to find one that would accept my card.
Foreign banks allow you to get up to 7,500 pesos at once. The fee is higher, but lower than what you'd pay to complete multiple 4,500-peso withdrawals. Once I realized how much money I lost getting cash, I decided to use credit cards. But I can't tell you how many times restaurants and stores that had card machines told me their machine wasn't working. I often wondered whether that was true.
I recommend you always have the equivalent of $100 in pesos. Especially in smaller towns, you may find that there's only one bank and your card is declined, or that the machine isn't working on a given day.
2. Ditch Your Diet
Whatever healthy eating habits you have should be put on the back burner before going to Argentina. The rumors that the best meat in the world is available here are true. I have high cholesterol. I went from eating meat once a month to eating it daily, sometimes twice a day. One of Argentina's fantastic delicacies is the asad: a plate filled with a variety of grilled meats. Make sure to try at least one tenedor libre. This is a buffet where you go up to the grill and point to every sizzling piece of meat you want and eat as much as you want. Of course, you should pair this with red wine.
Malbec is another reason to forget your diet. It's excellent and it's cheap, and you may end up drinking it three times a day. If you order it by the glass, they usually fill it to the top.
If you're vegetarian, a trip to Argentina may be a challenge for you. Aside from meat, you may feel that carbohydrates are your only option since most other restaurants serve pizza, pasta, and empanadas.
If you tire of meat and carbs, river fish is an unexpected delicacy. As a native New Yorker, I balk at eating river fish because my mind goes to the East River. I wouldn't want to touch anything that comes out of there, let alone eat it. In Argentina, however, pollution is minimal. Trout is available everywhere, but each city has another fish unique to its nearby river or rivers. One tip: Make sure to ask for the plain, grilled version. Otherwise you might find your fish smothered in melted cheese.
The only meal I found disappointing during my time in Argentina was breakfast. I felt like it was Halloween and they substituted candied apples with sucrose-laden bread and pastries. Even the cereal was sweet. The only escape from sugar was eggs or slices of ham and cheese. Did I mention I have high cholesterol?
I'm not sure how Argentinians survive past their teens. I can only presume it's because of yerba mate.
3. Embrace Sharing Germs
Yerba mate is a drink. Yerba is a plant grown in the Misiones region of Argentina. The dried leaves are placed into a mate, or cup. Warm water is poured over them and sipped through a metal straw called a bombilla. Throughout Argentina you'll see people carrying thermoses around and drinking it all day long. Yerba is reputed to lower cholesterol, and a recent study suggested it may delay the onset of Parkinson's. The true magic of yerba mate, however, is connection.
If you can bring yourself to share a straw with a stranger, you'll end up in fascinating discussions with potential new friends. My first sip of yerba mate was in El Calafate with two women from Buenos Aires. We stayed in touch, and when I visited Buenos Aires four months later, they traveled over an hour to spend the day with me.
On another occasion, a friend and I arrived in a small town with no place to stay. He left me to watch the bags while he sorted out accommodation. It was freezing, so I went into the nearest store. Within minutes I was sharing a mate with the shop owner. We spoke about life in the small town. When my friend returned, so did her husband. He drove us, and our bags, to our hostel!
4. Learn Some Spanish
Even a few phrases is better than nothing. You may find yourself in places where little or no English is spoken. If you don't have time or money to learn, watch TV. I met several foreigners who learned the language by watching Spanish soap operas!
Argentina has its own version of Spanish that stems from its Spanish colonization, its original inhabitants, and waves of European immigrants. Rest assured that if you speak any version of the language you'll find your way!
An endearing part of Argentinian culture is its informality. Everyone will greet you with either tu or vos. The latter is unique to Argentina and is a substitute for tu. The result of this familiarity? I felt like every stranger was just a friend I hadn't yet met.
5. Beware Of Dogs
Outside of big cities like Buenos Aires and Salta, dogs are everywhere. You'll think they're strays because they wander off-leash without collars.
In fact, most are well fed at home — and well fed by everyone else! They adopt a restaurant by day and go home in the evening. In between, if you're a dog lover and you pet them, you'll end up with a new friend. Be careful though, because they will often follow you. I once had three dogs follow me for an entire afternoon! They came on a hike with me and waited as I entered and exited shops. I was sad when they finally took off at dusk.
My favorite story was of a giant dog perched on the picnic table outside an asado restaurant. The owners explained that each day, when the dog was ready for dinner, he'd scratch his paw on the restaurant window and they'd bring him the day's scraps!
6. Understand Where The Beauty Lies
Argentina may be the only country I've visited where the majority of the interesting sites are outside the cities instead of the cities themselves.
Hiking the Perito Moreno glacier is one of the most amazing things I've ever done. (Note: They restrict the hike to people under 65.) It's easily accessible from El Calafate, a small town with gnome monuments as its main attraction. If you enjoy hiking, you'll want to go to El Chalten, which offers beautiful trails and views. The town itself, however, has only souvenir shops, restaurants, and places to sleep. The Iguazu waterfall is located a few kilometers from the town of Iguazu. Unfortunately, I couldn't believe that a place with so much tourism could be so run down.
Argentina is one of the most fascinating and diverse places I've ever been. Like anyplace, it comes with a unique set of challenges. One of the greatest things about Argentina is its people. Even when traveling alone, I never felt lonely. This country is full of some of the most beautiful land and animals in the world and, more importantly, some of the most beautiful people you'll ever meet.
Traveling South America? Here are eight reasons to add Santiago, Chile to your travel bucket list.