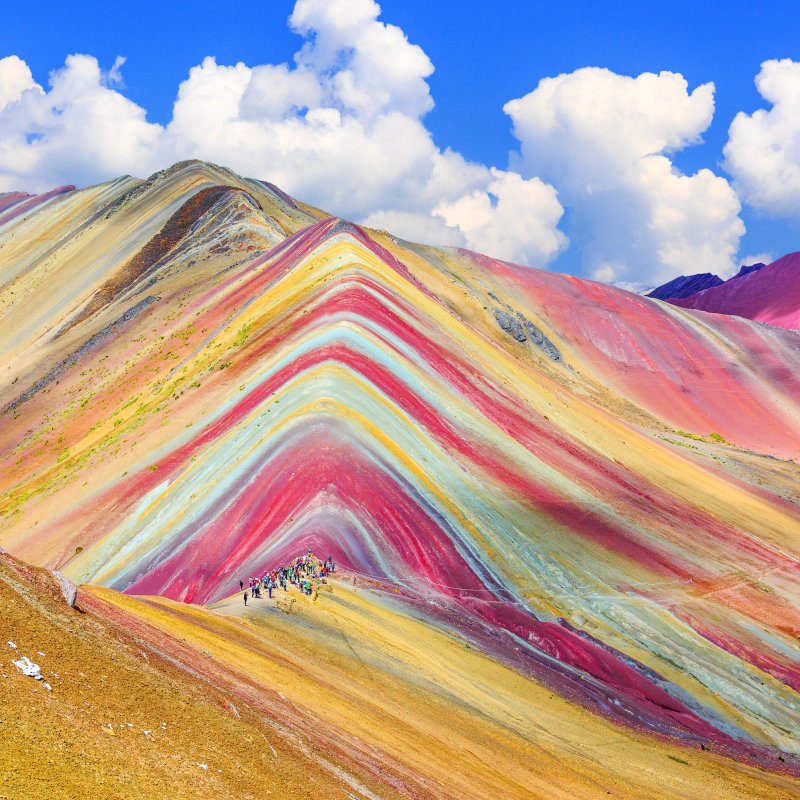 Peru's Rainbow Mountain, also known as Vinicunca, is a marbled masterpiece of oranges, yellows, reds, and dusky pinks. This Andean peak has rapidly become one of Cusco's main attractions after Machu Picchu. Once inaccessible to tourists, Rainbow Mountain is now open to everyone with an adventurous spirit and the desire to see what looks like a painted prism perched right at the top of the world.
Venturing To Vinicunca
Rainbow Mountain is an easy day trip from Cusco, but you'll need to leave at the crack of dawn. Although you can do it on your own, it's highly advisable to go with a tour group since the journey to Rainbow Mountain takes several hours and some of the roads aren't well developed. Also, summiting Rainbow Mountain should only be attempted by serious climbers. Tour companies based in Cusco will drive you halfway up the mountain, where you can enjoy the splendor of the myriad of colors without making the ascent from ground level by yourself.
Most tours include breakfast, transportation, lunch, and some snacks for your journey. Although you'll begin your hike partially up the mountain, it is still fairly strenuous, so remember to wear sturdy hiking boots and dress in plenty of layers. Bring a poncho — even in the dry season — in case it rains. You can't be too prepared for this trek!
The Rainbow Connection
Rainbow Mountain's spectacular coloration is the result of a combination of erosion and dense mineral deposits. Iron oxide and sulfide make up its bright bands. Unfortunately, the only reason we can see this pigmented peak is global warming. Elders who live in a village near the mountain say it was covered in glacial snow, but that's since melted, exposing the rainbow below.
The Logistics Of Hiking Rainbow Mountain
Trek Rainbow Mountain between May and September when Peruvian weather is driest. Wet terrain can be dangerous and unpleasant on the mountain, and if the face of the peak is shrouded in fog or obscured by rain, you won't see the colors anyway.
At 5,200 meters or 17,060 feet, hiking around Rainbow Mountain poses additional altitude-related challenges specifically related to the level of oxygen in the air. Anyone, regardless of fitness level or age, can be affected by altitude sickness. Drink plenty of water during your hike and refrain from consuming alcohol the night before. If you start to experience dizziness, heart palpitations, headache, or disorientation, tell your guide and seek lower ground immediately.
Want to hit the trails closer to home? These are the best hikes in Rocky Mountain National Park.
Hiking on any mountain is challenging, and Rainbow Mountain is certainly no exception. Be honest with yourself about your physical aptitude and prepare for a full day of exertion at very high altitudes. Get a good night's rest the night before and eat plenty of lean protein and complex carbs to fuel your climb.
At these heights, sunscreen and layers are your best friends. Although the temperature might be cool, the sun is still potent when you're high in the Andes. Use SPF 50 (at least) and wear lots of breathable layers. Make sure that your top layer is waterproof and easily stuffed into a day pack.
Rainbow Mountain is a geographical masterpiece; part of a remote painted world that needs to be seen to be believed. Put this marvelous mountain on your Peru must-see list!