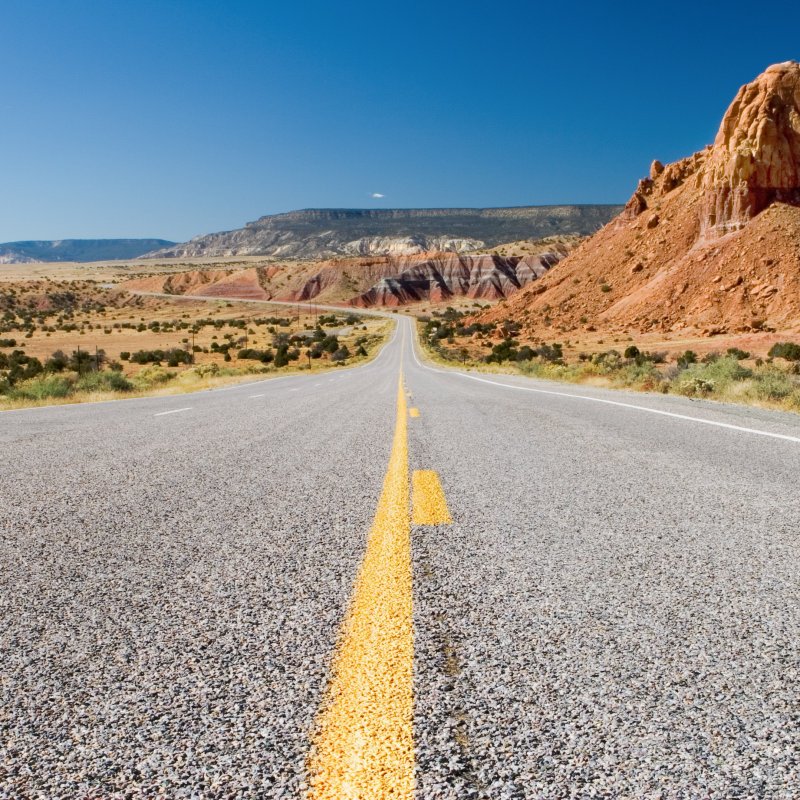 My husband and I like road trips. We like everything about them: the being alone together, just talking and watching the landscape roll by, discovering whatever may come our way.
A big part of the fun is — usually — discovering good food along the way. We're drawn to local specialties of all kinds. We read all the online guides we can find, take friends' recommendations, check out guide books, and choose the best-sounding places, whether they're high-end white-tablecloth establishments or hole-in-the-wall donut stands. We're not picky.
Of course we've had some disappointments, but we're pretty philosophical about it because — hey! — there's always the next meal!
But our latest trip was a record breaker and not in a good way. Eight for eight: Eight lousy meals in a row. How could it be?
The trip started off well enough; the southern New Mexico scenery was stunning and the small towns promised exactly the kind of mom-and-pop establishments we love the most.
First stop was a late lunch in tiny Carrizozo, which offered only two options. We chose the one with a colorful exterior and a few more cars in the parking lot. A busy parking lot is often our very discriminating determining factor.
The menu was just what you'd expect for lunch in southern New Mexico: sandwiches, burgers, and a few New Mexican items. No problem. First we asked for iced tea. Bad start. We took several sips and questioned if it was actually tea — or possibly dish water. Our server graciously exchanged our teas for sodas and we ordered lunch. You need to know we'd been on the road for hours and were feeling starved. But despite our hunger, we barely touched our lunches. In fact, the plates could have been served to the next people and they'd never even know they were getting our leftovers — not that they would have enjoyed them either.
Oh well. Off we headed toward our evening accommodations. We checked with the host at our bed and breakfast regarding local dinner options and settled on a diner. The knotty pine walls covered with family wedding photos and mounted taxidermy did give me pause, but it was getting late and this was probably our last chance to eat for the night. Carefully looking over the menu, we both settled on chicken fried steak. I did have a rationale for this: I was confident the fancy steak items described on the menu were too ambitious for this little establishment, but I figured they could handle this all-American standard.
The first surprise came when we were asked to choose side vegetables. How about macaroni and cheese? Hmm. I never knew mac and cheese as a veggie but okay. It sounded tasty as I envisioned my grandmother's toasty, bubbling mac and cheese. Later — much later — our plates arrived with an enormous breaded something smothered under a half inch of white gravy, along with mashed potatoes and mac and cheese (not an Atkins-approved low-carb meal!). The mac and cheese looked like softened giant macaroni stirred with cheese whiz and, in fact, that's exactly what it tasted like. Cold. I gamely scraped the ocean of gravy from the "steak" and had a few bites of the breading and eventually even found some bits of meat.
Back at the bed and breakfast, our host enthusiastically bragged on his wife's breakfast, which we were set to enjoy the next morning. We arrived last to the communal table, where the other guests had apparently already had their allotment of her "famous" breakfast casserole. Two sad little two-inch squares of some kind of congealed egg and sausage concoction waited for us along with orange juice, serve-yourself watery coffee, and our single designated biscuit each.
After eating as much of the hearty repast as we could stomach, we set off for our next destination. Needless to say we were ready for an early lunch.
"How about there?" Larry spotted a large, pretty place with a promising Spanish name and I quickly concurred. I mean, how can you ruin tacos and enchiladas? The server asked if we'd like guacamole and sour cream with our lunches. Sure! We each got a slim slice of avocado served in a tiny paper cup ($3.50 each). I heard her explain to another table that they had run out of guacamole — a fact she neglected to share with us. Once again, I had a rationale. I ordered a combo plate, knowing it would probably be more than I could eat but reasoning that I surely would find something I liked. Wrong again. I tried. Larry tried. He graciously commented that he liked the red chile sauce, despite the chips tasting stale.
I noticed the woman at the next table left most of her lunch uneaten. And soon we did the same. The server brought the bill and removed our nearly filled plates without comment. A sign posted at the cash register urged customers to "be judicious" if they felt the need to pull their firearms while in the restaurant! We headed out in search of better cuisine and a calmer atmosphere ahead in the slightly larger town of Ruidoso.
Now we had our pick of numerous restaurants and we looked forward to a delicious, hearty dinner. We chose a bar and grill just off the main drag. This time parking was difficult to find and so we were really getting our hopes up.
We both chose pasta. We were hungry and again thought, This can't be too difficult. I ordered wine. I didn't recognize any of the by-the-glass choices and took a chance. Oops. Not good. The beverage I was served tasted as if it was half water, half wine. I apologized to our server and asked for something else. He removed the glass and brought a more drinkable substitute. Our Caesar salads arrived. Honestly, I think they could have been tasty, but it seemed like the lettuce had been washed and then had the dressing added while the lettuce was still underwater. Then came the pasta dishes. Mine was spaghetti with sausage and mozzarella; Larry had lasagna.
At this point I wanted to cry. The flavors were really quite good, but clearly the dishes had been prepared in the distant past and then reheated in a microwave. The very center of the dishes were warm, but everything else was barely room temperature. Either their microwave needed a tune-up, or the microwave operator needed instruction. Larry caught the attention of a passing manager who took his dish back to the kitchen and returned it with little improvement. By this time I was simply hungry so I ordered dessert — a rarity. I can't even recall what it was. As we left, the chef emerged from the kitchen, apparently curious about the complainers. He followed us all the way to the exit but never said a word. I mentally rehearsed what I might say, but in the end, I remained silent, too.
Suffice it to say, the next morning's breakfast did nothing to break our record, but it did discourage us from even trying for lunch.
Not surprisingly, by dinner we were hungry and not feeling very adventurous. We hoped a chain steakhouse might fit the bill with hearty, predictable fare. Sorry! Our server told Larry they had run out of baked sweet potatoes as well as his first-choice steak. I was luckier. I actually loved my baked potato. They brag on their salad bar, and I should have stopped there. But we were in a steak house after all! I ordered prime rib. I have never had a piece of beef with absolutely no discernible flavor, but I might as well have become a vegetarian that night. This time the server did take note and, mercifully, we were not charged.
We had one more chance: breakfast the next morning. We weren't leaving this meal up to fate, so we consulted TripAdvisor. The very best breakfast in Ruidoso? Well, a couple places get 4.5 stars, but even McDonalds gets 4 stars, so there!
Discouraged but hopeful we gave local cuisine our final try. What is so challenging about getting food to the table while it's still hot? Or at least warm? Especially eggs. A cold omelet is really not appetizing. Dead spinach and shiny chilled cheese? On the bright side, they served Pinon coffee, which I'd long wanted to try. Done. And I don't need to do it again.
Okay, maybe we're spoiled. We live in Santa Fe and admittedly have many good — even great — restaurants to choose from, but this was so bad it became funny.
There was one bright spot I must mention. We stopped at a pistachio farm — a full-on tourist attraction that offers tours of the orchard, tastings of local wines, buckets of various flavors of pistachios with families crowding around, souvenir t-shirts, postcards — the works. You know the place. Well here, in this most unpromising spot, we happened to have our only culinary treat of the trip: some of the best ice cream we've ever had.
It was creamy, cold, thick, rich, and delicious. Here on a quiet highway in southern New Mexico, ducking out of a rare rainstorm, next to screaming babies, tired moms, and aggravated dads, we had without question the best food of our road trip: big cold cones of memorable pistachio ice cream.
Want to eat well in New Mexico? Here's Santa Fe's best food: what to try and where to find it.