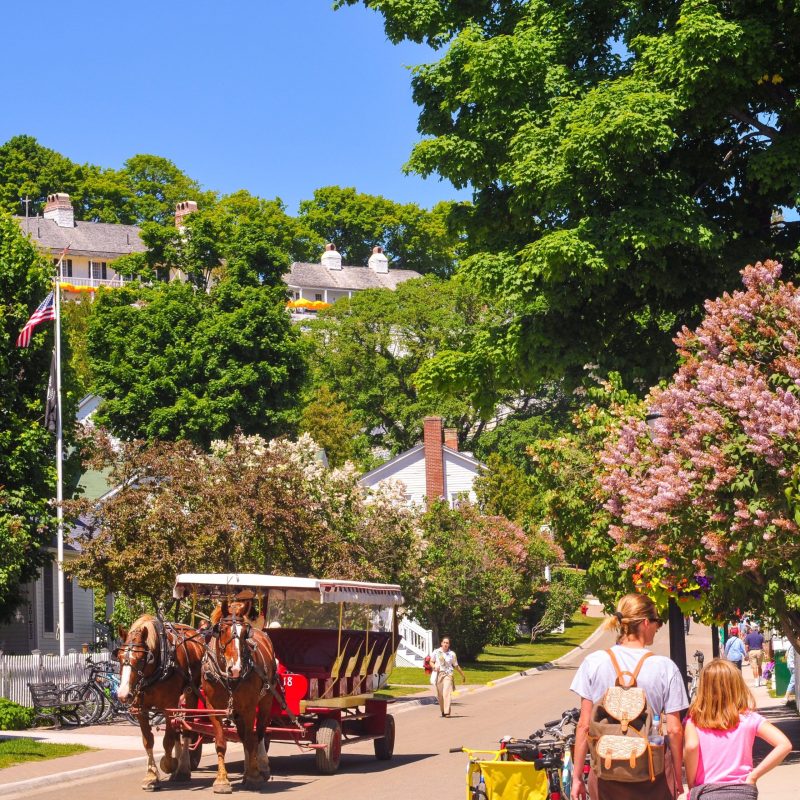 In an ever-changing, constantly moving world, it's nice to take a break from the hustle and bustle of daily life.
There are places all around the world that take a step back from the world we know — a world where we rely heavily on cars to get around. These include at least seven cities in the U.S. that are completely car-free.
Read on to learn about cities around the country that provide a fun and serene getaway.
1. Halibut Cove, Alaska
Halibut Cove, Alaska, is one of the world's only floating towns. The small village is located in Alaska's first state park, Kachemak Bay State Park. You can access the area by water taxi from Homer, Alaska, which is about 6 miles away.
During your time in Halibut Cove, you can soak up the untamed beauty of Alaska on a guided tour through the state park. The guides work with hikers of various skill and fitness levels, so the tours are fun for all ages.
Or, if you want to experience the scenic area while sitting down (and who doesn't?), book a boat tour around the bay.
Best of all, Halibut Cove is completely car-free. There are only two ways to get around: by foot and by water.
2. Supai, Arizona
Supai, Arizona, is known as the most remote community in the lower 48 states. The nearest road is 8 miles away. If you want to visit, you'll have to travel by foot, mule, or helicopter — even the mail is delivered by mule!
The area is inhabited by the Havasupai people, known as "the People of the Blue-Green Water."
If you plan to visit by foot, you're in for a tough — but rewarding! — adventure. You'll hike 8 miles from the Hualapai Hilltop to Supai, and once you've completed the hike, you'll be greeted by the massive waterfalls that made the area famous.
Since the village is so far from civilization, when the sun falls, you won't see a single light for miles. Stargazers will adore the night sky of Supai.
3. Mackinac Island, Michigan
Mackinac Island, Michigan, is a popular resort island that thrives without cars. To get around, you'll need your feet, a bike, or a horse.
You can get to the island by driving to Mackinaw City, Michigan, or Saint Ignace, Michigan, and then taking a ferry from either town. The nearest airports are Pellston Regional Airport in Pellston, Michigan; Mackinac County Airport in Saint Ignace; and Chippewa County International Airport in Kincheloe, Michigan.
In addition to being without cars, the island has no chain hotels. While there, you can enjoy breathtaking natural features like Arch Rock and Crack in the Island Trail or take a boat tour to a nearby lighthouse.
Mackinac Island is known for its scrumptious fudge — there are 13 fudge shops on the tiny island!
4. Fire Island, New York
A ferry to New York's Fire Island departs from three cities on Long Island: Bay Shore, Patchogue, and Sayville. The island is only accessible by ferry, and once there, you can only get around on foot, on a bicycle, or on a wagon.
The island offers fun beach activities for people of all ages. If you like to hike, explore the Sunken Forest, an old maritime forest with dunes that isolate the park from the outside word. If you like to bike, follow the trail by the water. The island's picturesque beaches are perfect for exploring on foot or viewing from above by parasail.
5. Bald Head Island, North Carolina
Bald Head Island in North Carolina is a paradise for golfers. The car-free island offers an expansive golf course — Bald Head Island Club — as well as croquet, tennis, swimming, spas, and beaches. There's also a fun ghost tour, and ocean lovers can rent a kayak, sailboat, or stand-up paddleboard. Who needs cars?
Every November, there's a Roast & Toast on the Coast event that celebrates life in the South. The event includes an oyster roast and other yummy food.
Visitors typically fly into Wilmington International Airport in Wilmington, North Carolina, about 30 miles away from the island. From there, you can take a ferry the rest of the way.
6. Tangier Island, Virginia
On Virginia's car-free Tangier Island, you can learn about the soft-shell crabbing industry that is central to the community.
While there, enjoy fresh seafood straight from the surrounding Chesapeake Bay. If you want to get out on the water, borrow a kayak or canoe from the dock (for free!) and explore the water trails around Tangier and the neighboring marshes.
To see the island for yourself, take a ferry from Reedville, Virginia; Onancock, Virginia; Chincoteague, Virginia; or Crisfield, Maryland.
7. Governors Island, New York
Escape the hustle and bustle of life on a day trip to lovely Governors Island right outside New York City. The 172-acre paradise is located right in the heart of New York Harbor near Lower Manhattan and Brooklyn.
On the island, you can experience a 300-foot-long zip line with unparalleled views of Manhattan, get lost in a 3,600-square-foot maze, go rock climbing, go kayaking, and more. This small car-free oasis is lots of fun for all.
If you're planning a trip to the Netherlands and love a car-free vacation, you must put Giethoorn, a charming village without roads or cars, on your bucket list.