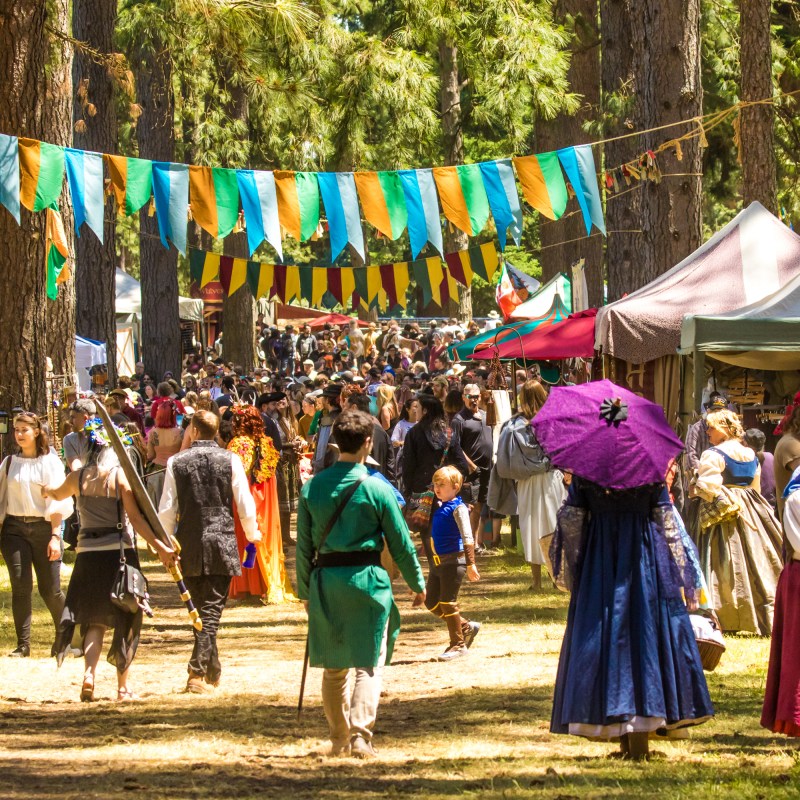 America has some of the best festivals and fairs around, especially when it comes to Renaissance fairs. Dedicated actors populate the grounds with authentic costumes; knights take to horses and joust with one another; vendors sell their medieval – and fantasy-themed wares, and we, the attendees, get to join in with our own costumes as we sample meals, select treasures to bring home, and cheer for the white — or red — knight as they take to the field on horseback.
There are literally dozens — even hundreds — of these fairs and fests taking place each year. These 13 are the absolute best ones you'll find coast to coast. Any one of them is well worth a special visit to the area just for the Renaissance event.
14 Best Renaissance Fairs In the US
1. Arizona Renaissance Festival
Gold Canyon, Arizona
February 4 – April 2, Saturdays, Sundays, and President's Day
Taking advantage of the warm weather, Arizona Renaissance Festival starts in February. Fairhaven village lies east of Phoenix in Gold Canyon, Arizona, near Apache Junction. The 50-acre Renaissance-themed amusement park is made up of live entertainment on 16 stages, an arts and crafts fair, jousting tournaments, and more.
Feasting is also big here, with a pirate-themed five-course meal called The Pleasure Feast. Each weekend has a theme such as Battle of the Bards! or Wizards & Warlocks, Dragons, Unicorns, Mermaids; Mythical and Magical Creatures Abound! Shop handcrafted wares at the 200-plus elaborately adorned shops.
Don't Miss: Popular shows such as Don Juan and Miguel, Ded Bob, Hey Nunnie Nunnie, and The Tortuga Twins.
Don't Miss: Not only does the Minnesota Renaissance Festival Daily welcome dogs, but it also holds a daily dog race on the Joust Track.
2. Sherwood Forest Faire
McDade, Texas
March 4 – April 23 (Weekends) and Friday, March 17
For those looking to experience Merry Old England in a slightly different way, the Sherwood Forest Faire in McDade, Texas, is a splendid opportunity. The fair highlights the fun and mayhem of Robin Hood and his band of merry men, who roam the grounds trying to avoid the Sheriff of Nottingham.
The fest has 40+ stage acts, a fairy tea party for the little ones, parades, family-friendly shows, rides, and games that the whole family can enjoy. Delicious food, of course, can be found throughout, along with more than 150 talented artisans selling wares and take-home treats. See craft demonstrations, watch combat shows, or just hunker down for an afternoon of good mead.
Don't Miss: The Hawk Walk! An experienced falconer takes guests on an educational, interactive experience on the historical art of falconry. In addition to getting to watch the bird of prey interact with its trusted human companion, guests get to hold out their gloved fists for a flying hawk to land on!
Don't Miss: The fair's daily pub crawl!
3. Medieval Fair Of Norman
Norman, Oklahoma
March 31 – April 2, 2023
Less than 30 minutes south of Oklahoma City, the Medieval Fair of Norman has been running since 1977 and is one of only a few free medieval fairs in the country. It lands on the first full weekend of April unless that is Easter. Yes, the fair only runs for one weekend, so plan accordingly.
Modeled after a spring market fair in the town of Avalon in the year 1360, the "MedFair" was started by a group of University of Oklahoma grad students. Today, the medieval-themed arts festival is a living history featuring educational exhibits, games, over 40 food vendors, arts and craft demonstrations, and entertainment on seven stages. You can enjoy the king's court and witness mermaids, jousting knights, jugglers, dancers, and wandering minstrels as they keep the medieval village active from 10 a.m. to 7 p.m. all weekend.
Shop 180-plus artisan and maker booths in the 14th-century market. Offerings range from wood crafts and stained glass to armor, costume pieces, jewelry, hair garlands, and watches.
Don't Miss: King Arthur and his knights, Lady Mermaid, and Simpkin the Fool.
to miss out. If you show up with friends or family members who are all decked out, just grab a tunic or gown and blend in with ease.
4. Scarborough Renaissance Festival
Waxahachie, Texas
April 8 – May 29, 2023 (Saturdays, Sundays, and Memorial Day)
Another amazing Renaissance fair in Texas is the Scarborough Renaissance Festival hosted in Waxahachie, south of Dallas. The fest runs from early April to late May each year. It sprawls over more than 35 acres of land and boasts two dozen stages for live entertainment. With over 200 acts — including swordplay, comedy, and musical shows — you'll never run out of things to watch and do all day long.
You can enjoy steak on a stake, shepherd's pie, a mug of ale, and other Scarborough classics, all while perusing the wares of artisans selling handicrafts, costume pieces, old weaponry, and more.
Don't Miss: Villagers, knights, nobles, and artisans march through the village for the Grand Parade, held every day at 1 p.m.
Don't Miss: Stay for the Royal Fireworks that take place every evening.
5. Bristol Renaissance Faire
Kenosha, Wisconsin
July 8 – September 4, 2023 (Saturdays, Sundays, and Labor Day)
The Bristol Renaissance Faire in Kenosha, Wisconsin, is basically the Renaissance era fair for Chicagoland. It's only about an hour away from the city and runs all summer long — from early July to Labor Day each year. During the fair, the grounds are filled with more than 200 talented artisans selling wares like jewelry, pottery, wooden mugs, corsets and costume pieces, feather fans, pewter goods, and crafted leather.
Take in some jousting matches, watch hand-to-hand combat or knife-throwing shows. Or, if you want to try your hand at the sports of yesteryear, you can throw axes, shoot crossbows, and even do some sword fighting for yourself. Some of the more interesting shows you might catch include Moonie — a longtime attendee and performer at Bristol who communicates a lot more through whistling than you'd believe possible — and the Fire Whip Show by Adam "Crack" Winrich.
Bristol is a great fair for families thanks to the pony rides, kid-focused entertainment, and activities for the young fry, but you'll also find specific shows in the evenings that are geared toward adults.
6. Minnesota Renaissance Festival
Shakopee, Minnesota
August 19 – October 1, Weekends, Friday, September 29, and Labor Day, 2023
The Minnesota Renaissance Festival in Shakopee, Minnesota, has nearly 50 years of experience bringing together one of the top-rated Renaissance fairs in the country. The village set up feels and looks like a slice of 16th-century England, complete with a stunning royal court, 800-plus entertainment opportunities, medieval-inspired artisans and vendors and hundreds of food booths. Food booths are really popular here, so the US has lots of different wine and food festivals that you can visit.
More than 300,000 folks attend the fair each year, celebrating the splendor of days gone by. It boasts a royal ale fest, a journey down the Silk Road complete with belly dancers, longbow events, armored jousting, and so much more.
7. Pennsylvania Renaissance Faire
Lancaster County, Pennsylvania
August 19 – October 29, 2023, Saturdays And Sundays
About 15 miles north of Lancaster, the Pennsylvania Renaissance Faire can be found on Route 72 on the grounds of Mount Hope Estate & Winery. Each year has a scenario and each weekend, a theme. Over 100 unique merchants tout their wares, while some show off their craft, demonstrating art forms such as blacksmithing and glassblowing. Archery demonstrations and man-powered rides are offered as well. This is a dog-friendly faire, provided you've purchased the proper pass for your pup.
Pro Tip: Many Pennsylvania-crafted spirits, wines, ales, and ciders are served within the festival grounds, but they do require cash.
8. New York Renaissance Faire
Tuxedo, New York
August 26 – October 8, 2023 Saturdays, Sundays, and Labor Day
Tuxedo, New York, is home to the New York Renaissance Faire, a thrilling fest that recreates Elizabethan England. You'll see flaming whips, mounted jousting tournaments, knife-throwing shows, dance performances, musical talent, and much more.
The fair's schedule highlights each weekend's theme, so decide if you'd prefer to don a costume that aligns with the activities of, say, Pirates or Time Travelers, and plan your trip accordingly.
Don't Miss: Perhaps New York Renaissance Faire's proximity to Broadway makes the shows the best part!
9. Maryland Renaissance Festival
Crownsville, Maryland
August 26 – October 22 (Saturdays, Sundays, and Labor Day)
Experience a recreation of 16th-century England at the Maryland Renaissance Festival. The fest is considered one of the region's premier outdoor events and is the second-largest Renaissance Festival in the country right behind the Texas Renaissance Fair which is the world's largest Renaissance Festival.
Situated in the woods, the 27-acre grounds feature 10 stages, roaming minstrels and bards, and a cast of over 200 professional actors who will tantalize your senses with the wonders of early modern Britain. The festival's jousting arena seats over 3,000 people, meaning great views and decent seats.
Enjoy the festival's annual storyline. Some attendees really get into it and you can have loads of fun with it, too, along with your shopping, eating, and general merrymaking. The storyline is definitely an element that helps make this fest superior to many others. The Maryland Renaissance Festival is not merely a craft shop or entertainment venue. It's a family tradition, an exploration of the past, and an unforgettable theatrical experience filled with magic, jousting, and stunning pageantry.
Don't Miss: One unique feature of the Maryland Renaissance fest is its costume rental program. Those who love a good costume but don't have one on hand no longer have
10. Ohio Renaissance Festival
Waynesville, Ohio
September 2 – October 29, 2023, Weekends And Labor Day
One of the largest renaissance festivals in the country, the Ohio Renaissance Festival runs weekends from late August through October near Harveysburg in Warren County, Ohio. Nestled on about 30 acres, the 16th-century English village hosts more than 200,000 visitors each year. Over 100 shows run on its 17 stages each day. Highlights include The Kamikaze Fireflies' comedic circus act, Judas and Magnolia performing dangerous escape stunts, musical acts such as Sirena, and more. Knights in full armor battle in three jousting tournaments a day.
Each weekend has a theme. Games and human-powered rides make it fun for the whole family. More than 150 talented artisans line the village, offering everything from hair braiding services to hand-forged weaponry.
Don't Miss: Village trick-or-treating. Kids under 12 receive free admission the last weekend of the festival, October 28 and 29. Little ones are invited to bring a bucket or
11. Carolina Renaissance Festival
Huntersville, North Carolina
September 30 – November 19, 2023, Saturdays And Sundays
Another major festival with a medieval and fantasy bent is the Carolina Renaissance Festival, which takes place every autumn in Huntersville, North Carolina. The fest features over 100 artisans selling unique wares and handicrafts you won't find anywhere else. Finds range from parasols and hand-forged copper roses to uniquely crafted hand-blown glasswork and masks.
Three jousting events take place daily, with 500+ costumed characters meandering the grounds looking for storytelling opportunities. You'll also spot the Living Mermaids in their underwater homes and have the opportunity to watch falconers at work with their incredible birds of prey.
Don't Miss: Meet a mermaid! See sirens flip, splash, and frolic about at the Living Mermaid exhibit, a 3,000-gallon aquarium. Get your photo with a mermaid upon her throne as part of the meet and greet. North Carolina is also famous for its fall fairs that are really popular.
pillow case and trick-or-treat their way around the booths.
12. Texas Renaissance Festival
Todd Mission, Texas
October 7 – November 26, 2023
Running from October into December thanks to the warmer weather in the southeastern corner of the state, the Texas Renaissance Festival is a top-tier Renaissance fair that attracts somewhere around half a million people each year.
The Texas fest features eight or nine uniquely themed weekends each year, including Oktoberfest, All Hallows' Eve, Heroes and Villains, Barbarian Invasion, Highland Fling, Celtic Christmas, Pirate Adventure, 1001 Dreams, and Return to the Renaissance. Themes may vary from year to year, but the adventures are always fresh, exciting, and fun for the whole family.
The fair takes place in an interactive theme park that highlights forms of entertainment that became popular between the 14th and 17th centuries. Events and highlights
13. Northern California Renaissance Faire
Hollister, CA
2023 Dates TBD
Located at the Casa De Fruta roadside attraction in Santa Clara County, the Northern California Renaissance Faire can be found about 90 miles southeast of San Francisco in Hollister, California. Its village of Willingtown features musicians playing in the streets, live entertainment such as sword swallowing on stages throughout the marketplace, jousting, and more. Fine crafts including armor and chain mail, blown glass, leather work, sculpture, and more are displayed throughout the shire.
Dates for this year have yet to be released at the time of this publication, but it typically runs on weekends for about a month, from mid-September to mid-October.
Don't Miss: Theme weekends such as Venetian Carnevale & Masquerade and Halloween Fantasy.
14. Kansas City Renaissance Festival
Bonner Springs, Kansas
Weekends Sept 2nd – Oct 15th, 2023, including Labor Day and Columbus Day
Since 1977, the Kansas City Renaissance Festival has grown to become one of the largest Renaissance festivals in the country attracting an astounding 200,000 attendees. Set on a large, 16-acre property, you will experience all things Renaissance related, walk amongst kings, queens, knights, fairies, and everything in between.
Imagine a magical land full of imaginary beings, great beasts, pirates, and royalty, numerous contests of strength and honor, and an actual mermaid. Complete with castles and the park-like setting of the festival ground, it's a wonderful place to enjoy the changing season and autumn foliage while wandering through artisan villages, cows, a petting zoo, and more.
Old wooden buildings line the perimeters of KC Ren Fest, making up the various shops, restaurants, and performance areas. There is a vast amount of vendors selling handmade merchandise and several fun tours you can take part in such as pub crawls and wine tastings.
Travel back in time and take part in this unique experience. You'll leave with delightful treasures, a full belly, and priceless memories.
Don't Miss: KC Ren Fest's hallmark, the handheld piece of meat, also known as the "Turkey Leg."
FAQs
Are Renaissance Faires Strictly Renaissance?
Not really. Despite being labeled as "Renaissance", these events are just a general celebration of medieval life. Because it's difficult to capture several hundred years in a single fair, the term ''Renaissance'' is often used to describe different points in history.
Where Was the First Modern US Renaissance Fair Held?
The first modern Renaissance Fair in the U.S. took place in California in 1963. Today, hundreds of Renaissance fairs around the world provide a variety of different entertainment and educational opportunities.
Where Is The Biggest Renaissance Fair Held In the USA?
The Texas Renaissance Festival takes the crown for the nation's largest Renaissance theme park. Though Renaissance fairs range in size and style, this fair hosts as many as 500,000 people throughout the season. Other large Renaissance fairs get closer to 200,000.
Are Renaissance Fairs Historically Accurate?
Yes, but to a point. The food and costumes may not be historically accurate at times, but the demonstrations often do. However, most Renaissance fairs tend to focus on fun rather than historical accuracy. From Shakespearean plays to juggling, dancing, magic shows, and singing, there are various types of entertainment.
Do I Have To Dress Up For Renaissance Fair?
No, dressing up is not a requirement, but Renaissance enthusiasts often rent costumes to fully commit to the fair experience. Visitors often choose costumes that align with various theme weekends and show up as pirates, Vikings, and more.