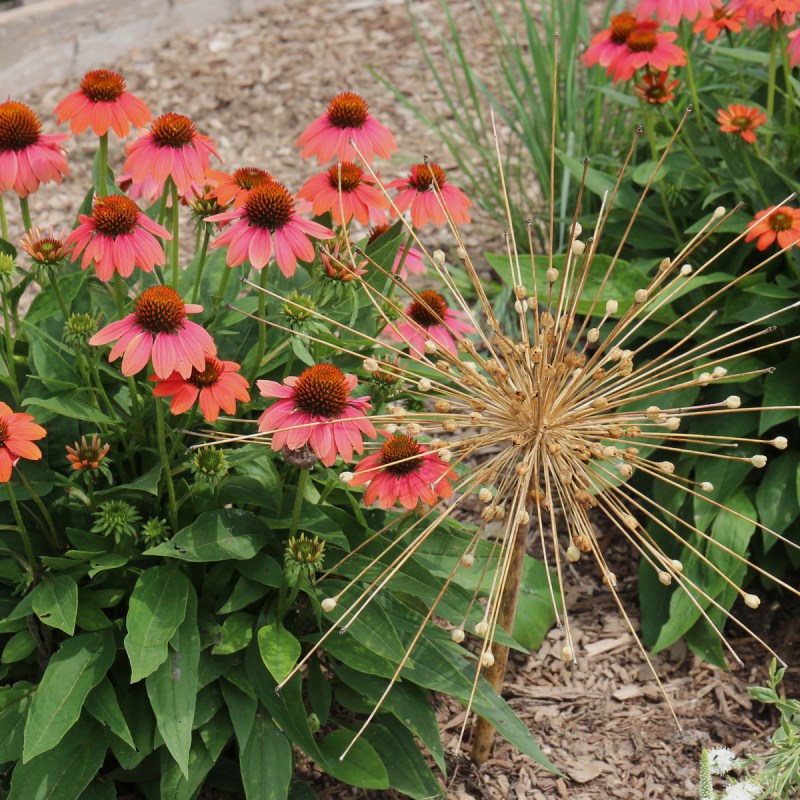 If you're after an active weekend getaway, you'll be pleased to find an abundance of beautiful parks and recreational areas in the mid-sized city of Janesville, Wisconsin. Janesville, located an hour and 30 minutes southwest of Milwaukee on the Rock River, features rolling hills, a small-town vibe, and the verdant woodlands of scenic south-central Wisconsin.
Here's how to make the most of a weekend there.
Head To The Market
If you're traveling to Janesville in the fall, it's a great time to visit Skelly's Farm Market. Pick your pumpkins, squash, and gourds, or enjoy one of their fall activities, which include corn mazes, wagon rides, and apple cannons. Then stop by the bakery for apple cider donuts, apple crisps, cookies, and pies, plus homemade caramel apples.
If you can't make it in the fall, don't worry; Skelly's Farm Market has a strawberry season and summer season that are well worth visits, too. Admission to the corn mazes costs $8 for the day; $5 buys you unlimited wagon rides for the day.
If your Janesville visit puts you in town on a Saturday, you'll find fresh produce, meats, cheese, eggs, baked goods, plants and cut flowers, soaps, and other hand-made products at the Janesville Farmers Market. From May through October, this outdoor market sells only local foods and products. There are plenty of food vendors selling kettle corn, tacos, pastries, and more.
Get Outdoors
You'll discover some of Wisconsin's most beautiful natural areas along the thousand-mile Ice Age National Scenic Trail — one of only 11 National Scenic Trails in the country.
You can enjoy a variety of day hikes starting at different parts of the Ice Age Trail. The suggested hikes are included in a free download from the Ice Age Trail Guidebook and Google Map driving directions will lead you to the access points. Before you go, check the online trail map to read trail condition reports on the trail you intend to hike.
Janesville's most scenic segment of the Ice Age Trail is the Devil's Staircase that ascends the bluffs by Rock River in Riverside Park. You'll hike 1.7 miles on this moderately difficult trail.
Wisconsin Explorer explains the difficulty: "Its linear 1.8 miles are mostly easy walking but also include a few short climbs [on] stone steps — these climbs and its sometimes narrow and precarious route make it a moderate level hiking path."
In addition to the Ice Age Trail segment in Janesville, you'll find 60 parks and 30 miles of paved off-road hiking trails around town, so there's plenty of opportunities to get outdoors — whether you prefer hiking or biking — and enjoy the beauty of the area.
If golf is your game, you'll find more than 20 golf courses within a 45-minute drive from Janesville.
Tour A Brewery Or Winery
There's something for everyone — even those who prefer not to consume alcohol — on a tour of Gray Brewing Company. One of the nation's oldest family-owned beverage companies, Gray Brewing offers a full line of beers including their award-winning Gray Oatmeal Stout and Gray Honey Ale — an American blonde ale brewed with honey — plus root beer and gourmet sodas.
Sample one of Gray's gourmet old-time soda flavors like grape soda, root beer, ginger beer, strawberry, or orange cream. Their signature soda, the Belfast Ginger Beer, leverages a recipe passed through the generations that uses "the finest oils, essences, extracts of lemon, as well as the purest Jamaican ginger." The brewery takes care in its selection of the ingredients as well as the time-honored brewing process.
Rock County Brewing Company is located in Janesville's historic Carriage Works building. This nano brewery produces hand-crafted beers in small batches. If you haven't tasted a nitro beer, try the Dry Stout, one of Rock Country's newest offerings. It's a creamy traditional dry stout with a smooth taste on the tongue.
If you'd rather take a southern Wisconsin wine tour, stop by Fermenting Cellars Winery, located in a log cabin home. They ferment a variety of dry and sweet, red and white wines, plus a dessert coffee wine. Next stop is Northleaf Winery, where you can sample guided wine and cheese pairings or wine flights with cheese and crackers. Then head to Timber Hill Winery for the last stop on your Janesville winery tour. This boutique winery produces smaller quantities to achieve the best quality. Their latest addition is a mead made with local honey, fruit, and herbs.
Stroll The Botanical Gardens
Prepare to be wowed at the Rotary Botanical Gardens, an award-winning 20-acre non-profit botanical showcase. The location of the gardens was originally the site of an abandoned sand and gravel quarry. More than 15,000 yards (800 truckloads) of topsoil were hauled in to form the garden beds. Now you can take a guided garden tour or explore on your own the 24 different garden styles highlighting 4,000 varieties of plants. Admission is $7 for adults and $6 for those 65 and older.
Take A History Tour
Start your history tour at the Rock County Historical Society. This resource center features the Lincoln-Tallman House, a mansion built in 1857; a Traditional Tour narrative that teaches about how prosperous Victorian families lived in the area; and a Help Wanted Tour where you can view Victorian life through the eyes of a servant. Admission is $10 for adults.
Tour the Milton House, the last certified Underground Railroad station in Wisconsin. Opened as a stagecoach inn in 1844 by Joseph Goodrick, the Milton House is one of the oldest standing poured grout buildings. A stop on the Underground Railroad, there's a tunnel connecting the Milton house to a log cabin. Walk through the tunnel and learn about the Stagecoach Inn and how it was a successful part of the Underground Railroad. Admission is $8 for adults.
To discover more of the city's local history, take a self-guided historic walking tour. There are 13 historic districts in Janesville that lend themselves perfectly to a walking tour. Download the free Clio app for Apple or Android to learn about the history and architecture of the area. There are more than 80 sites listed on the app that are within five miles of downtown Janesville.
Eating In Janesville
Dining in Janesville brings traditional Wisconsin staples like cheese curds and supper clubs, but you can also enjoy seasonal selections created by innovative chefs.
Breakfast
At Citrus Cafe you'll enjoy fresh ground coffee, orange juice squeezed by the glass, plus bacon specially cut by a local butcher. A local favorite, the cafe was named Reader's Choice Best Breakfast Restaurant for seven consecutive years by the Janesville Gazette. If you're an early riser, you can savor one of their delicious breakfasts for just $5.99 thanks to the daily early bird breakfast specials that run from 6 to 9 a.m.
A downhome breakfast is in your future at Kealy's Kafe. The cinnamon roll French toast is a local favorite as is the homemade bread with strawberry jam. Janesville Gazette readers voted Kealy's Kafe number one fish fry in Janesville, so you may want to make a return visit for one of their Wednesday or Friday fish fries.
Lunch
The Whiskey Ranch's themed decor, with its hardwood floor and sheet metal lining the bar — plus a collection of guitars decorating the space — create a Southern rockabilly atmosphere. You'll snack on a complimentary bucket of peanuts while you wait for your meal. Try one of the menu's award-winning burgers. Or get your fill of Wisconsin cheese with the mac and cheese burger topped with Swiss, American, and cheddar jack cheeses, plus macaroni and cheese, and bacon.
For more than 20 years, Milwaukee Grill has been serving fresh approaches to classic American fare. The Signature Fried Chicken is a favorite that comes with either two or four pieces of chicken and your choice of a few sides. At the bar you'll find Wisconsin draught beers, bottled microbrews, wine, and seasonal drinks and martinis.
Dinner
Whether you're craving steaks or seafood, you'll find both at Wissota Chophouse. If you're going to enjoy an Angus steak, why not enjoy it to the max? For $60, you can indulge in a 18-ounce dry aged, bone-in ribeye, or for $70, try the 3-ounce Japanese A-5 Wagyu Beef. Consider adding the Three Cheese Truffle Mac "side for two" for $11 more.
If seasonally-driven dishes are more your preference, stop by Lark Restaurant. You'll enjoy a variety of American comfort foods served as small plates or entrees that incorporate locally sourced ingredients. Lark offers mixology classes and themed events like their BBQ and Bourbon Dinner — a four-course dinner featuring the chefs' creative takes on barbecue, plus cocktail pairings made with Wisconsin's J. Henry and Sons bourbon. Or just enjoy one of Lark's original craft cocktails made with fresh ingredients and artisan spirits.
Shopping In Janesville
There's a variety of shopping options in Janesville, whether you prefer boutiques or antiques and consignment stores. Antiques, collectibles, and housewares are abundant at Carousel Consignments. Angie's on Main has three floors of eclectic, handmade, antique, and consignment items. If art is your interest, Raven's Wish is an art gallery filled with art crafted by local artisans. Fulfill your gourmet coffee and tea cravings at The Bodacious Brew, which boasts a gourmet selection of coffee and tea from around the world.
Touring Wisconsin? Set your sights north of Janesville and prepare to enjoy these 12 Things To See And Do In Elkhart Lake.