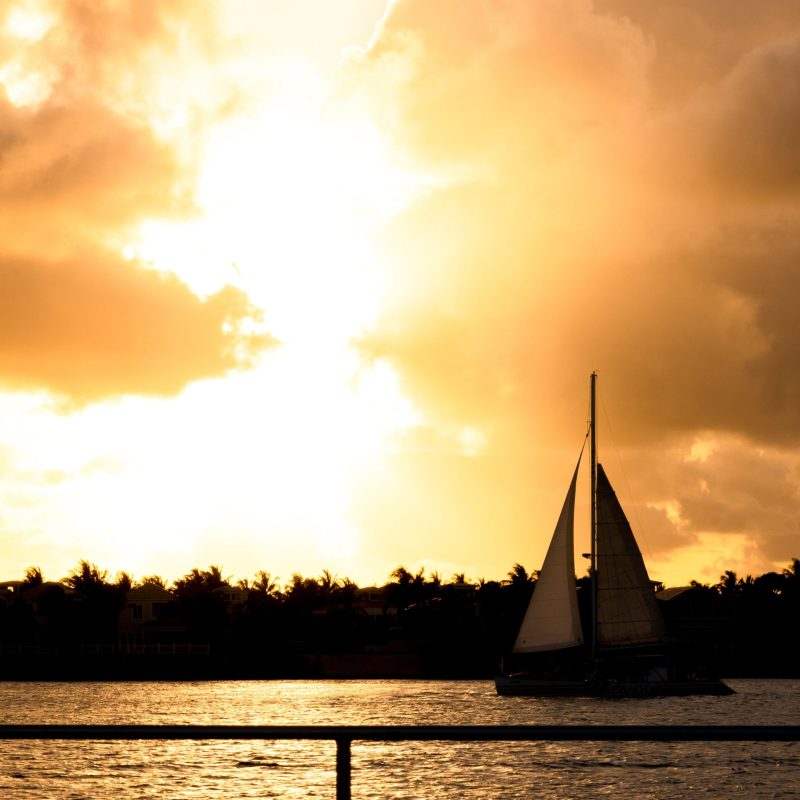 With their dramatic vistas and come-as-you-are culture, the Florida Keys are the perfect place for a road trip. This chain of tropical islands is home to wildlife, beaches, fresh bites, tasty brews, and the best Key lime pie you'll ever have in your life.
A road trip through the Florida Keys will give you the freedom to explore every nook and cranny of the 120-mile stretch from Key Largo to Key West. The trip can be completed in one day, but that's hardly enough time to get your fill of this southernmost gem. Instead, we recommend taking at least three days for a Florida Keys road trip. Here's how to make the most of your time.
Day 1: Key Largo
Key Largo is the diving capital of the world, and its scenery is as dazzling below the water as it is above it. This northernmost Florida Keys region is just over 60 miles from Miami International Airport, making it an obvious and easy place to kick off a Keys road trip. Get ready for local wildlife, fresh (and famous!) fish, and waterfront lounging from day one.
Go On A Diving Excursion
When you visit the diving capital of the world, you simply must try your hand at diving (or snorkeling). John Pennekamp State Park is one of the best places to snorkel and dive in the Keys. Underwater attractions include wildlife, coral reefs, seagrass beds, and the 8-foot-tall Christ of the Abyss statue.
Beyond the park is one of Key Largo's most unusual dive spots. You can swim up to one of the largest shipwrecks in America that's accessible to divers, the USS Spiegel Grove.
Visit The Laura Quinn Wild Bird Sanctuary
Named for its founder (who was known as "the bird lady"), the Laura Quinn Wild Bird Sanctuary is a haven for birders and wildlife enthusiasts. This sanctuary provides safe homes for wild birds who've suffered plights such as fishing-line entanglement.
You can spend as much or as little time as you'd like walking through the dozens of bird enclosures. There's a placard at each stop so you can read the story of the bird who lives there. Don't miss the green Amazon parrot on the way out; according to the staff, this chatty bird was actually Laura Quinn's!
Grab Lunch At The Key Largo Conch House
Famous for its conch fritters — not to mention a national appearance on Emeril — the Key Largo Conch House is a must-stop on any Florida Keys road trip. This no-frills establishment offers indoor and outdoor dining and a patio shaded by palm trees.
The signature conch fritters may be delicious, but there's so much more to the menu than that one plate. Grab a variety of appetizers like the gator bites and seafood tacos to sample the tasty cuisine this region is known for.
Lounge At Baker's Cay Resort
After lunch, check in to one of the best eco-friendly hotels in the Keys: Baker's Cay Resort. The ocean views from the rooms and the cozy outdoor bar are fantastic, but that is only the beginning of the fun to be had. Bikes are available for rent, as are paddleboards, kayaks, and rafts.
The massive resort is home to two beaches. Its main, bustling beach attracts guests with its gear rentals, lounge chairs, and always-busy waterfront bar. Its second beach is all about serenity. Accessible via a quick hike on a forested trail, this spot features hammocks, secluded lounge chairs, and all the peace and quiet you could ever need.
Baker's Cay benefits greatly from its beachfront location, and it gives back accordingly to help Florida's fragile reefs. With its toiletries that support ocean cleanup projects and its produce grown on-site, it's no wonder that the resort attracts eco-conscious guests. Don't miss the restaurant's hot sauce, made from hot peppers grown in the chef's garden — I've tried it myself, and I can guarantee that it's great!
Enjoy A Sunset Dinner At Sundowners
Set on Key Largo's waterfront, Sundowners is a popular place to catch the sunset while enjoying fresh and local fare. Sundowners falls in the "Keys casual" category; the vibe is relaxed, the staff is friendly, and the dress is whatever you want it to be.
If it's available, order the tough-to-find Florida Keys favorite, hogfish, an ugly fish with a mild yet rich flavor. No hogfish? No problem. Sundowners's conch fritters and oysters are equally out of this world.
Day 2: Marathon
The next stop, Marathon, is right at the heart of the Florida Keys. The spot's dramatic 7-mile bridge, which is nothing more than a tiny sliver of road above the turquoise sea, is one of the Keys's best locations for photography. Marathon is a diver's dream, an animal lover's paradise, and the perfect spot for getting to know the Keys on a deeper level.
Interact With Dolphins At The Dolphin Research Center
Nothing beats seeing dolphins in the wild, but seeing the work that's being done to save this species comes pretty close. The researchers at Dolphin Research Center on nearby Grassy Key are studying how dolphins think and behave in order to help preserve the species. The center is open daily, and there are interactive sessions where you can learn more about dolphins and the Florida Keys's wildlife as a whole.
Try Lionfish At Castaway Waterfront Restaurant & Sushi Bar
Castaway Waterfront Restaurant & Sushi Bar is more than upscale food and sushi. Owner John Mirabella is helping patrons practice conservation by consumption with his creative dishes featuring the lionfish species.
Experts are still unsure how lionfish entered Florida's waters, but they do know one thing: The invasive species wreaks havoc on local habitats. That's why Mirabella serves the peculiar-looking (yet tasty) fish in everything from lionfish tartare to full filets.
Spend The Night At Tranquility Bay Beachfront Resort
The four-star Tranquility Bay Beachfront Resort is like a postcard from paradise. The rooms at this resort overlook the ocean, with palm trees and colorful umbrellas decorating the beachfront property. From peaceful private patios to Key lime coladas at a tiki bar, the resort offers the stay of your dreams. It's tough to spend just one night at this slice of Heaven — and we wouldn't blame you if you tacked on two or three more!
Day 3: Key West
Key West is what most people think of when they think of the Florida Keys. In this colorful, creative island city, with its distinct Victorian architecture amidst rows of native palm trees, it's easy to get around on foot or by bike.
Key West is the ultimate place to explore, unwind, and breathe in the sea. Here's how to spend your last day in the Keys (unless, of course, you decide to extend your trip!).
Check In At Parrot Key Hotel & Villas
The luxurious Parrot Key Hotel & Villas got a facelift after Hurricane Irma damaged it in 2017, but it's back and better than ever. This bright and stylish hotel features condo-style rooms that open up to backyard beaches. Private balconies and porches and communal hammocks are available for full relaxation. Parrot Key's 5 acres of palm groves add tropical flair, while the hotel's water sports rentals will keep you from relaxing too much.
Visit The Ernest Hemingway Home & Museum
It's not surprising that Ernest Hemingway wrote some of his best books in Key West — it's the perfect place to recenter and relax. You can see the views that inspired him on a tour of the Ernest Hemingway Home & Museum in Old Town Key West. The tour usually runs for 30 minutes, and it includes exhibits inside the house as well as a stroll through the gardens outside.
Fun fact: More than 40 six-toed cats live on the grounds of the Hemingway house. According to the museum's website, Hemingway was given a six-toed cat by a ship's captain, and it's believed that some of the home's current cats descended from that very cat.
Splurge On An Eco-Friendly Dinner At The Stoned Crab
The Stoned Crab takes sustainability seriously — it's home to an eco bar that serves only organic or sustainable wine and spirits. The menu is as local as it comes, offering only fresh fish the staff members have caught themselves. Don't miss the restaurant's signature dish — stone crabs — although you can't go wrong with any of the fresh fish options on the menu.
Celebrate The Sunset At Mallory Square
There's no better way to enjoy your last night in the Florida Keys than by attending the Sunset Celebration in Mallory Square. This event draws visitors from all over the world with food carts, live music, local artisans, and an epic sunset that's greeted with cheers every night. Don't leave the second the sun sets; the light continues to dazzle as the sky turns from golden to blue.
Throughout the Florida Keys, adventures and once-in-a-lifetime travel memories await. If you're planning to stay for a week or longer, don't miss these six awesome things to do in the Florida Keys!