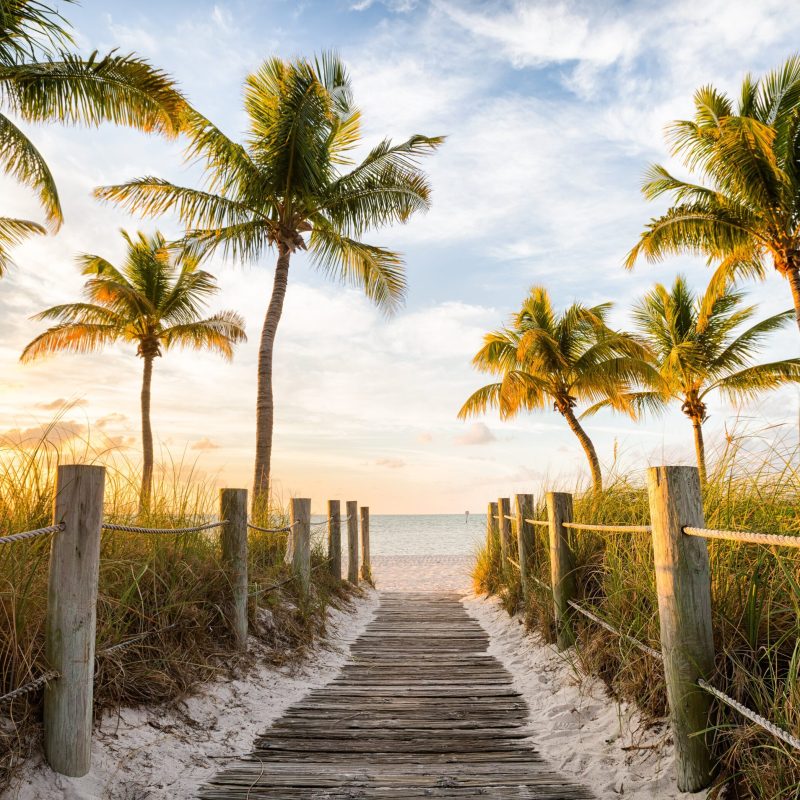 Travelers hear the name Key West and think sparkling white sand beaches, sinking sunsets, and Key lime pie. Cruise ships sail in, visitors bike their way around the island, and the southernmost point in the Continental United States receives millions of visitors each year.
But did you know that the Key West roosters are more photographed than any other residents and Key West beaches are made of imported sand?
The island is home to intriguing histories and fascinating folks who present visitors with astonishingly delicious conch fritters and walking tours out of the Key West Cemetery.
And while visiting Hemingway's House and the numerous six-toed cats who reside there is pretty awesome, there's so much more to Key West than just its ultra-touristy spots.
Shop
Wanderlust Key West
310 Petronia Street
A small boutique clothing store tucked away on Petronia Street, Wanderlust offers fun, quirky gifts, accessories, and clothing, much of which is created by local artisans.
Wanderlust Key West is owned and operated by Casey, a trained architect who got an itch to travel and get away from a desk and drawing pad. She traveled. She visited Key West. She stayed.
Casey puts her love of color, texture, and design into the style of the shop and her choices in the product lines she sells. Enjoy artwork, handcrafted jewelry, and more as you shop between 10 a.m. and 6 p.m Monday to Saturday and 10 a.m. to 4 p.m. Sunday.
Dine
First Flight Island Restaurant And Brewery
301 Whitehead Street
If you've got a thing for good food, great drinks, and interesting history, then drop into First Flight for happy hour. You'll not only enjoy some great cocktails and locally themed brews, you'll also get to explore the history of the world-famous Pan American World Airways, birthed in the building in 1927.
The first tickets for Pan Am flights were sold out of this building, and the airline was originally a mail and passenger courier service between Key West and Cuba. And while the company may have fizzled out back in 1991, it was a true innovator in the world of jet craft, aviation, and computerized reservation systems, contributing to what we now consider "the basics" when it comes to commercial airline services.
The restaurant and brewery are open daily from 11 a.m. to 11 p.m. They also have shows and a fantastic event venue.
Seven Fish Restaurant
921 Truman Avenue
If you're looking for really great seafood, this lesser-known restaurant is a great place to start. Serving snapper, crab, banana chicken, and sometimes even the invasive lionfish, you'll want to peruse the catch of the day, drink some chardonnay, and try the banana flambe for dessert.
The restaurant has been around for over 20 years and has become an island classic with unique architecture and a modern bistro feel. They're known for their 7 Fish Meatloaf — a local favorite — and the Thai curry snapper.
Seven Fish is open Wednesday through Monday from 6 p.m. to 10 p.m., making it the perfect spot for dinner.
Hogfish Bar And Grill
6810 Front Street, Stock Island
Technically, Hogfish is just north of Key West, but if you're trying to avoid the crowds on Duval Street, you'll want to check in here. It's out of the way and less obvious thanks to its location in the fishing fleet docks, and that means you know the seafood is super fresh and locals are the dominant crowd.
This joint takes you back to the way the Keys used to be with its low-key atmosphere, great views, and incredibly fresh seafood. Hogfish has live music on the weekends and outdoor dining. Try the Hogfish Filet with Key lime vinaigrette, the Key West Mixed Seafood Ceviche, the amazing Killer Tuna Nachos, and the Southern fried green tomatoes for the ultimate Keys feast.
Hogfish is open 11 a.m. to midnight every day but Sunday, when they open at 9 a.m.
Ana's Cafe Cubanos
531 Greene Street
Key West is only 90-miles from Cuba, and that means you should try some great Cuban food while you're in town. Ana's Cafe Cubano is close to the southernmost point of the United States (and that famous buoy!) as well as the Key West Shipwreck Museum and Mallory Square, so it's super convenient to many of your tourist must-sees already.
You can try spicy Cuban food like hot Fiery Cuban or Spicy Cuban sandwiches, chicken or beef empanadas, or a refreshing papaya smoothie to go. You won't regret the barbecue pork sandwich or cafe con leche, either.
Ana's is open daily from 7 a.m. to 8 p.m. Carry-out hours are 7 a.m. to 7:40 p.m.
Explore
The Key West AIDS Memorial
White Street Pier
In 1988, Key West had the highest per capita AIDS rates in the United States. The residents of the island battled this epidemic and became a refuge for hundreds of others who were diagnosed with AIDS and living elsewhere. Many of these folks moved to Key West to flee from the stigma and ostracization by a world that didn't understand the syndrome.
The Key West Annual World AIDS Day ceremony has been going on since December 1, 1998, and the AIDS memorial was placed on the island as a solid tribute that can be experienced year-round by visitors, honoring the memory of many who have lived, worked, and visited Key West and suffered with and died from AIDS.
You can see the names of those who have died of AIDS throughout the memorial as you walk the pathway approaching White Street Pier. The Key West AIDS Memorial is the only official municipal AIDS memorial in the world.
The Key West African Memorial
Higgs Beach
At quiet Higgs Beach in early morning, you'll find an unusual memorial of pillars and artwork spread across the platform space at a site now designated as a remembrance of the slave ships that were intercepted there in 1860.
That year, three slave ships were brought to Key West rather than being allowed to continue on to Cuba. The ships carried men, women, and children from Liberia, Benin, and the Congo Basin. The passengers were ill-treated, malnourished, and ill, many dying before they reached the refuge in Key West. Of the Africans aboard the ships, 295 died in the less than three months on the island, then the rest were "returned" to Liberia where they were given apprenticeships.
In 1990, Florida Keys historian Gail Swanson found evidence of a burial site in Key West. The Mel Fisher Maritime Museum organized an archeological survey of Higgs Beach, where Swanson believed the site was. Monroe County staff and volunteers discovered the graves of the slaves who'd died through use of ground-penetrating radar that showed graves lined in rows along the beach. The site was not excavated out of respect for the sanctity of the graves.
Instead, the unique memorial an an informational plaque were erected in their vicinity. Now king Adegbolu Adefunmi of the Yoruba tribe in America performed a consecration ceremony over the site to honor the dead in 2002.
Little-Known Trails On Key West
The AllTrails app offers some great insight into the lovely trails and paths around Key West, whether you want to walk from Duval Street down to the Fort or ride the perimeter of the island. But the best way to experience a true taste of the natural beauty of Key West is by finding the little gaps and tiny trails leading out to the water from the sidewalks at the "edge" of the island.
As you make your way around the outer edge of the island — where you can see the Florida mangrove trees — you'll notice some signs that read, "Walk at your own risk. Obstacles on trail." These little signs — and other obscure postings — actually demark splendid trails that may last only 50 yards or half a mile. They can take you out to swampy areas, tiny beaches, and other public spaces that reveal the natural foliage of the island in secluded spots most tourists never see.
The trails may be dirt paths, boardwalks, or paved asphalt. Any and all lead to treasures of island beauty tucked away in pockets you wouldn't have realized exist on the island.