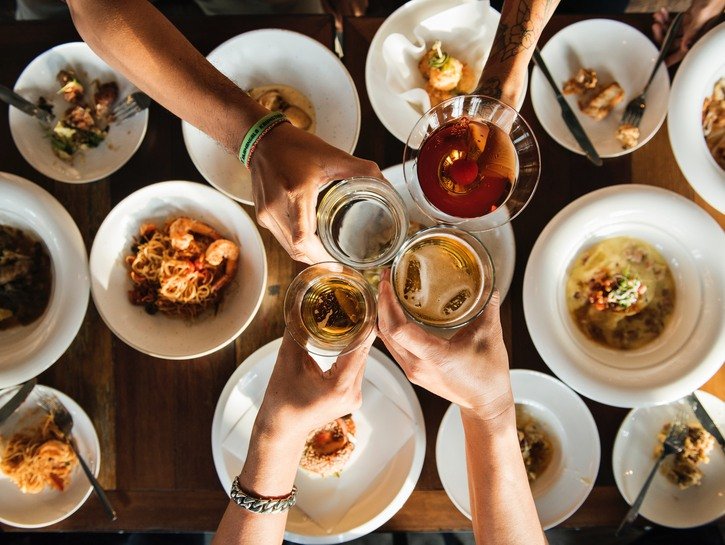 After moving back home to Chicago following the four years I spent abroad in Spain, I noticed a trend that I just had to address in writing: Spanish tapas restaurants were popping up all over major U.S. cities.
I was inclined to write about this topic because, after dining at one or two of these infused "tapas" restaurants, I had to let my fellow Americans know that they were doing it all wrong.
Now, the best part about tapeo (the art of eating tapas) is that they dish is supposed to accompany an alcoholic beverage provided for free — but I know this won't be happening anytime soon in the good 'ol capitalistic society of the U.S. of A. To speak candidly, this is even a rare occurrence nowadays in the country where tapas originated.
With that said, there are still places in Spain where you can find traditional (and free) Spanish tapas — you just have to know where to look. If you're traveling to Spain in the new year and want to try tapas the right way, let this article be your guiding light.
Not only will I tell you how to properly partake in tapeo experiences in Spain, but I'll provide a brief history of tapas and some insight into the different types that you'll discover throughout the regions, and where you can find them.
From the alleged originators of tapeo in Spain's Andalusia province to pintxos in the country's northernmost Basque Country, you'll be a master of tapas culture by the end of this article.
As Spaniards always say, "¡Buen provecho!"
A brief history of Spanish tapas
What are tapas?
If you began reading this article scratching your head and thinking to yourself, "What even are tapas?" — that's ok! The topic in itself is highly debatable, and even Spaniards argue about what is considered a proper tapa.
One thing they can all agree upon, though, is that tapas are always small plates, and they're almost always eaten in the late evening and at a bar with an alcoholic beverage in hand, usually a glass of wine or a beer. This is one of the things that made me ponder tapas restaurants in the U.S. because, in Spain, you'll never eat at a tapas restaurant, rather you'll eat at a tapas bar.
How did tapas come about?
Though commonly disputed, one of the more popular tales about the history of tapas involves a king and an illness.
Legend has it that in the 13th-century, King Alfonso X of Castile was recovering from a sickness and, during this time, could only eat and drink in small amounts. The King thought this was extraordinary and declared that all drinks should be served with a small dish.
Fast-forwarding a bit, the Telegraph explains that another 19th-century tale claims that Alfonso XIII once ordered wine in a bar in the southern Andalusian town of Cádiz and, due to strong winds coming from the Gulf, a bartender kindly served him his drink with a slice of ham on top of his drink to keep the sand out.
Similarly, I was told by many Spaniards in Andalusia that, historically, a small dish would be served with alcoholic beverages in order to cover and protect your drink from insects during muggy summer months in Spain.
Though the topic is one of many debates, tapas remain a popular form of eating both in Spain and across the globe.
Knowing what to do
How to get the most bang for your buck
I keep mentioning that tapas are served when ordering an alcoholic beverage, and if you want to get the most bang for your buck when going out for tapas in Spain, you must learn how to order a beer.
You probably know that beer is called cerveza in Spanish, but did you know that there are various sizes of beer that will greatly affect your tapas experience while in Spain?
When ordering tapas, always ask for a caña. This is the smallest beer in Spain, and though your heart may be leaning toward a bigger beer like a doble or a tanke, you'll get far more tapas if you keep ordering small beers since you get one tapa with every drink you order. Do the math, kids!
How to know if it's a true tapas bar or a tourist trap
Alright, if you want to know whether you're walking into a tourist trap or a true, local tapas bar, use a combination of common sense and some detective skills.
Before walking into a tapas bar, make sure it is, in fact, a bar. If it's one of these big restaurant-style establishments with lots of outdoor seating in a big plaza in the heart of the city, it's likely a tourist trap and not a bar with free tapas.
Venture out onto some side streets and scope out some real tapas bars. You'll know they're real when you see Spaniards congregating around a small bar with a tapa and drink in hand, likely in a spot with only three or four tables on the inside.
Tapas in Andalusia
Since many tales credit Spain's southern province of Andalusia with creating the tapas eating experience, and since this is one of the few places in the country that still serves free tapas with an alcoholic beverage, we'll start here.
The best place to indulge in the free Spanish tapas culture in Andalusia is Granada. Free tapas served with a drink is still a common practice throughout most of Granada, and you're pretty much guaranteed to be offered this service when eating out at tapas bars here.
Types of tapas in Granada
Here are a few tapalicious small plates native to Granada that you just have to try:
Habas con jamón: Simply beans with ham! What's not to like? This is one of the most typical tapas in Granada, made with broad beans and Spain's famous ham.
Gazpacho or salmorejo: Gazpacho and salmorejo are both chilled tomato soups and purees, popular tapas during Spain's blistering summer months.
Jamón de Trevélez: While jamón serrano and jamón Iberico are Spain's two most widely-known delicacies, jamón de Trevélez is a specialty from the picturesque village of Trevélez just outside of Granada.
Where to find the best tapas in Granada
To find some of the best tapas in Granada, head to some barrios, or neighborhoods, such as:
Realejo: Head to El Aviso, La Tarara, and Chantarela.
Albaicín: Head to Bar Aliatar Los Caracoles, Café 4 Gatos, La Fragua.
Pintxos in País Vasco (Basque Country)
País Vasco (Basque Country) is sort of like its own little country situated within Spain. It has its own language and history that differs a bit from the rest of the nation. Accordingly, their tapas culture is completely different than the rest of the country.
In the Basque Country, tapas as we know them are called pintxos, pronounced "peen-chos." While they are still small plates, the word translates literally to "toothpick food," and there are some major differences in their ingredients and culture as a whole — like that fact you're sadly not going to get them for free.
Types of pintxos in the Basque Country
Anchovies and bacalao: Since the Basque Country lies along the Cantabrian Sea, the region is known for its delicious seafood pintxos, like anchovies and bacalao.
Tortilla de patata: Tortilla is arguably the most representative tapa in all of Spain, yet there isn't much variety to this renowned small plate. In regions of the Basque Country such as Bilbao, though, this simple potato, onion, and egg-based pintxo is made into a myriad of variations, including added ingredients such as green peppers and chorizo salsa.
Gilda: One of the boldest-flavored pintxos in the Basque Country, gilda is a pintxo made of a chunky olive, anchovy, and pickled pepper skewered on a stick. The result? An overwhelmingly green, salty, and moderately spicy pintxo.
Where to find the best pintxos in the Basque Country
For the best anchovies and bacalao, head to Bar Txepetxa in San Sebastián and Sagartoki in Vitoria-Gasteiz.
For the best tortilla de patata, head to Bar Izaro and Baviera in Bilbao, and Bar Néstor in San Sebastián.
For the best gilda, head to A Fuego Negro in San Sebastián.
Hungry yet? We hope you found this enlightening, though we fear you may never look at North American 'tapas' the same again! I guess you'll just have to go to Spain for the real thing…