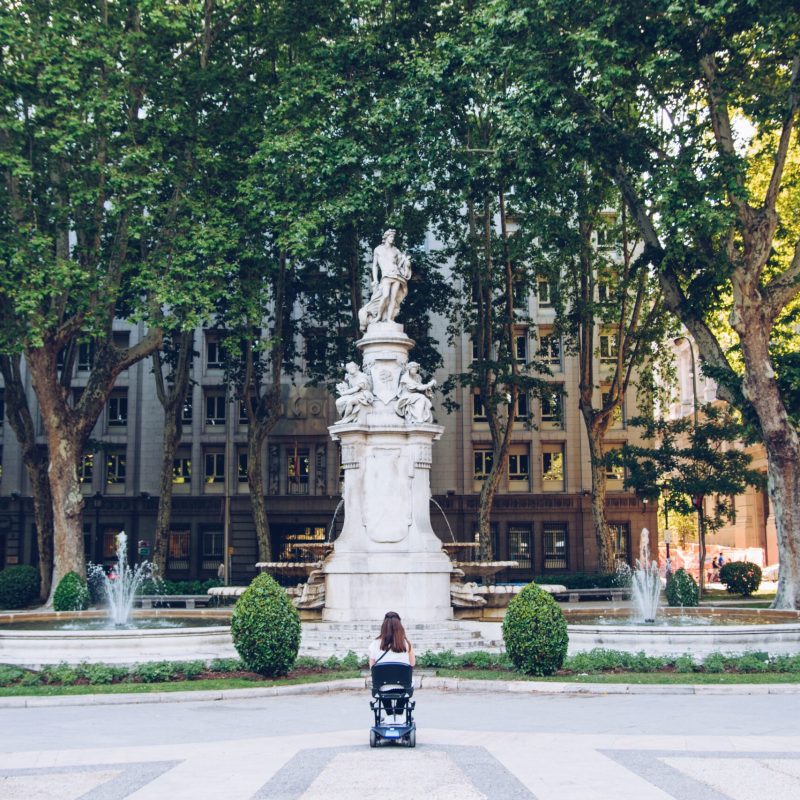 Traveling can be challenging, but traveling with disabilities can be even more so. Thanks to the Americans with Disabilities Act, however, travel is a lot easier now that accessibility is the law of the land.
That doesn't mean everything is easy for those with disabilities though.
If you have a disability, there are several things you can and should do to make your stay as pleasant and easy as possible, says Sandy Hanebrink, executive director of Touch the Future, an organization devoted to helping those with disabilities. A little pre-planning, she says, goes a long way in making sure you can enjoy yourself and your accommodations are accessible to your needs.
These 11 tips will help you accomplish that.
1. Identify your disability to your hotel
Most hotels will have accessible rooms, but be sure to tell them you need an accessible room and what your disability is. Make sure you print out your confirmation and take it with you, Hanebrink says, in case something happens to the reservation in the system. Hanebrink also recommends following up with the local hotel prior to your arrival just to ensure the room meets your needs. Also, getting someone's name to go along with that confirmation never hurts, she says.
2. Book your reservations through your airline's disability line
In 2008, the FAA determined rules to ensure that those with disabilities are not discriminated against when traveling. Now, Hanebrink says, most airlines have a special phone number those with disabilities can call to ensure that the airlines will be able to accommodate their needs. By reserving through the airline's disability line, you can guarantee your seat is accessible and that your needs will be adequately met. Search engines on each airline's web site, or searching through Google, will help you to find the appropriate phone number to call for each airline. Using a travel site like Travelocity to determine inexpensive rates, and then booking through the disability telephone line for that airline may help you save money as well.
3. Tape instructions for your wheelchair to the seat
Once you get in your seat, there won't be anyone to make sure that your equipment, like your wheelchair, will be taken care of properly. If you have a power wheelchair, take a picture of how to disengage and lock it, and then tape that information to the seat, Hanebrink says. Make sure the instructions are clear and that you visually show how to break it down appropriately. Hanebrink says she's had to replace wheelchairs after they were damaged when they were stored during a flight. Bring any removable pieces for the wheelchair onto the plane with you to be stowed onboard to ensure the pieces don't get lost.
4. Carry medical devices on board with you
Remember medical devices do not count as luggage and are free to take onto the flight with you. You should be able to bring them into the cabin with you and to store them with you in or around your seat. If you have to have medical devices with you, they should not be counted as part of your carry-on luggage. If you have problems with this, contact the airline's disabilities line. Make sure that you have the airline's disability line number with you just in case. Any time you feel discriminated against because of your medical issues, you should use the number if you can't get your issues resolved with the flight attendants.
5. Travel with a companion
For many reasons, it's important to travel with a companion. Even if you are mostly independent, it's a good idea to travel with a companion to ensure that your needs are taken care of in an emergency. Many airlines also offer free companion fare for disabled travelers with mobility issues. These companions can ensure that in the case of an emergency, someone is available to assist a disabled passenger. Contact the airline's disability number for more information about the Carrier Act 5 and to find out how to have a companion travel with you in flight. In some cases, you can even hire companions qualified to care for you as you travel.
6. Specify your disability needs with car rentals
Car rental services must also adequately accommodate your needs, but they may need some time to make the adjustments. In order to ensure that you get a car that meets your requirements, book car rentals at least 72 hours in advance, Hanebrink says. If you need hand-controls, rental car companies must provide you with one at their expense, she says. But it may take time for them to install them, so its best to give the service as much advance notice as you can. But, to be sure, call the company back 48 hours in advance to confirm the reservation will have the necessary accommodations and to ask when the car will be ready.
7. Call your cruise line to alert them to any accommodations needed
Thanks to the Americans with Disabilities Act, any cruise leaving from a US port is required to be accessible. And cruise lines should provide accessible accommodations on all levels of the ship and with different views. Make sure to call the cruise line to verify that your cabin and the ship is wheelchair accessible. Also, verify with the cruise that any excursions are accessible. While all cruise ships that sail in U.S. waters are required to comply with the ADA, there aren't standards specifically addressing cruise ships, so some are better at it than others. Critics rate Royal Caribbeans Symphony of the Seas as one of the best for accommodating travelers with disabilities.
8. Hotels that provide shuttles should be accessible too
Transportation to and from the airport to the hotel should be accessible to you as well. But just to be sure, call your hotel to make sure that their shuttle is accessible. Many are, but it's best to make sure the shuttle can accommodate your needs. If not, most airports and train stations have accessible taxi stands. Calling ahead of time will help make sure that you don't get stranded at the airport with no way to get to your final destination.
9. Call railroads for information about whether or not your train is accessible
Train travel should also be accessible too, but call to confirm, Hanebrink says. While larger national railroad lines may be accessible, some smaller ones that offer short tour lines may not be. Many times, Amtrak will offer discount fares for disabled travelers and their companions. For more information, contact Amtrak's passenger services line at 1-800-USA-RAIL.
10. Pack extra med and supplies in a plastic bag, just in case
You don't want to risk being without your medications and supplies because someone lost them, Hanebrink says, so make sure to pack a ziplock storage bag with extras of any medications or medical supplies you may need. And always keep them with you and not in a checked bag, she says. Inside the bag, it's always a good idea to have contact information for doctors, health insurance, pharmacies and any emergency care instructions, or allergies. Being prepared ahead of time can save precious moments when you need them, she says.
11. When you can't take it with you, rent
Traveling with some equipment can be cumbersome, she says. But most hotels, convention centers and cruise lines can help you get rental equipment delivered to their site — including wheelchairs, scooters, oxygen tanks, lift chairs, and power wheelchairs. Call ahead and talk to the concierge, or the hotel staff, to see if they have rental equipment, or the numbers of local people that will rent you equipment. In some cases, when you're traveling to national conventions, organizers will help you find the rental equipment that you need. National firms like Scootaround will rent mobility equipment to you and have it waiting for you when you get to your final destination.
We hope these tips help you to make the most of your vacation. Happy trails!