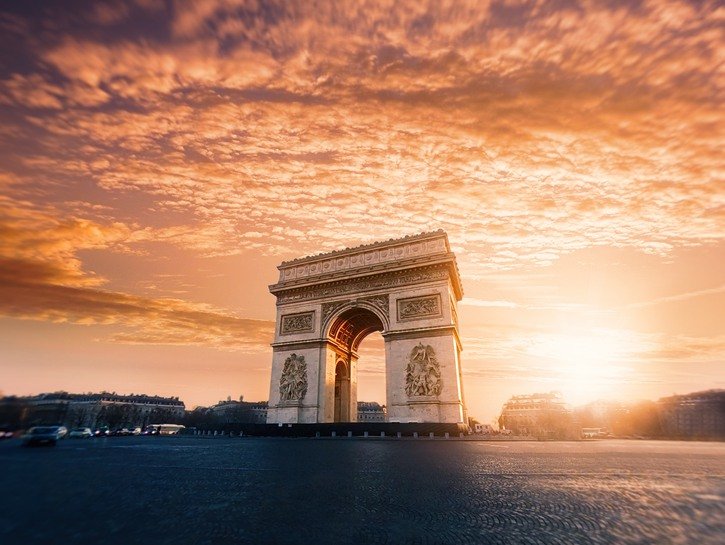 Paris is undeniably the most romantic city on the planet, and consequently, it's one of the most visited cities in the world. Ranking third after only Bangkok and London for the most visited city on the globe with approximately 18 million international visitors per year, Paris truly does live up to its name as the "City of Love" and the "City of Lights."
Traveling to one of the most visited cities in the world doesn't always come cheaply though. Thankfully, we've dug up some of Paris' best affordable accommodations, ways to eat some of the most scrumptious and authentic food without breaking the piggy bank, and popular attractions that are budget-friendly and sometimes even free.
We hope the following list will guide you in planning your ideal romantic getaway to Paris. Bon voyage!
Affordable Accommodations in Paris
Price: $68/night
Address: 23 Rue De La Jonquière, 17th arr., 75017, Paris
A mixture of contemporary and classic Parisian furnishings, Hôtel Avenir Jonquière features spacious rooms at affordable prices. An ideal lodging option for couples, the hotel's double rooms offer stunning city views, soundproof walls, private bathrooms, free Wi-Fi, flatscreen TVs, free toiletries, towels, linens, and a personalized wake-up service.
The hotel's prime location is situated just a two-minute walk from the nearest Metro station, Guy Moquet, and about one mile from both the Basilica of the Sacred Heart of Paris (Sacré-Coeur) and Palais Garnier opera house.
Price: $91/night
Address: 4 Rue Gambetta, 93400, Saint-Ouen
An up-and-coming boutique hotel, MOB HOTEL Paris Les Puces boasts an urban flair and is idyllically located next to Paris' largest flea market, Les Puces de Saint-Ouen. Stylish and comfortable rooms deck the halls of this hotel, with amenities such as pet-friendly accommodations, outdoor terraces and balconies, air-conditioning, heating, private bathrooms, soundproof walls, free Wi-Fi, elevators, ironing facilities, free organic toiletries, and the entire property is wheelchair accessible. The accommodation also features a 24-hour front desk service, grocery and library.
This unique accommodation even offers guests the opportunity to hang out at its trendy music bar, dine at its organic farm-to-table restaurant or lounge out in the lively summertime garden. Films are screened at the hotel after dark and, on the weekends, DJ sets, readings, concerts, barbecues, and other cultural happenings occur at the hotel.
Price: $114/night
Address: 26-28 Rue Des Batignolles, 17th arr., 75017, Paris
When guests first walk into this hotel, they will be greeted by a gorgeous antique grand piano. Hôtel des Batignolles' rooms are elegantly and thoughtfully decorated, spacious, and pristine.
This accommodation is ideal for travelers interested in romance, shopping and sightseeing. The hotel is just a 15-minute walk from several major attractions, including the historic district of Montmartre, Moulin Rouge, and Parc Monceau. Less than a 10-minute walk from the hotel is the Rome Metro station, with direct access to the Arc de Triomphe and Champs-Élysées avenue.
How to Find Cheap (and Delicious) Food in Paris
1. Street Food
While Paris boasts some of the best cuisines across the globe, trying the best foie gras and beef bourguignon can come at a hefty price. As an alternative, France offers an abundance of delicious and affordable gourmet street food that is slowly gaining popularity even amongst the snootiest of locals, much of which can be bought for under €10.
One of the many foods the French are known for is their delectable crêpes, and you shouldn't leave Paris without trying one! At La Droguerie, savory and sweet options abound and can be taken away and eaten on the go.
Marché Saint-Honoré is an area with more artisan-style street food and Cantine California serves an optimum gourmet burger. Head to Big Fernand to get a taste of Cantine California's greatest rival burger, or try out Café des Abattoirs' mouthwatering meatball sandwich during lunchtime on Saturdays.
2. Bakeries
La baguette is another one of France's famed foods, and bakeries, or boulangeries, are a great option for those wishing to save when dining out. For just €1, you can try a flaky croissant, baguette, or pain au chocolat; sandwiches typically cost around €5. The city's most popular Parisian bakeries are Du Pain et des Idées, Blé sucré, Boulangerie Utopie and Chambelland.
3. Ethnic Eats
A culturally and ethnically diverse city, Paris' streets are lined with affordable cuisines from around the world. Rue des Rosiers, the city's Jewish Quarter, is teeming with falafel and shawarma sandwiches, a favorite amongst late-night snackers. Head to L'As deu Fallafel for their Mediterranean salad and curry pita sandwich.
Take a journey across the globe at Marché couvert Saint-Quentin, an outdoor market offering everything from South American to African cuisines. Try some Portuguese rotisserie at Chez Silviana, Moroccan tajine at La Marrakech, Brazilian feijoada at Alegria Brasil, or Senegalese yassa at Oh Africa!, a spicy dish prepared with onions, lemon and marinated poultry or seafood.
4. Prix Fixe
Richard Nahem is a Paris-based travel blogger and tour manager. Through his company, Eye Prefer Paris Tours, he specializes in showing visitors a side of the city most tourists never see. We asked him for some Paris pointers.
"Many good restaurants have two or three course prix-fixe lunches which are always much less expensive than at dinner," Nahem says. "Crepes are another inexpensive option, or a simple ham and cheese on fresh baguette is only €4. I also write a monthly feature on my blog about the best places to find a two or three-course lunch for under €20."
Interested in learning more about Paris tours? Check out An Interview With Paris Tour Guru Richard Nahem.
Affordable (and Free) Attractions in Paris
Price: Free
Arguably the most iconic cathedral in the world and one of the city's most visited attractions, Notre-Dame is a medieval Catholic cathedral and is deemed one of the finest examples of French Gothic architecture. The cathedral began construction in 1160 and was largely completed by 1260. Though suffering from desecration during the French Revolution, this epochal cathedral still stands tall today.
Admission to the cathedral is free, but visitors will need tickets to enter the tower (€8.50) and the crypt (€6). If you purchase a Paris Pass, a complete sightseeing pass for tourists, the price of both the tower and the crypt are included. Baggage is not allowed in the cathedral; there is also a reception center with paper and audio guides available.
Price: €3-€11
A trip to Paris wouldn't be complete without heading to the top of the Eiffel Tower, the most-visited paid monument in the world. There isn't an attraction that depicts Paris more than the Eiffel Tower, and luckily, it doesn't cost a fortune to take a gander at this quintessential Parisian attraction. Named after the engineer Gustave Eiffel, the architectural structure is a wrought iron lattice tower standing 1,063 feet tall on the Champ de Mars.
Entrance atop the Eiffel Tower varies greatly in price. Adults over 25 willing to climb the tower's 704 stairs to the second floor will pay €7. Youth visitors aged 12 to 24 pay €5, and children from four to 11 pay €3. Tickets with elevator access cost €11, €8.50 and €4, respectively.
Price: Free-€9
Recognized as the world's largest art museum, the Louvre in Paris attracts approximately 9 million annual visitors, mostly to gaze upon Leonardo da Vinci's Mona Lisa, Eugène Delacroix's Liberty Leading the People and Alexandros of Antioch's Venus de Milo.
Entrance to the Louvre generally costs €9, but those heading to the museum after 6:00 p.m. on a Wednesday or Friday will pay a reduced price of €6. On Friday evenings, entrance is free for visitors under 26, and on the first Sunday of each month (Bastille Day), entrance is free to all visitors.
4. Gardens
"Take a free walk through the beautiful gardens of Paris for free," Richard Nahem of Eye Prefer Paris advises. "The Tulieries, Luxembourg gardens, Parc Monceau, Butte Chamont, and Palais Royal. A day trip to Versailles is great, and for €18 you can visit the palace and the garden is free. The train fare is €7 roundtrip. You can make a whole day out of it. There are many small, museums in Paris that are free."
He sent us this link to all the admission-free monuments and museums in the city.
Best of luck making your trip to Paris magical and memorable! It's truly surprising how much there is to do and see without breaking the bank.