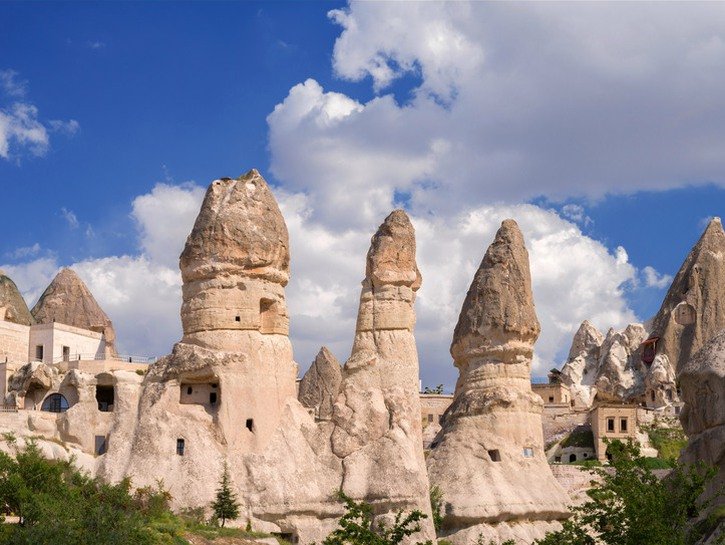 Mirrors on the ceiling, the pink champagne on ice.
And she said: 'We are all just prisoners here of our own device.'
— The Eagles, Hotel California
If you want to stay at a Holiday Inn or a Best Western, you can always do that. Soft sheets at night, hard bagels in the morning. Ice machines and room service carts and pay-per-view. Nothing oddball, nothing intriguing. A place for everything, and everything in its place.
Or…
You could choose the path less traveled by, and lay your head down in some of America's weirdest hotels. Some are unorthodox, some are historical, some are downright charming. But all share an eccentricity you won't find at the monochromatic super-chains. Depending on how you like to sleep, that may or may not be a good thing.
The Madonna Inn, San Luis Obispo CA
TripAdvisor rating: 4.0/5.0 (Certificate of Excellence)
Price: $300 per night and up
The Madonna Inn is one of America's most iconic and eccentric hotels. It offers 110 rooms, each one done up in completely unique style. Some are crazy, some campy, but all are colorful and unlike anything you'll find a the Hilton. That's for sure!
Just a few of the themed rooms: Pioneer America, Mountain Cabin, Indian, Yahoo (which includes a bed resembling a buckboard wagon), Rock Bottom (stone walls and floors), Hearts and Flowers, Edelweiss, and Caveman. All of these suites live up to their names without compromising on comfort or convenience.
Alex and Phyllis Madonna, owners and namesakes of the inn, originally went into business in 1958. In 1966 the original structure burned down, but the Madonnas rebuilt their baby in style. It was the reconstructed iteration of the inn that first included the quirky themed suites that would become so famous.
The Madonna also features a restaurant and bakery onsite. If you can't book a room, you should at least stop in and encourage your husband to visit the bathroom; one of the inn's most famous features is a waterfall urinal in the men's room which was constructed by a famous Hollywood set designer.
Want to learn more about the Madonna? Read 10 Unique Rooms Only Found At The Madonna Inn.
Dog Bark Park Inn, Cottonwood ID
TripAdvisor rating: 5.0/5.0
Price: $126 per night for one, $132 per night for two, $12 per night for each additional guest
Cottonwood, Idaho is a long way from anywhere, but it may just be the perfect place to immerse yourself in the peace and quiet of the prairie. And if you're a dog lover, the locals have the perfect place for you to hang your hat.
Dog Bark Park Inn is home to the world's largest beagle — so large, in fact, that it sleeps four! The owners, a pair of artists, have constructed a sort of Trojan dog named Sweet Willy that functions as a B&B. You'll find most amenities here: free WiFi, full bath, air conditioning, refrigerator. Expect plenty of healthy, locally-sourced snacks, a complimentary breakfast, and a guest library heavy on books about dogs.
If you're really not a dog person, or if you can't do stairs, this may not be the stop for you. But otherwise, those who have had the good fortune of spending a night in Sweet Willy can't say enough about what a good boy he his, and how welcoming his owners are!
Jules' Undersea Lodge, Key Largo FL
TripAdvisor rating: 4.0/5.0
Price: $675/night for a single occupant, $800 for two, group packages also available
21 feet below the surface of the Key Largo Undersea Park lagoon, you'll find one of the world's few underwater hotels.
How do you get to your room, one of three on offer here? Well, you'll have to scuba dive. (Don't worry: if you've never tried it, you'll be given a lesson beforehand. You can even get certified in the lagoon if you want.)
Your luggage will come with you in an air-tight container, the same container that will bring you pizza if you order it! Even if you're not nautically inclined, this stay is surely worth your while just to say you had a pie delivered to you beneath the waves.
You won't be alone in the lagoon either: there are fish and manatees a-plenty, and they may be just as eager to see you as you are to see them through the windows of this unique maritime hotel.
Hillside Homestead, Suttons Bay MI
TripAdvisor rating: 5.0/5.0
Price: $200-$260 per night, depending on room choice
The reservations are made online, but that's the only modern thing about Hillside Homestead. Apart from the booking, it's an immersive trip back to the America of 1910, curated by food historian Susan Odom, who owns and operates the retreat.
Odom formerly worked as a historical re-enactor, and she's fully committed to providing her guests with an authentic turn-of-the-century experience. None of the furniture or accessories here are more recent than 1910, and Odom serves up dishes from a Victorian cookbook, prepared the old-old-school way. If you don't feel like spending the night, you can reserve a spot at the dinner table. Since the homestead is located on a working farm and orchard, much of the food you'll eat is grown and prepared onsite.
Starting in November 2018, Odom will also be offering classes.
The Liberty, Boston MA
TripAdvisor rating: 4.0/5.0 (Certificate of Excellence)
Price: $399 per night and up
On first blush, Boston's Liberty might seem like just another swanky boutique hotel. But then you notice the peculiar names of its restaurants and bars: 'The Clink', 'Alibi'… What is going on here?
The Liberty is possibly better known under the name by which it went between 1851 and 1990: the Charles Street Jail. Over nearly a century and a half, it housed several prominent inmates, including Malcolm X and a number of suffragette leaders.
In 2007, the building was re-opened as a 300-room luxury hotel, but the designers were careful to retain some of the original architecture. The famous rotunda, for example, remains very prison-like, while the Clink restaurant invites guests to dine in the remnants of cells.
Nevertheless, the management would be quick to remind you that The Liberty is only gesturing toward its past; it is no longer a prison but an upscale hotel, and hardly worth the price of admission if you're only interested in the history of the building.
Beckham Creek Cave, Parthenon AR
TripAdvisor rating: 2.5/5.0 (only two ratings)
Price: from $1,100 per night
Who knew a Bedrock-style vacation could be this fancy?
The Beckham Creek Cave is exactly what it sounds like: a huge vacation rental home excavated in a freaking cave in the Ozarks. This unique accommodation comes complete with four bedrooms, four baths, and room for 16 guests in total. Given the amount of space and the price tag, it's probably most realistic for a big old family vacation. There's even room for that one cousin who eats mustard sandwiches without his shirt on.
The pictures of Beckham Creek Cave are truly spectacular, but the TripAdvisor reviews remind us that it is a cave, and it comes with all the problems you might expect — especially moisture. Sleeping in a Bond-villain lair sounds fun, but paying $1,100 to sleep on a soggy mattress… less so.
Still, if you're looking for novelty, Beckham Creek is solid as a rock.
There you have it: some of the strangest places to stay in America. Why not make your next sleepover a little less predictable?