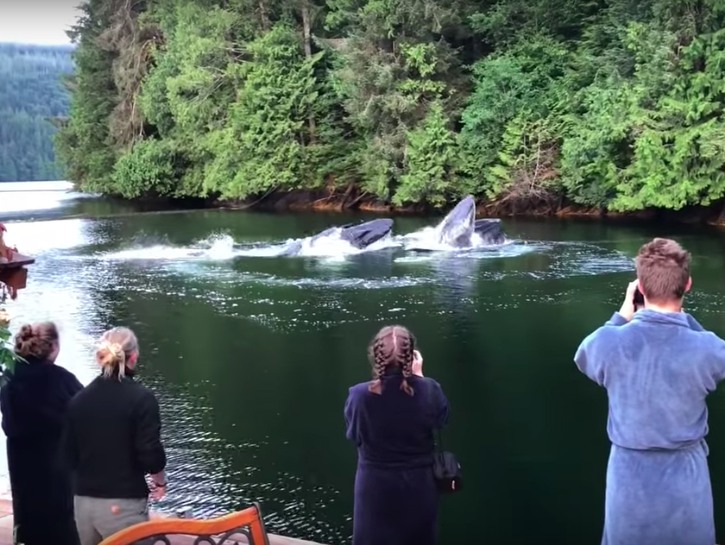 Imagine you're vacationing at a secluded lodge on the misty, wooded coast of Vancouver Island, British Columbia. It's 6 a.m., so you're sleeping blissfully when suddenly you hear a knock at your door. Next thing you know, you're being prodded down to the dock by the jubilant proprietor. How annoying! What's her problem?
But then you see them, their massive grey-white bodies churning up froth in the shallow waters of the cove. Humpback whales are hunting for breakfast just feet away from the dock where you stand in dazed delight.
That's what happened to a group of tourists at Great Bear Lodge in Port Hardy, B.C. this Saturday morning. Given how close these gentle giants had come to the lodge, and the rarity of their appearance, co-owner and operator Marg Leehane felt she had no choice but to wake her customers, most of whom were from the UK.
"Our guests, who have never seen anything like this before … those people will go away with a memory they will never forget for the rest of their lives," Leehane told the CBC.
Sounds about right! Humpback whales are hard to forget. Members of this species average from 40-50 feet in length, and tip the scales at 25-30 metric tons! They can be found all over the world, since they migrate as many as 16,000 miles per year to mate and give birth in warm, tropical waters.
But was happened at Great Bear Lodge was an extraordinarily intimate encounter.
Leehane filmed a video of this serendipitous early morning visit, which has garnered more than two million views on Instagram as of this writing. Check it out for yourself below!
The blonde woman in the turtleneck and khaki slacks excitedly pointing and high-fiving awestruck guests is Marlo Shaw, a biologist and local tour guide.
"I love watching her body language as much as the whales, because she's so excited to see it," Leehane said of the video. It really does give you a sense of how special this moment is.
The humpbacks in the video are indeed hunting for fish, though it may seem as though they're just horsing around. According to Leehane, who has spent 17 years working in the wilds of B.C., they're employing a highly specialized technique known as bubble-netting. The whales use their considerable lung capacity to blow a ring of bubbles, thereby trapping a shoal of fish. Voilà! Breakfast is served.
Leehane notes that this is the closest a pod of humpbacks has ever come to her lodge, and this is the first time she's seen whales in the area use the bubble-netting technique.
Bubble-netting is a learned behavior rather than an instinct, and not all pods are up on the trade secret. That the knowledge is being passed on says something in itself about the intelligence of our blubbery, karaoke-loving friends beneath the waves.
Want to see more of the sea? Read up on The 8 Best Places To Go Whale Watching.