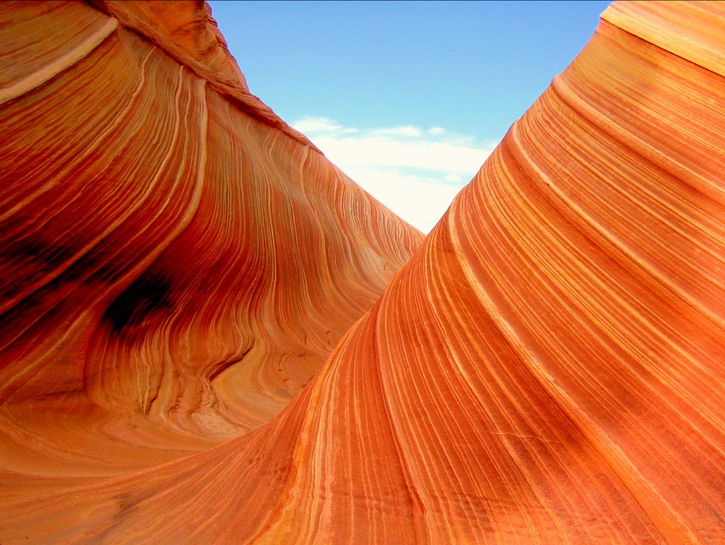 A Belgian tourist died of exposure to the heat yesterday while hiking in Arizona's Vermilion Cliffs National Monument, just south of the Utah border.
Christophe Pochic, 49, was hiking the popular 6-mile route with his son, 16. Pochic apparently became disoriented and got separated near the Wave, a unique rock formation with swirling erosion patterns.
Cellphone reception is notoriously patchy out in the National Monument, but the son was able to phone his mother and alert her to the fact that his father had vanished and required assistance. The mother then notified the authorities.
The son searched for three hours, assisted by fellow hikers, but to no avail. Pochic's body was found by the Bureau of Land Management (BLM) two hours later, on Monday evening.
Kane County sheriff's Sgt. Alan Alldredge pointed out that this is the first death in Vermilion Cliffs National Monument since 2013, when a trio of hikers succumbed to the heat.
In a press release, BLM noted that temperatures have been extremely high of late, and that the region's iconic rock formations only drive them up. They advise hikers to leave early in the day and return early to avoid danger.
But the tragic death of Christophe Pochic raises important questions about safety and preparation in Vermilion Cliffs National Monument.
Only twenty people are allowed to make the hike each day, and the tickets are dispensed by lottery. Normally if you win a ticket, it's for the following day. However, the Crawfords, two fellow hikers, say Pochic and his son were given same-day tickets that weren't being used.
After winning their tickets, the Crawfords say Pochic and other hikers were treated to a BLM seminar about the potential dangers of hiking the Monument. But by that point, it was nearing midday and the head of the trail was still an hour-and-a-half drive away.
"[Pochic] actually got up before the session ended and said, 'I really have to go. I have a really hot hike ahead of me,'" Rich Crawford told Fox 13 in Salt Lake City.
The Crawfords commended BLM for providing safety precautions before sending people out into the park, but don't think they should have let the Pochics go hiking in the midday sun.
"I don't really think it's responsible to let anyone leave," Crawford said, "knowing they're going to go on that hike, at that time of day."
The Crawfords noted that the trail is not marked, and a person could easily become lost in certain areas — especially if they're already combatting fatigue, heat stroke, and dehydration.
BLM declined to comment, citing an ongoing investigation.
Traveling somewhere hot? Check out 9 Essential Desert Survival Tips.