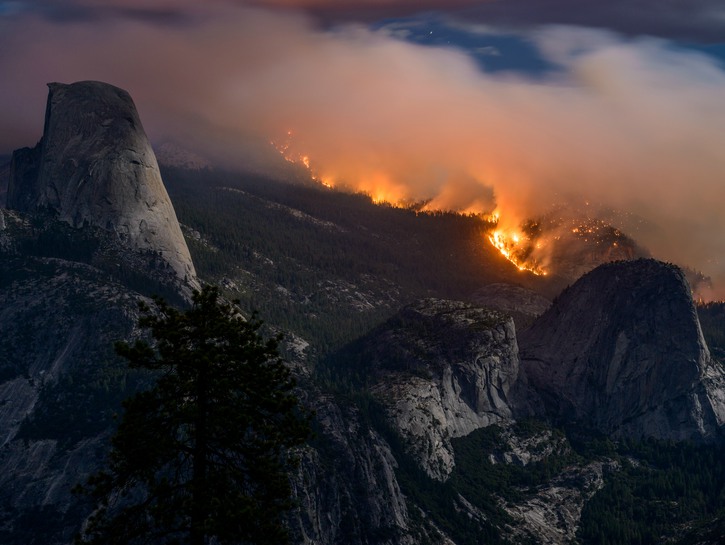 Yosemite National Park in California's Sierra Nevada is one of America's most iconic outdoor destinations, drawing 4 million visitors every year. The park is most famous for Yosemite Valley, with its epic 'tunnel view', and El Capitan, a peak popular with rock climbers.
But the park's 747,000 hectares also include several ancient giant sequoia tree groves, which are currently threatened by the ferocious Ferguson wildfire raging nearby.
On Wednesday, officials were forced to close Yosemite, canceling more than 1,000 reservations and forcing 2,000 campers to cut their stays short. While the area is not in immediate danger, firefighters need time and space clear brush and build fire lines to keep the blaze from spreading into the park.
More than 3,400 people are working to hold back the Ferguson fire, but it remains only 29% contained. As of this writing, it has stretched to cover 45,911 acres. There is no projected timetable for bringing the fire under control, as responders battle inordinately dry conditions and temperatures in excess of 100°F.
"We're working really hard to catch it," a forest service spokesman told The San Francisco Chronicle. "But it's in a bad area, thick with growth, and the fire in that spot has grown very quickly."
One particularly vulnerable area of the park is the Merced Grove, a cluster of more than 100 sequoia trees, some of them 1,000 years old. 20 firefighters have the grove surrounded with hoses and fire lines as the Ferguson fire belches and spits just two miles to the south.
"It's basically a defense," a park spokesman told The Mercury News. "When you look at the fire progression and the scenarios where it could go, the Merced Grove hasn't seen fire in a long time. We are doing it as a preventative measure."
In recent weeks, at least 57 square miles of Sierra Nevada woodlands have burned, part of a disturbing trend of west coast forest fires that seem to get worse every year.
There are a number of reasons why wildfires, particularly in California, seem to be getting worse over time.
For one thing, California's population is growing quite rapidly, which has led to more and more development. That means more people are living (and playing) in drought-prone parts of the state where wildfires are more likely to break out. It's also the case that 84% of all wildfires are started by humans, whether through malice or carelessness.
But climate change is part of the trend as well. Higher temperatures mean the moisture that's stored over the winter evaporates more quickly, leaving behind a tinder box. Combined with the Diablo winds that blow across the Sierra Nevada, the result can be devastating forest fires.
With any luck, the Ferguson fire will spare Yosemite National Park with its ancient sequoia trees, and campers will be able to return to one of America's favourite getaways.
But the overall trend seems unlikely to change any time soon.
If you're planning a trip to Yosemite in the coming weeks, be sure to check the park's website here before going.