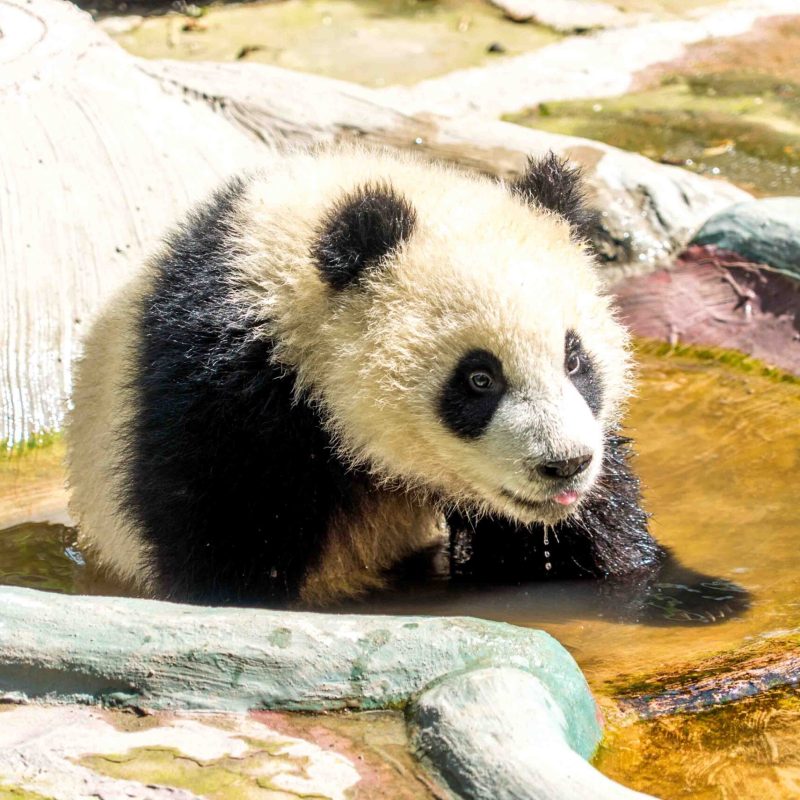 Today, over 40,000 species are on the endangered species list. Taking a volunteer vacation can help make a difference.
1. Panda Reserve, China
The panda population is dwindling thanks to deforestation and a delicate birthing process that leads to high infant mortality. The China Conservation and Research Center for the Giant Panda (CCRCGP) has been hard at work for the last 20 years. They'd love it if you flew into Ya'an City to give them a hand. The China Conservation boasts the highest panda birth and survival rates in the world. Over two decades, the CCRCGP's panda population has grown from its initial six pandas to over 70. The project length is one week. You'll be tasked with preparing food, chopping bamboo, and cleaning enclosures. Several cultural activities are included as well.
2. Cheetah Conservation, Namibia
Years of conservation efforts in Namibia have allowed the cheetah population to make a comeback in the region. There was a time not long ago when cheetahs occupied the majority of Africa's countries. Thanks to habitat loss, high infant mortality, and poaching, the continent's population nearly slipped into extinction. The Cheetah Conservation Fund (CCF) welcomes working volunteers. The work isn't glamorous but is much needed. Volunteers live onsite and do everything from chopping meat to collecting scat (feces) samples. The location is rural and isolated, even for Namibian standards. Bring sunscreen and expect to work a wide variety of tasks.
3. Bali Sea Turtle Rescue, Indonesia
Bali Sea Turtle Rescue's focus is on spreading conservation knowledge about the delicate state of the global sea turtle population. They rehabilitate turtles who are injured by local fisherman and help baby hatchlings waddle to the ocean during breeding season. When injured turtles have healed, they're triumphantly returned to the ocean. Bali Sea Turtle Rescue asks that volunteers stay a minimum of two weeks. The first five days are dedicated to an introduction to Balinese culture. After wrapping up the week-long orientation just outside of Ubud, you'll venture over to Nusa Penida, a large island off the southeastern coast of Bali. Once there, you'll be charged with feeding, cleaning tanks, caring for sick and injured turtles, nurturing new hatchlings, and scouring the beach for eggs.
4. The Orangutan Project, Borneo
The Orangutan Project is based out of the Matang Wildlife Centre in the lush Kubah National Park. An array of species from sun bears to macaques call the area home. Orangutans are considered critically endangered. Populations have declined dramatically over the year due to rampant deforestation of their habitat. Mining and the pet trade place further pressure on their waning numbers. Without intensive conservation efforts, orangutans would probably already be extinct. As a volunteer at the Orangutan Project, you'll participate in constructing new platforms, feeding, cleaning, and gardening. Unfortunately, no direct contact is allowed with the orangutans. The goal of the project is to keep them wild. Unnecessary human contact would make them more dependent on caretakers.
5. Giant Tortoise Center, Galapagos Islands, Ecuador
At one time, a quarter million of these giant tortoises freely roamed the South American islands. Today, a mere 3,000 remain. Sailors and settlers hunting them for food are mostly to blame. The Galapagos Islands are a chain of islands off the coast of Ecuador in the Pacific Ocean. The archipelago is home to a wide range of rare and exotic species. As a volunteer, you'll work with the Galapagos National Park to preserve the tortoise population. That's no small feat considering these mammoths weigh up 800 pounds. Watch your toes! Your tasks may include feeding, cleaning and maintaining enclosures, and explaining the codes of conduct to tourists. The Giant Tortoise Center requires a three-week minimum stay. The extra ambitious can stay and work for up to three months if they schedule far enough in advance.
6. SANCCOB, African Penguins, South Africa
Penguins are endangered as a result of commercial fishing and the reverberating effects of oil spills in the region. Shipping lane traffic continues to affect their numbers. SANCCOB successfully returns 90% of the birds that they rescue to the wild. The Southern African Foundation for the Conservation of Coastal Birds (SANCCOB) is located in Cape Town South Africa. Volunteers must stay a minimum of six weeks. You'll spend your time preparing food for feeding, cleaning the pools and habitats, and delivering medicine. SANCCOB's hospital is a streamlined facility. The program requires a six-week minimum because volunteers are allowed to take part in life-threatening emergencies when they arise. It isn't entirely uncommon for the hospital to be swamped with hundreds of orphaned chicks in a short period. During crunch time, everyone puts in 12 hour days. It'll all be worth it when you get to release the rehabilitated birds back into the ocean.
The world is a rough place for the long list of endangered species that inhabit it. Working volunteers provide a vital service, not only in staff hours but in becoming ambassadors of the cause. The work doesn't stop when your volunteer vacation ends. Get out there and spread the word! Chances are, you'll have too much fun to stay away from the grind for long.