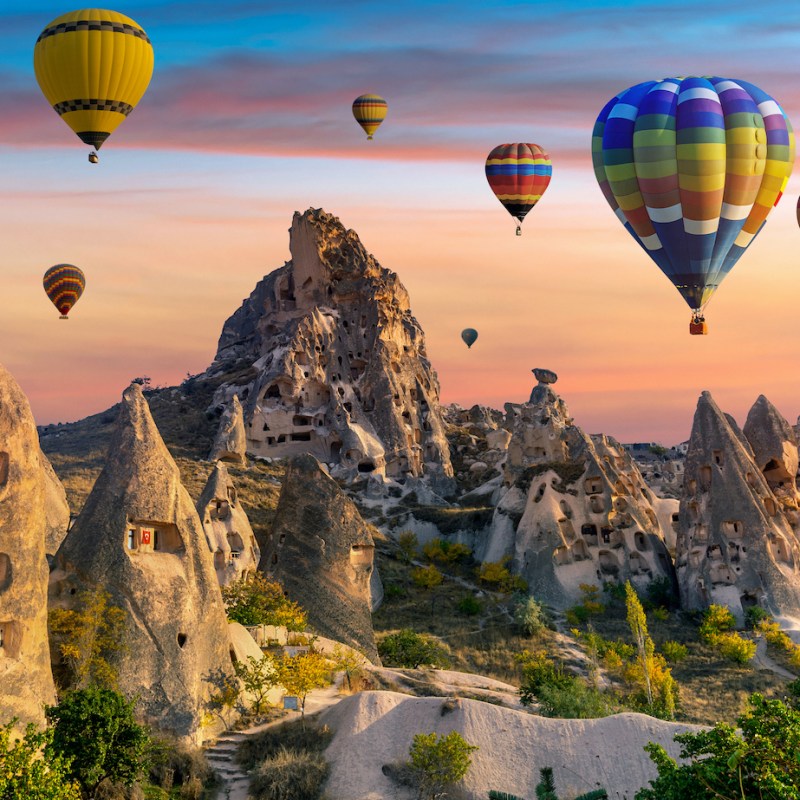 One of the most beautiful and rugged landscapes of Turkey is in the region of Cappadocia. Located in the historic Central Anatolia Region, Cappadocia, a name that once meant "land of beautiful horses," is a 90-minute flight from Istanbul. Nevsehir, Kayseri, Aksaray, and Nigde are the four cities that form the touring area of Cappadocia.
Prehistoric cave homes carved into the mountains, hot air balloon rides, medieval churches with intact, painted frescoes, breathtaking mountain ranges in hues of white, red, rose, and green, vast underground cities, mountaintop villages with merchants selling local crafts and merchandise, and richly flavored and spiced foods are just some of the outstanding things that make Cappadocia an unforgettable destination.
The best times to visit Cappadocia are March through June and September and October. Temperatures in July and August can reach 100 degrees Fahrenheit. We'll be your travel guides. From hot air balloon rides over the region to Cappadocia tours, here are some of the best things to do on your visit to central Turkey.
1. Go On A Famous Cappadocia Hot Air Balloon Ride
Just one look up at the sky when you are in Cappadocia, and you will spot dozens of colorful hot air balloons floating in the distance. Hot air ballooning is the best and most magical way to experience the dramatic landscapes of the area.
Cappadocia Hot Air Balloon Flights
Cappadocia Balloon Flights is a well-established company that provides three types of voyages. The Standard flight is 60 minutes, with a capacity of up to 20 people in one basket and offers a complimentary glass of Champagne upon landing. The cost is under 150 euros per person. The next level is the Deluxe package, which is the same as the Standard, except it's 90 minutes, and the basket holds 12 to 16 people max. The cost is under 250 euros per person. The Special program includes the same amenities as the other two options, but is almost private, with baskets that only take two to four people. All rides include a round-trip transfer to and from your hotel.
Kapadokya Zeppelin
If you are looking for a romantic balloon ride just for two, Kapadokya Zeppelin offers the exclusive VIP experience, which includes a light breakfast and a Champagne reception after you land.
Pro Tip: Balloon tours start at sunrise because of the optimal wind conditions.
2. Visit Goreme Open-Air Museum
Göreme National Park was one of the first UNESCO World Heritage List sites designated in Turkey. Nearby, just east of the town of Goreme, the Goreme Open-Air Museum is an outdoor complex of monasteries and cave churches cut into volcanic rock from the 10th, 11th, and 12th centuries. Many of the chapels were carved from the stone mountains and some have frescoes that remarkably still retain their original colors.
Highlights of the Goreme Open-Air Museum include the Nunnery, a seven-story rock sculpture, which contained a nunnery with a dining hall, kitchen, and chapel, the Apple Church with four columns and a central dome with detailed frescoes of scenes from the Bible and the life of Christ, and the Dark Church, which is accessed by a winding tunnel and has wall murals with scenes from the Annunciation, Journey to Bethlehem, Nativity, Baptism, Last Supper, and Crucifixion.
A short walk from the main attractions of the park brings you to the Buckle Church, which has four chambers housing the Old Church with its bright red and green paint depictions of the Bible, and the New Church, which has indigo paintings of the life of Christ in great detail.
Pro Tip: Two-hour, private tours of the park can be arranged.
3. Go Underground
There are 36 underground cities in Cappadocia, and they contain just as much history and fascination as the mountains and structures above ground. Some of the more well-known underground cities of the Cappadocia region include Derinkuyu Underground City, Ozkonak Underground City, Mazi Village Underground City, Gaziemir Underground City, and Kaymakli Underground City.
Kaymakli Underground City
Built under a citadel, Kaymakli is the deepest and most complex underground city in the area. The underground extravaganza consists of eight floors, four of which are open to the public. There's a church, stables, living quarters, storage areas, wine cellars, and a kitchen. It was also discovered that the city had a facility to melt copper. Research has shown that up to 3,500 inhabitants may have lived there at one time.
4. Take A Walking Tour And Hike
Andromeda Tours: The Red Tour
An award-winning tour company, Andromeda Tours offers day tours throughout Cappadocia and Turkey. The Red Tour, a full-day tour with pick up from and return to your hotel, explores the northern part of the area including the city of Goreme. The tour includes a visit to Goreme Open-Air Museum and Monks Valley. Also known as Paşabağ Valley, the area is famous for its "fairy chimneys," which are geological rock formations with mushroom-like tops. Next, stop by a ceramics workshop and factory where you'll experience a potter at his wheel, hand-making pottery. The tour ends with a visit to Uchisar Castle, which has a series of hollowed-out rooms in towering rock formations with stone stairways, passageways, and tunnels. Uchisar Castle is the highest point of Cappadocia and has sensational views. Lunch at an authentic Turkish tavern is included.
Ala Turka Tour Company: The Green Tour
You can also take a full-day tour of South Cappadocia, where the softer colors of green, orange, and pink are markedly different than the earthy tones of the north. The first activity of The Green Tour, organized by Ala Turka Tour Company, is walking through the mostly flat Meskendir Valley, which has an ancient church with still-existing frescoes, followed by a walk in the Rose Valley, which has vineyards and gardens where locals will treat you to tastes of their products. Next is the Red Valley with stunning rock formations of red clay, followed by Cavusin Village, a labyrinth of homes carved out of rock that are thousands of years old, and the Church of John the Baptist, which dates back to the fifth century. Pigeon Village was created by farmers who used pigeon droppings as fertilizer for their crops and built special huts to attract them. The last stop is Love Valley, where you can view pillars, cones, and mushroom-shaped volcanic rock formations.
Pro Tip: Make sure you plan your tours and excursions according to your physical abilities and stamina. Tour companies offer tours and activities ranging from hiking trails up steep mountains to bus tours with minimal walking.
5. Sample The Local Delicacies
Reserved Restaurant & Lounge
Reserved Restaurant & Lounge in Uçhisar is a pleasant deviation from the area's many Turkish restaurants with traditional food and interiors. This Cappadocian restaurant's beautifully appointed contemporary interior has aqua blue, velvet tufted chairs, creamy marble floors, petrified wood tabletops, and chiseled rock walls. The chef, who was the head chef at the Four Seasons Hotel in Istanbul, has created a contemporary Turkish menu.
Pro Tip: A must-eat is the mezze of five spreads including baba ghanoush and hummus, plus a bowl of black and green olives. The restaurant serves excellent Turkish wines.
Ziggy Terrace
Ziggy Café is in a restored stone house that has three outdoor terraces overlooking the scenic mountain village of Urgup. Inside is cozy with club chairs and fireplaces. The menu specialties include borek, puff pastry filled with cheese, spinach, and/or meat, and pastirma, a sundried, cured version of pastrami prepared with garlic, fenugreek seeds, paprika, and salt.
6. Stay In A Unique Hotel
The Karlik Evi Hotel
The Karlik Evi Hotel is a quirky and whimsical hotel in an old house. The lobby is filled with antiques, Turkish rugs, backgammon sets, and handsome dark wood floors. Paintings and drawings, collected by the owners, who attend the annual art fair in Uchisar, hang on almost every wall. The spacious rooms have stone walls, bathrooms with jacuzzi tubs, king-size beds, and pillows wrapped in tapestries arranged on the floor with low tables for tea drinking. The extended garden area behind the hotel combines a sculpture garden, a glass gazebo, and a partially working farm with a henhouse.
The Museum Hotel
Part of the Relais and Chateau hotel group, The Museum Hotel has 30 uniquely designed rooms, all luxuriously appointed with antiques and stunning views of Cappadocia. The hotel has a swimming pool with a mosaic floor and a stone deck. The Lil'A is one of the best restaurants in Cappadocia and the award-winning chef, Mustafa Buyukhan, imaginatively combines the flavors and accents of Turkey and Armenia. The hotel offers cooking classes with Chef Buyukhan, during which you learn how to prepare a typical Turkish meal.
Rox Cappadocia Cave Hotel
Rox Cappadocia has converted a series of stone caves into six luxurious hotel rooms. An organic breakfast of homemade breads, jams, and cheese with Turkish coffee is served on a delightful terrace with lounges and sofas facing the mountains, and snacks are served in the afternoon.
7. Shop For Souvenirs, Carpets, And More
All the villages in Cappadocia have high-quality, locally made crafts, ceramics, rugs, tapestries, and souvenirs. Prices are quite reasonable, so it's easy and fun to stock up on gifts and not break the bank. Cute mini-hot air balloon key chains make great gifts.
Serhat, in Uchisar, has hand-embroidered tablecloths, napkins, and runners in soft cotton and silks.
In Goreme, Sultan Carpet stocks a wide selection of handmade carpets and tapestries from nomadic villages.
Pro Tip: It's customary to bargain in the shops, so don't be afraid to negotiate a lower price, especially if you buy multiple items in one shop.
Related Reading: