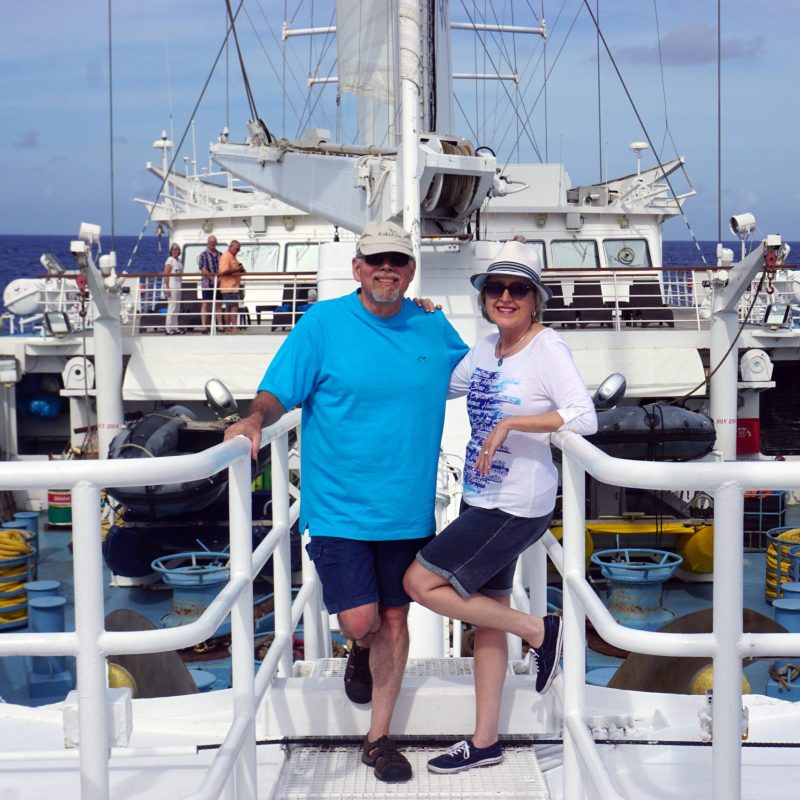 Although she was born and raised in the Midwest, Debbra has always been a Tropical Travel Girl. Childhood vacations to Florida opened up her world to sun, sand, and turquoise water. On her first Caribbean trip to Jamaica in 1990, a snorkeling excursion introduced her to an incredible new world: the world that exists below the surface of the sea. Debbra was hooked. In 1992, she became a certified diver, and since then she has visited numerous islands, 30 in the Caribbean and others in French Polynesia, Fiji, Mexico, Hawaii, the Canary Islands, the Balearic Islands, and the Galapagos Islands. 
Since 2006, the writer, photographer, and travel consultant has been sharing information and advice about tropical travel on her website. Through her destination content, blog posts, and photos, Debbra hopes to assist and inspire those interested in planning a trip to the tropics.
TA: Where are you from?
Debbra: I've recently relocated back to Evansville, Indiana, where I lived most of my life. I was born in Kentucky and raised in Mount Vernon, Indiana, near Evansville. During the 12 years I was away from my home area, I lived five years in Denton, Texas (2006-2011) and seven years in Muncie, Indiana (2011-2018).
TA: How many years have you been traveling? What got you hooked?
Debbra: Florida beach vacations with my family exposed me to those turquoise waters that were so different from the brown Ohio River that fronted my hometown in Indiana. Many years later, getting a glimpse into the underwater world in Jamaica through my snorkel mask is what really hooked me on travel to the tropics.
TA: Do you specialize in a particular type of travel?
Debbra: Tropical travel has long been my specialty, but my love of food and wine has allowed me to expand my niche beyond "sun, sand, and sea," my website's tagline. Since I'm a member of the Baby Boomer generation, I also bring that perspective to covering any destination I visit.
TA: What is the best vacation you've ever taken?
Debbra: I will narrow it down to two. A 10-day Windstar Tahiti and Tuamotus cruise with my husband in late 2017 is tied for top trip. I had always wanted to return to the South Pacific since being there in 2009 on my first press trip with other writers. We each had our own overwater bungalow in Bora Bora, and I longed to return and stay in one with my husband. When our Windstar cruise ship overnighted in Bora Bora, we were able to fulfill my dream by staying in an overwater bungalow at the Four Seasons Resort.
The previous year, we sailed with Windstar on a "Treasures of the Greek Isles" cruise, beginning and ending in Athens. It was another trip of a lifetime, including ports like Mykonos, Patmos, and Santorini, where we arranged a photo shoot in the village of Oia, with its iconic blue-domed churches.
TA: What is the most romantic place you've ever visited with a partner?
Debbra: Bora Bora, hands down–although just about anyplace in French Polynesia will do, especially if it involves a stay in an overwater bungalow!
TA: What is the best piece of travel advice you've ever been given?
Debbra: When I thought back to who may have given me travel advice, it was my dad's voice that I heard: "Go now while you have your health." Don't wait to travel until you think you can afford it, because then you may not enjoy it. My dad would have liked to travel more but was diagnosed with cancer and died at age 66.
TA: What is one place you've always wanted to visit?
Debbra: A South African safari followed by a beach/scuba holiday in the Seychelles would be my number one bucket list trip at the moment.
TA: What is the strangest thing you've ever eaten overseas?
Debbra: The strangest thing I've ever eaten was a termite–right off a tree in the rainforest in Trinidad, to be exact. Our guide promised it would taste like a carrot, and it did!
TA: What is one thing you ALWAYS pack when you travel?
Debbra: Cameras and my computer. I've been into photography since high school, and documenting my trips through photos is a must for me. Now that iPhone cameras have improved, I have to admit I use my iPhone much more than I ever thought possible! I also love to take underwater pics with my Canon Powershot D30 that I can take down to 82 feet without a housing.
TA: If you could only give a traveler one piece of advice, what would it be?
Debbra: Pack light — lighter than you think you can! I used to overpack, but now I go all carry-on, almost all the time! It IS possible, and takes so much stress out of travel. How many times have you packed items you've never worn? It takes planning and can be a bit anxiety-producing at first, but then you'll feel like such a successful traveler and won't have to worry about lost luggage! I sometimes check a bag on the return trip, if I purchase items while traveling that can't be put in my carry-on luggage, but if my bag is delayed, at least I am home!
TA: What is one piece of advice you'd give to travelers your age?
Debbra: Don't get in a rut and go to the same destination on vacation year after year. Although we all have our favorites, I'd urge my fellow Baby Boomers to go somewhere they've never been in 2019 and try something new at that destination.
TA: Is there something you think most travelers worry too much about?
Debbra: Most travelers (including me, at times) worry too much about things that are out of their control, such as what the weather will be like at their destination or whether their flight will be delayed. Worrying about these and other things won't change a thing, so let's all take a deep breath and do our best to go with the flow. Don't sweat the small stuff!
TA: What is one way people can get the most out of their cruise experience?
Debbra: I enjoy small ship cruising (under 300 passengers), which tends to focus more on opportunities to explore port stops than on offering a plethora of onboard activities. It's wonderful to wake up every morning to a new, exciting place to explore. Don't be content to merely walk around the area where the ship is docked or — heaven forbid — to stay on the ship. Maximize the time you have in each port by taking tours and excursions that will make each destination on your cruise itinerary memorable.
TA: What are some of your favorite travel blogs and communities?
Debbra: Johnny Jet is at the top for me. I met Johnny on my first press trip in 2009 and have enjoyed following his site ever since. I was asked to participate in one of his Travel Style profiles a couple of years ago. Other favorites include Getting On Travel, which features luxury travel for those over 50, and FWT Magazine, an e-magazine written by members of the International Food Wine and Travel Writers Association (IFWTWA). I am a contributor for both. My favorite travel communities on Facebook are Boomer Travel Bloggers and the Facebook private groups for the two travel writer organizations I belong to: the North American Travel Journalists Association (NATJA) and the IFWTWA.
Learn more about Debbra:
Visit her website, Tropical Travel Girl.
Follow her on Twitter here.
Find her on Facebook here.
See her photos on Instagram here.
Connect with her on Pinterest here.