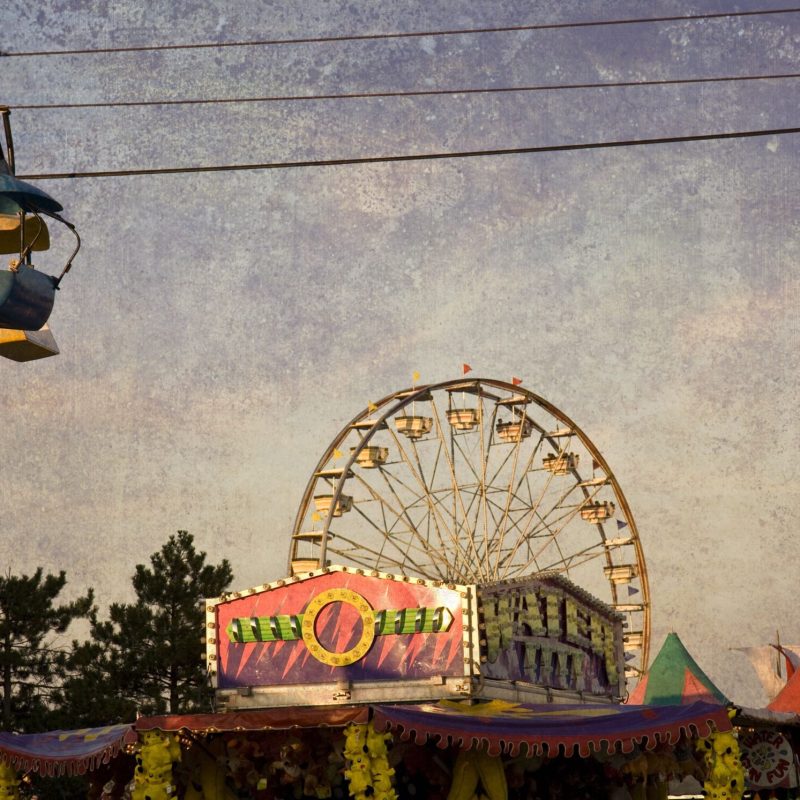 Going to the state fair is exciting and adventurous, but it can be a long and dreadful day if you aren't properly prepared. To make sure that you are ready from sun up to sun down, and to get the most out of your time at the state fair, we rounded up the top five must-have items to help save the day!
Editor's Note: To find your state fair's 2022 schedule, click here.
Shop Now
$8.23
Nothing is worse than being sunburnt and tired from the sunlight, so we put sunscreen at the top of our list. Neutrogena's ultra sheer sunscreen is water resistant, has an SPF of 70, and is made with a non-greasy formula. Available on Amazon and eligible for free Prime member shipping, this 3-fluid-ounce bottle is recommended by dermatologists to help protect your skin from the sun's harsh UVA rays. Not to mention, it can be used on both your face and body!
For a higher SPF and sunscreen that comes in a spray bottle, try Banana Boat's broad spectrum sunscreen spray. It has an SPF of 100 and is resistant to both sweat and water for up to 80 minutes.
Shop Now
$25.99
Another way to protect yourself from the sun at the fair this year is by wearing a hat. Furtalk's sun straw hat has a UPF of 50 that helps waid off the sun instantly. It is made with high-quality paper straw that makes for a great accessory to any state fair outfit! If you are inside and need to take a break, just fold up this hat and put it in your bag until you need it again.
If a straw hat isn't quite the look you're going for, but you're still wanting sun protection for your head, try Mission's cooling bucket hat. Not only does it have a UPF of 50, but when the hat gets wet (with water or sweat), it cools to 30 degrees below average body temperature in under 30 seconds! What better way to stay cool and protected from the sun at the same time.
Shop Now
$14.38
If being overheated at the state fair is a worry of yours, this mini fan can help alleviate those worries. This fan is small enough to fit in a bag, and better yet, your pocket! Its long battery life — 21 hours on one full charge — will last you the whole day at the state fair. To recharge it, plug the charger into the USB port and plug it into the wall. Possibly the best feature of this fan is that it doubles as a flashlight, making it a handy gadget to have when it turns dark at night. With over 27,000 positive reviews on Amazon, this item is one you will not want to pass up.
Shop Now
$22.95
The portable mini fan will help you from getting overheated, but one of the best ways to avoid this is to start by staying hydrated. Iron Flask water bottles, available on Amazon, can help you achieve this by keeping water cold for up to 24 hours. Not to mention, refilling this water bottle and not buying one-use plastic water bottles is a win-win for both you and the Earth! This insulated water bottle is made with stainless steel and comes in over 20 different colors, making sure that everyone can find a color and style they like. It does feature a collapsible straw top that makes drinking easy and efficient.
If a straw isn't your favorite way to drink water, try a Nalgene. This water bottle has a twistable top that is leak-proof and can hold up to 32 ounces of water. This water bottle is made out of plastic and is 100-percent BPA-free. The loop top makes it easy to hook onto a backpack or harness. Both of these water bottles are great options to stay hydrated this year and both are available on Amazon.
Shop Now
$14.87
Our final item to be well prepared for the state fair, believe it or not, is hand sanitizer. Over the last few years, hand sanitizer has been a staple of going out anywhere. There's no exception for the fair; after touching all of the different rides and before you eat that third corndog, sanitizing your hands is a must. Our favorite hand sanitizer is Purell's variety pack. This set includes an eight pack of 1-ounce bottles with a gel strap to make carrying it easy and convenient — available on Amazon.
It's never a bad idea to be prepared for the state fair, and having these items will ensure just that; all while making your day both fun and safe!