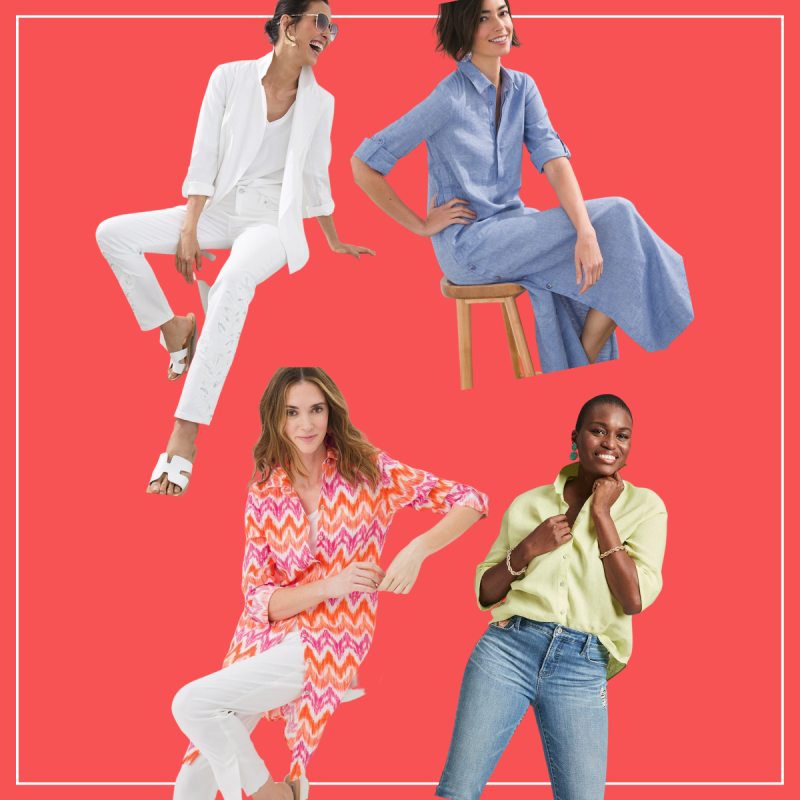 Who wants to iron ever — especially on vacation? If you're in the market for wrinkle-resistant travel clothes, you've come to the right place. We've found clothing made from linen and other no-iron fabrics that is perfectly packable and machine washable from our friends at Chico's.
Why do we love Chico's? Let us count the ways: Classic designs that won't date your vacation photos? Check! Inclusive sizing options? Yessir! Wrinkle-resistant fabric that we can stow in our carry-on without a care? You bet! High-quality clothing from a brand we can trust? It's a must!
Below, you'll find some perfect additions to your travel wardrobe. Start with some wrinkle-resistant basics, such as stretchy leggings, a sleeveless maxi dress, a button-up shirt, and a tank top in different colors, then mix in some patterned pieces to add some pizzaz. Stow them in your carry-on and you'll be sightseeing sans creases!
Buy Now
Chico's No Tummy Pants are so comfortable, you'll feel like you're wearing pajamas out to dinner. Get them in both black and India ink, a very dark blue. They are also available in other shades of blue and green.
These customer favorites are available in both regular and petite sizes, with regular and tall inseams. The straight-leg pants have a pull-on, elastic waist with darts in the front. Thanks to the travel-friendly, wrinkle-resistant fabric, no ironing is necessary. Plus, they're machine washable!
Buy Now
Chico's Travelers Classic Slide Split Tank makes for a wonderful addition to any vacation wardrobe. Made of comfy, knit fabric, the sleeveless top features a bateau neckline and side splits. Wear this machine-washable tank by itself or under a jacket. Match it with a pair of Travelers pants or go for a bolder look and wear it with the Travelers Scroll Print Kimono and matching Scroll Print Crops. Basic black is always a good choice, but this slimming top is also available in two shades of blue.
Buy Now
Throw on Chico's Linen-Blend Button Seam Maxi Dress for an effortlessly chic look. Made from a lightweight linen-blend fabric, this collared, three-quarter sleeve maxi dress is perfectly cool on hot and humid days. Plus, it is machine washable, and it has pockets! The buttoned side seams add a little something to an otherwise solid-style dress.
This beautiful blue dress is roomy yet form-fitting enough that you won't get lost in it. Wear it for something casual like popping out to the farmers market, or dress it up for brunch with the girls. Accessorize with a hat, sunglasses, earrings, necklace, and sandals for endless looks in one outfit. Surprisingly, the fabric does not wrinkle as most linens do, so it is perfect to pack in your suitcase.
Buy Now
Hello, moto! Made with linen-blend stretch fabric, Chico's Moto Jacket is the perfect lightweight top layer to combat air-conditioned restaurants and theaters. Convertible sleeves roll up from long sleeves to three-quarter length. Available in alabaster and espresso, this flattering, versatile jacket comes in sizes 0–22.
Stretch fabric makes it super comfy, while the moto design is very fashionable. It works day and night with all sorts of denim. Or, pair this chic jacket with the matching linen pants to go anywhere in style. Plus, unlike most blazer-type jackets, this one is machine washable. Wear it on the plane or toss it in your carry-on.
Buy Now
Available in nine colors, Chico's must-have No Iron Linen Shirt is an important foundational piece of any wardrobe, travel or otherwise. This three-quarter sleeve, button-down collared shirt is made of 100 percent linen. It is machine washable, and yet, does not require ironing!
Wear it opened over a tank top or by itself. Style it with denim or white jeans, crops, or shorts and get ready for the compliments to come rolling in.
Buy Now
Pack this no-iron Linen Chevron Maxi Shirt to wear as a swimsuit cover-up and double as a cute top to wear over a tank with leggings, skinny jeans, jeggings, or pants. Cool and comfortable, the 100-percent linen fabric is no iron and is machine washable for easy care. This collared button-up has long sleeves that can be rolled up to a three-quarter length. This bright and fun chevron-striped shirt is available in regular or petite lengths, sizes 0–18. Reviewers say the classic fit runs a little small, so size up.
Buy Now
Pull these Travelers Classic Mesh Trim Crop pants straight out of your suitcase to don for dinner. The snappy-looking, see-through mesh trim adds a unique twist to basic black. Pair with heeled sandals to look classy while staying comfortable. These pull-on pants have an elastic back — no zippers or buttons. Made of wrinkle-resistant Naia sustainable fabric, these crops are machine washable too! 
Buy Now
Speaking of comfy pull-on pants that won't wrinkle in your bag, these cute Ponte Ikat-Print Leggings are the "best stretchy pants ever" according to one reviewer from Palm Desert, California. You will want to live in these fashionable yet comfortable leggings that pair perfectly with a tunic. Made from oh-so-soft Ponte fabric, these leggings have just the right amount of stretch while holding their shape — no bagging at the knees! Available in regular and tall, these babies are also machine washable.
On Sale Now!
Buy Now
$39
While we're talking leggings, Chico's So Slimming Pima Cotton Leggings are super comfy to wear while traveling. They're also nice to have if your vacation involves anything active, from hiking to yoga. Made of breathable, super-soft pima cotton-blend fabric, these stretchy ankle-length Zenergy® leggings are one of Chico's best-selling styles. "These are the most comfortable yoga pants I have ever worn," raves one reviewer from Chicago, who says, "I want 10 more pairs!"
So Slimming® Hidden Fit technology slims and shapes, smoothing bumps and bulges for a flattering fit. Unlike most leggings, they feature side pockets to hold your phone, hotel key, and other essentials. And like everything else on this list, they are machine washable!
Not done shopping yet? Check out the full line from our friends at Chico's below.
Related Reading: