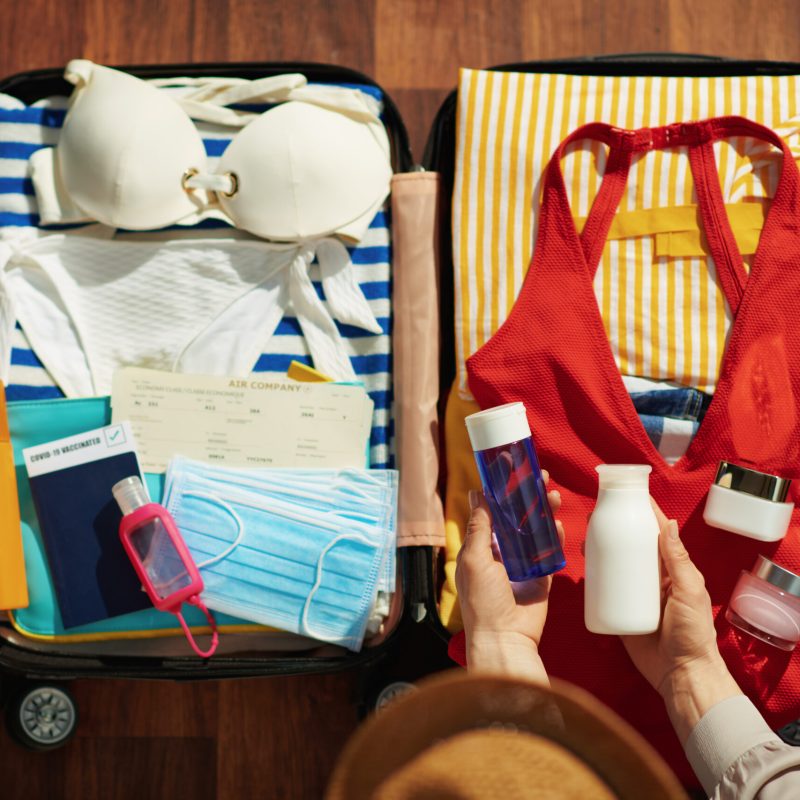 I recently embarked on my first long-haul flight in years. Flying at almost 60 is a whole new ballgame. I don't fit comfortably in economy seats anymore and need to watch my circulation when sitting for so long. Here is my in-flight review of the products I used to make my flight more comfortable. I created my list based on things I thought I'd need as well as ones I learned about from press releases. I tested all of these products on my flight from Seattle to Frankfurt, which was a 10-hour flight.
Note: A few products in this article were sent to me to review and some I purchased. I noted each one that was a review product. My flight was part of a press trip with Viking River Cruises. I paid for the upgraded fare.
Check Prices Now
About the only perk of traveling during the COVID-19 pandemic was the much lower cost first-class plane tickets, but alas those days are gone.
I was able to swing the premium economy price and feel it was worth the cost overall, but there were some less than stellar features. On my departure flight, I flew Lufthansa, and my seat was roomy with plenty of legroom. The viewing screen for movies was a nice size and there were two power options for keeping your devices charged.
What I didn't like was the cocktail table between the seats. It created a hard barrier that gave me a wedged-in feeling when seated. I also didn't like the fold-out tray table, which did not allow enough space for my stomach. It pressed into my stomach and was extremely uncomfortable. After moving around the cabin and seeing the economy section with most people's legs pressed into the seat in front of them, I am glad I paid for an upgraded seat.
On the return flight, I had a much better experience flying Delta Premium Select.
Pro Tip: Research the seat options for your airline online. There are tons of reviews and YouTube videos that will give you a better idea of what to expect.
Too Hot Or Too Cold?
Ladies of a certain age know this feeling all too well and can experience one or the other and even both all on one flight. Here are two products I used to help with my temperature changes.
Buy Now
$48
This blade-free fan must be the greatest invention ever made. I am writing this while testing the product, and the flight I am on is super-hot. I have never been on a plane that didn't have air that you could adjust.
I received this product to review, and I must admit I was skeptical and did not expect the high quality this product offers. It fits around your neck, and you can adjust the mini fans, one on each side, as well as the fan speed. This has totally cooled me off. What a difference.
This flight would have been miserable without it, so definitely a win. I can think of a variety of ways I will use this fan. It is a hot flash buster! Just note you must put your hair up and make sure it doesn't touch the fan. The company even provides a hair elastic.
Buy Now
$19.99
The Weekender Travel Wrap by hello mello loungewear is perfect to keep warm without overheating. It is a long shawl that is also nice and wide. On me, it extended when wrapped around me from my neck to my waist and easily covered my arms. It is made of rayon and a touch of spandex. It is very soft and cozy, and if I ever cool off on this flight, I will definitely snuggle up in it.
It is also going to be perfect on my Viking Rhine Getaway River Cruise. There is an outdoor dining area, but the weather is still a bit nippy in the morning so I can toss it on if I get chilly. I also love that it folds up into its included pouch that you can throw into a purse or backpack.
I purchased mine from a local military spouse-owned business, Pine and Moss. Owner Kimberlee Cavin offers online shopping. These wraps are insanely popular and are constantly selling out.
Buy Now
$20.49
I don't feel like I need a neck pillow, but someone I know recommended a lumbar support pillow. I purchased this one and it is easy to blow up. I must admit having that extra support for my lower back was worth the purchase price. It was definitely more comfortable, especially as I am short and either my legs touch the ground or my back is against the seat but not both.
This filled in that gap for me. It also doubled as a lap pad for my computer. I could only endure the Lufthansa tray table pushing into my stomach for so long.
Buy Now
$16.99
When I travel, I always seem to have lots of cords, charging plugs, and earbuds to keep track of. I received some Lotus eco-friendly produce bags from Lotus and found they also work well for travel.
I throw a couple in my carry on in case I need extra storage. I use one to keep all my electronic plugs, cords, et cetera. I always seem to accumulate little things such as extra Bischoff cookies when flying Delta. A Lotus bag captures all the extra clutter.
Buy Now
$49.99
This one is more of an individual preference. I wear contacts, so I always bring a small bottle of solution and my glasses as the planes can be so drying to your skin and eyes.
I am a huge fan of Clinique Moisture surge spray. Throughout the flight, I will spritz my face with it as it adds moisture with the bonus of a cooling mist. I also brought Nivea Crème. It comes in a little tin, and you can use it for your hands or any dry spot.
My favorite lip balm is Nivea. It spreads so smoothly and is not hard like other brands. Lastly, I pack a few feminine hygiene wipes (I save the individual packets from hotels) and love that the bladder control companies now make a light pad for those just-in-case moments.
Buy Now
$94.95
I found out about these shoes from another TravelAwaits article. My feet always swell badly when I fly, and if I take my shoes off, I can't get them back on. Plus, just the thought of how many feet have been on my plane before me keeps my shoes on.
I hate an ugly shoe but bit the bullet and purchased the Orthofeet Sanibel. What it lacked in attractiveness it more than made up for in comfort. When shopping the Orthofeet website, you can search for shoes based on your needs, in this case, swelling feet.
I love all the Velcro adjustments as well as the stretchable mesh incorporated into the shoe. I am about halfway through a 10-hour flight, and my feet have begun to swell. I made a few adjustments to the Velcro fastenings, and my feet are very comfortable. Each shoe comes with arch supports and various liners so you can customize the shoe to fit you perfectly.
Buy Now
$12.95
Deep vein thrombosis can be a worry as you get older, making longer flights a risk. Compression socks and sleeves can help relieve swelling and work to improve your blood flow when sitting for long periods of time. I purchased two different types to try and am glad I did before the trip.
One type covers half your foot and up over your calves. I didn't like this type as it didn't fit snuggly around my foot, and it was way too long for me. The second pair, the TOFLY Calf Compression Sleeve for Men & Women, runs from calf to ankle and was a much better fit for me.
I wore mine under leggings. My feet were still swollen, but partway through my long flight, I felt the sleeves had kept the swelling down in my legs. They were a little warm and fit tight, but overall, not too bad.
Note, however, that by the end of the flight, I revised my opinion. My feet seemed more swollen than normal, and I attribute it to the compression sleeves. On my return flight, I did not wear them, and the swelling was not as bad. I think maybe a compression sock would have worked better as I felt the compression sleeve pushed the swelling from my legs into my feet.
All the products on this list helped make my flight more comfortable and will be on my packing list in the future (except I may try a full compression sock). I also moved quite a bit on my flight, making sure I got up and moved around every hour.
For more packing inspiration, see all our packing lists here.