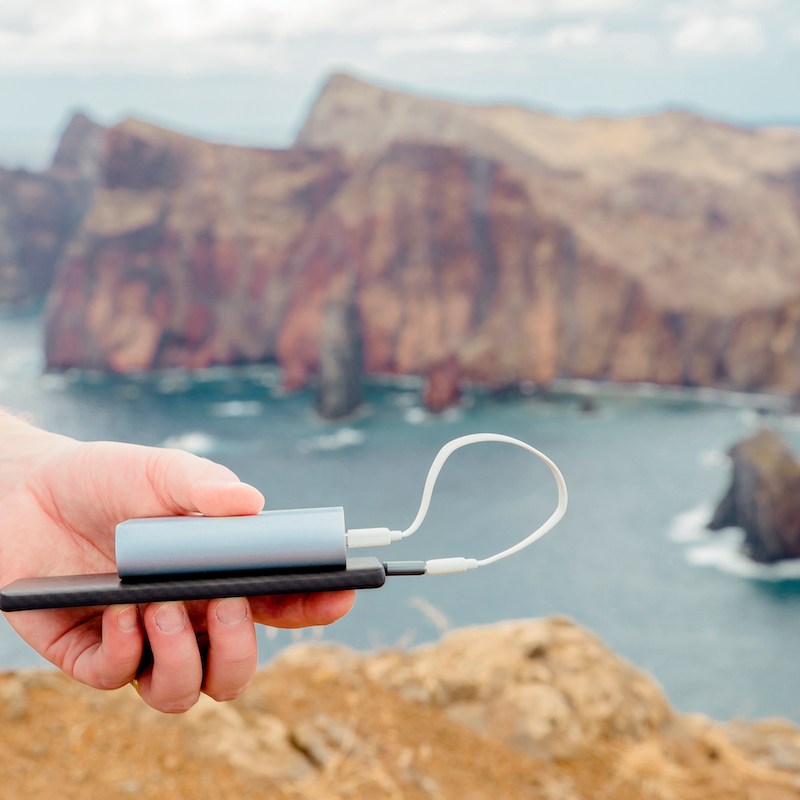 Recently I was Instagramming away on a press trip when my phone ran out of juice. What a bummer! I had to head back to the hotel to recharge. Never again, I swore. Now I'm on the hunt for the best portable charger on the market. Here are the top-rated chargers — all on sale today and tomorrow through Amazon's Prime Early Access Sale.
Save 34% Now!
Buy Now
With USB Type C, Lightning, Micro USB, and dual USB ports, the Anker Portable Charger can charge just about any mobile device four to five times before it needs to recharge, which takes about 10 hours. At about six inches long, a few inches wide, and less than an inch thick, this power bank is about the size of a smartphone and is relatively lightweight at about 12 ounces.
Save 20% Now!
Buy Now
If you are looking for a portable charger for your laptop, look no further than the HALO Bolt Portable Laptop Charger. Don't let the rose gold color deter you, it is available in several other colors and patterns. This portable charger does it all: it can charge your phone, tablet, and laptop. It holds about 8 hours of charge for a laptop.
Wondering what's up with the jumper cables? The Halo Bolt has enough power to jump-start a car, boat, motorcycle, or lawn mower! That's right, this universal power bank also acts as a portable jump starter. 
It is a little larger than the pocket-size chargers above, so it would not be ideal to carry around all day at Disney, but it is nice to have when you're on the go. When you're not traveling, keep it in your car in case you need a quick jumpstart.
Save $20 Now!
Buy Now
Now the Anker 735 Charger is not a power bank. It plugs into the wall; it isn't a battery. However, it is a handy charger for traveling as its multiple ports allow you to bring just one charging block. For example, instead of packing both my phone and iPad chargers, I can just throw this bad boy in my bag along with the cables for my devices.
Plus, I can charge both devices at the same time! In fact, the Anker 735 Charger can charge up to three devices simultaneously. It has two USB Type-C and one USB Type-A charging port and provides a total of 65W output.
Roughly the size of an earbuds case, it has the capacity to power a 13-inch MacBook Pro at full speed and comes with an 18-month warranty.
Does It Matter What Brand Of Portable Charger I Use?
I used to think that Apple products had to use an Apple charger and Samsung had to have Samsung, etc. Not so! It is the cord that has to be from the original equipment manufacturer or OEM.
Don't take it from me, here's what WIRED had to say: "As long as you're using the right cable or the right wireless standard (and it's difficult not to), you can use just about any charger with your phone. Modern-day handsets will regulate the power draw to keep the battery protected, so there's no danger of blowing up your phone by using a charger that's too powerful for it."
Decoding Power Banks
All chargers are portable really, but if you're looking for a battery pack to keep your devices charged while you're on the go, you'll want to search for an aptly named "power bank." We've already covered that the brand name doesn't matter, so what does?
Size
Keep in mind that portable chargers are meant to be carried with you, so the more compact the better.
Charge Capacity
Power capacity, aka charge capacity, is how much energy the battery stores. The way I understand it, charge capacity is measured in Watt-hours (Wh), which is calculated by multiplying how much voltage (V) that the battery provides by how much current (Amps) the battery can provide for however long.
Output Power
The output of a charger is the maximum power it can deliver to a device. This comes into play when you're looking at charging different devices. A power bank for your phone will have less output power than one that will work for your laptop.
Compatibility
The product listing should state which devices the charger is compatible with. Make sure your device/s are on the list before you buy. If you don't know what kind of device you have, look in your Settings for "about," which could be under general to find the model name.
Ports
When shopping for a portable charger, you want to pay attention to what kind of ports it has, and how many there are to ensure it will work with the devices you want to charge.
For example, my Samsung Galaxy S21 Ultra 5G has a USB-C port and the cable it uses is USB-C on one side and USB on the other, so I want a charger that has a USB port. If my cable had a USB-C port on both ends, I would need a Type-C power bank, which uses a USB-C port.
If you don't know what kind of cable your electronic device requires, you can search: What cable does a (insert device make and model) use?
If you have an iPhone, it most likely uses a Lightning cable, so you'll want to make sure the power bank you choose has a Lightning port.
Pro Tip: The chargers I have chosen below have multiple ports, including USB, USB Type C, Lightning, and Micro USB to work with devices across the board. I also selected a wireless charger that does not require a cable.
Do note that if you travel internationally with any of these chargers, you'll likely need an adapter.
Related Reading: