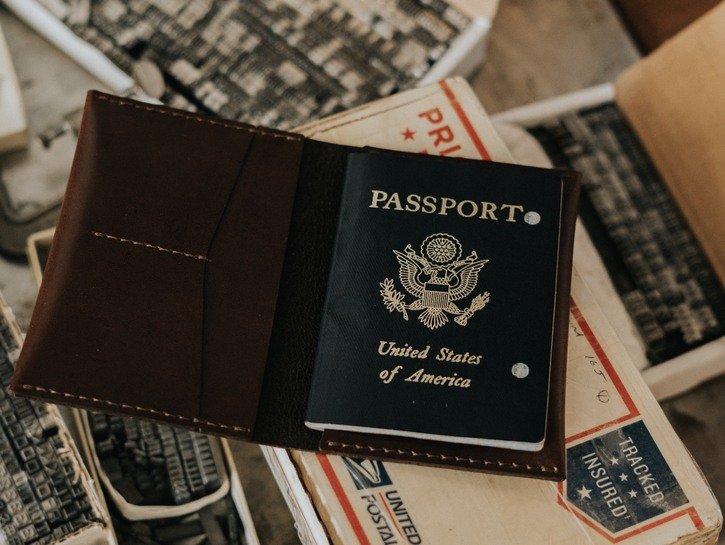 When the time comes to pack your bags and go on the adventure of a lifetime, you'll need a passport and you'll want a passport cover. Passport covers are a travel essential that will make it easier to get from Point A to Point B.
No two passport covers are built the same. Some are built with function in mind, thanks to durable materials like nylon or faux leather. Others prioritize luxury with gorgeous designs and smooth leather. Some are part-passport cover, part-wallet; others hold your passport and that's all.
Though there's quite a bit of variety from one cover to the next, all should instill a sense of security that everything you need is exactly where you need it.
So, we polled members of the travel industry to bring you the 7 best passport cover recommendations from Amazon.
The Best Passport Covers
Buy Now
$18.99
"In my years of traveling, I have found passport covers or travel wallets are truly useful and beneficial. It's important to keep all your important documents safe, especially your passport, to avoid any headaches when trying to leave. 
I have used a number of brands over the years but I have found multifunctional travel passport wallets serve more of a purpose than just a plain passport cover. Travel wallets can hold passports, ATM cards, and money and some can even hold your cell phone. 
One of my favorite budget wallets is the Travelon Zip Wallet Passport. It's cheaper than wallets made with leather and comes in different colors and patterns. It's a great budget travel wallet that can hold all your essential travel documents." — Andrew Douellette, Freelancer
Buy Now
$23.99
"When I am traveling I like to have all my documents, cards, etc. in one place. For this reason, I needed a passport cover with space for credit cards, and one with RIFD blocking to ensure my credit card information won't be stolen. 
The Borgasets Genuine Leather Passport Case fits the bill perfectly. This case comes with the added bonus of space for my boarding card, a document that so often I previously ended up fumbling in my pockets for at the most inconvenient moment. The snap button holds everything perfectly in place and it looks stylish enough that I have no issues taking it out in front of my fellow passengers." – Colin Palfrey, CMO of Crediful
Buy Now
$19.99
"The Zero Grid Passport Wallet is a great passport holder because I love how you can securely keep all travel documents together. Plus, the open book design helps me to see what I am looking for as soon as I open it. It works like a travel organizer at the same time. It has RFID blocking technology, so your credit card information won't get stolen, and water-resistant material for added peace of mind while traveling.
It has a nylon lining which is lightweight, and with zipper closure. There are two colors to choose from – black and shadow." — Owen Redford, founder of Things To Do
 
Buy Now
$11.99
"If you love organization while traveling, this is the best choice. In addition to a slide-in pocket for your passport and a clear window hole for your vaccination card, the LOHASLIFE Passport And Vaccine Card Holder's fashionable, slender design is packed with amenities. This improved model also includes four credit card slots, a stainless-steel pen that hooks into the internal spine, an additional money pocket designed to fit U.S. banknotes, and special stitched spaces for SIM cards. The cover is kept closed and safe for your items by the soft elastic band fastening, which glides on and off with ease.
 Additionally, you can carry the item hands-free by passing your palm or the handle of a suitcase through the elastic band, which makes it easier for people with stiff fingers to manage. The RFID-blocking technology is concealed between two layers of high-quality water-resistant imitation leather, giving the passport cover a conventional look and feel." — Lillian E Dodd, Lead Publisher & Travel Editor, The Hobby Kraze
Buy Now
$13.59
"Because I travel so often, I find it to be beneficial to have a passport holder. Passports are so small, and can easily be misplaced. When you put them into a holder, you increase their size, making them easier to keep on your person. You also want to travel light when going on long trips, and a passport holder can double as a wallet to maximize the space in your bag.
This particular holder has all of these features and can easily display my ID if needed. I also use it to hold my boarding passes and my credit cards. It clasps together to ensure everything is secure, and it is thin enough to put in my purse, my carry-on, or even my coat pocket. I love this passport holder and couldn't imagine not having it now that I use it all the time." — Giulia Di Leo, Your Boat Holiday
Buy Now
$9.99
"The passport cover I personally have and thoroughly recommend is from Zoppen. It's not only very functional and durable, but I'm a big fan of the turquoise color. Not only does it look great, but being able to choose a bright color for your passport cover ensures this easily stands out in a sea of other stuff when I'm rummaging around to find it in my purse.
I also really like the fact it has a clear slot for my vaccine card. Having to pull this out repeatedly as you travel can quickly damage it, which is a real problem when you still need to prove your vaccination status to enter certain countries. Being able to simply open this passport cover and flash the vaccine card when needed goes a long way to being able to protect this card for as long as it's needed.
The fact it comes with RFID-blocking technology security is also a big plus for protecting my personal information. Nothing ruins a trip faster than a banking-related problem, so this is a simple addition to reduce the risk of this happening.
It's held up remarkably well throughout a number of trips over the past year, so I'm very confident in recommending this passport cover for its durability. Being able to just throw it in my bag and know everything is protected and in one place (and looks great at the same time!) is definitely reassuring." — Astrid Thornton, founder of Seek Scandinavia
Buy Now
$2.99
"This year, I purchased passport covers for my husband and myself.  I was looking for two things:  The ability to easily identify his passport from mine, and the ability to store our vaccine cards.
These vaccines and passport combo holders from Kewya met all of my needs.  They're highly rated and not very expensive.
The passport covers come in a variety of colors, so each person can choose their favorite.  The slot for storing the vaccine card is see-through, so you can display the card without removing it.
These passport covers are sturdy and have made it through several trips with no problems." — Lisa Garrett, Waves And Cobblestones
Passport Cover Buying Guide
Size, color, organization, and price should all come into play when considering which passport cover to buy, but those aren't the only thing to consider when purchasing.
RFID Blocking
In the past decade, a wave of panic has set in over RFID theft, which is the idea that thieves can steal your personal information from credit cards and passports simply through owning the right gadget, also known as an RFID skimmer.
In response to this threat, companies have come up with RFID blocking materials that cut off that signal to the outside world.
Despite this, there's very little information about how useful RFID products actually are. We do know that very few credit cards are RFID-enabled, and even fewer RFID-enabled credit cards are made and used in the U.S. If you aren't sure if yours is, you can ask your bank. As for passports, the data can only be read from a scanner a few feet away, and only if the passport is open. And in the very off chance the data is read, an ever-changing crytographic signature adds another level of security to your sensitive data.
At the end of the day, the decision is yours, but don't fret if the passport cover you fall in love with doesn't come with RFID blocking technology.
Material
Most passport covers tend to be affordable, but that doesn't mean they're a short-term investment. To get the best bang for your buck, choose the material of your passport cover wisely.
Leather is the most luxurious option. Leather looks and feels amazing, plus it's a material that is designed to last for years and years. There are some drawbacks to a passport cover made of genuine leather though. First, it will likely be more expensive than competitors' models. Another thing to consider is that leather is not waterproof. If you get leather wet, you might cause the leather to change in texture, or worse, rot. Then there is the ethical consideration of using animal products for manufactured goods, which is especially important to consider if purchasing a passport holder as a gift.
Synthetic leather is a solid alternative. Synthetic leather doesn't look as high-quality as leather, but it is vegan, easy to clean, and is usually resistant to scratches and marks showing wear and tear. Synthetic leather is also quite a bit more affordable, too. On the downside, many types of synthetic leather, such as PU and PVC faux leather, aren't are durable, and are prone to peeling and cracking overtime.
Nylon, while not the most luxurious or pleasing to look at, is a fantastic contender because it's incredibly durable. Nylon is often water-resistant, tear-proof, and best of all, it's almost always an affordable option!