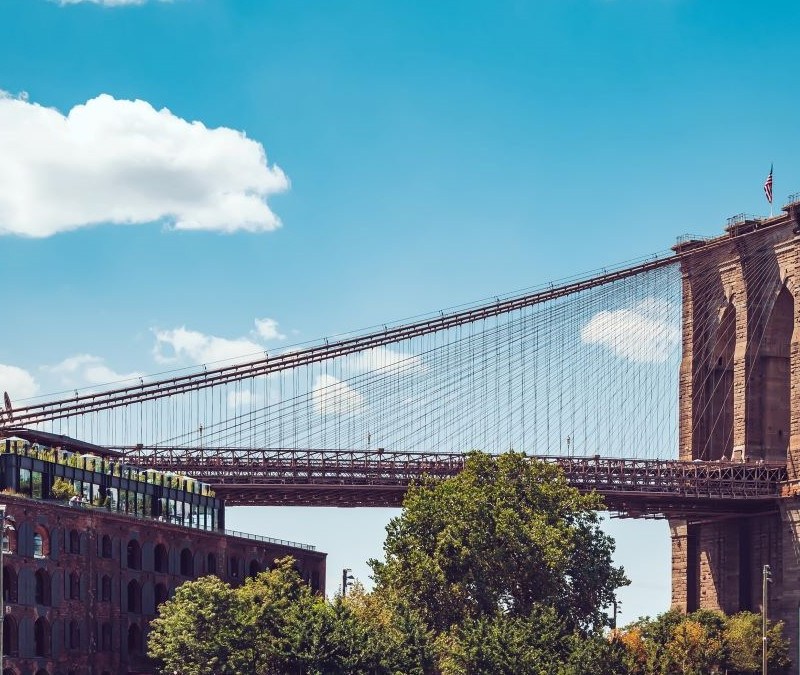 One of the five boroughs of New York City, Brooklyn was once a city unto itself, accepting consolidation with greater New York in 1898. (It is the most populous borough and, if it were still a separate city today, it would be the third-largest in the United States.) It is known for its cultural diversity, art and music scene, and iconic landmarks, and is home to Prospect Park, the Brooklyn Bridge, the Brooklyn Botanic Garden, the Brooklyn Museum, Green-Wood Cemetery, the New York Aquarium, and Luna Park at Coney Island (location of the famous Cyclone roller coaster). It also hosts the Brooklyn Cyclones minor league baseball team and the Brooklyn Nets basketball team.
And amidst all these attractions, Brooklyn is also attuned to the dietary needs of its visitors and residents. With the rising awareness of celiac disease (an autoimmune condition in which the ingestion of gluten, a protein found in wheat, rye, barley, and their hybrids, leads to damage in the small intestine) and gluten intolerance, or non-celiac gluten-sensitivity (a non-autoimmune condition in which gluten consumption causes sickness after eating), finding a good meal between taking in the sights has never been easier. (A happy fact for the roughly 1% of Americans with celiac and 6% with gluten intolerance.)
If you're on a gluten-free diet, here are some of the top restaurants that are reported to have gluten-free menus or options in Brooklyn, New York. (Remember to always alert your server to any dietary restrictions. Some of the venues listed here may not be safe for those with celiac or who are sensitive to cross-contamination. Be sure to call the restaurant ahead of time with any concerns.)
Gluten-free restaurants in Brooklyn, New York
1. Wild Park Slope
148 5th Avenue, Brooklyn, NY 11217
eatdrinkwildbk.com
1-347-987-4525
The only 100% gluten-free Italian restaurant in Brooklyn, Wild specializes in pizzas and pastas and has an "amazingly fresh" raw bar. Vegetarian and vegan options are also available. Happy hour runs seven days a week and includes $1.50 oysters and $6 drinks. Located steps from the Barclays Center, this is the perfect pre-game dinner spot.
2. Everybody Eats
294 3rd Avenue, Brooklyn, NY 11215
everybodyeats-inc.com
1-718-369-7444
Established in 2004, this bakery is 100% gluten free, nut free, soy free, and sesame free. Although there is no seating on site, baked goods can be picked up on location or shipped nationwide via UPS. Featured treats range from custom cakes to dairy-free cinnamon sticky buns to egg challah to crusty baguettes.
3. Nami Nori
236 N 12th Street, Brooklyn, NY 11211
naminori.nyc
1-917-909-1299
Offering an entirely gluten-free food menu, Nami Nori is a temaki (hand-rolled sushi) bar that specializes in "open-style sushi hand rolls," with both classic and vegan options available. Japanese-inspired snacks and appetizers are also on the menu, along with a variety of beverages. (As not all beverages are gluten free, confirm with your server which are appropriate choices.)
4. Claro
284 3rd Avenue, Brooklyn, NY 11215
clarobk.com
1-347-721-3126
If you're craving Mexican food, this fully gluten-free establishment is the place to be. All cheeses and sausages are made in-house, and the non-GMO, Oaxacan criollo corn is stone ground in-house. The meat and produce is organic and, whenever possible, locally sourced, and is featured in authentic Mexican dishes such as tostadas, garnachas, tacos, and arroz con leche.
5. 7 Grain Army
88 Roebling Street, Brooklyn, New York 11211
7grainarmy.com
1-929-295-0413
A dedicated gluten-free facility, all of this bakery's creations are both gluten free and dairy free, with a number of vegan options as well. Options include muffins, bagels, breakfast burritos, pizza, buns, cookies, and bread. A take-out establishment (with outdoor seating only), 7 Grain Army is a perfect pit stop for loading up on snacks before a long day of sightseeing.
6. Arden
788 Franklin Avenue, Brooklyn, NY 11238
ardenbk.com
1-718-484-3266
Located in Crown Heights near the Brooklyn Museum, Brooklyn Botanic Garden, and Prospect Park, Arden is the creation of Mermaid Inn alumni Scott Dansby and chef Mark Mata. The locally focused menu changes with the seasons and highlights the restaurant's wood fire grill. Items that are or can be made gluten free are marked on the menu, including Hidden Fjord Jerk Spiced Salmon, Brick Roasted Giannone Chicken, and Espresso & BBQ Rubbed Prime Hanger Steak.
7. Antidote
66 S 2nd Street, Brooklyn, NY 11249
antidoteny.com
1-718-384-2869
Featuring "sophisticated and authentic Chinese cuisine," Antidote's menu is seasonal and locally sourced. Located in Williamsburg, the establishment features gluten-free offerings including Har Gow (shrimp dumplings), Sichuan Chili Fried Chicken, Spicy Cabbage, Feihong Fries, and Pea Shoots or Bok Choy With Garlic.
No sleep till Brooklyn
The seven spots we've kneaded into this list are just the beginning of Brooklyn's delectable gluten-free wonders. So, 'dough-n't' hesitate to explore these culinary havens. After all, in Brooklyn, the only thing thicker than the pizza crusts are the borough's rich flavors and endless possibilities. No sleep till Brooklyn, indeed, because who can sleep when there's so much delicious gluten-free feasting to be had?
Disclaimer of Medical Advice: This information does not constitute medical advice or recommendation of any kind, and you should not rely on any information contained in such posts or comments to replace consultations with your qualified healthcare professionals to meet your individual needs.