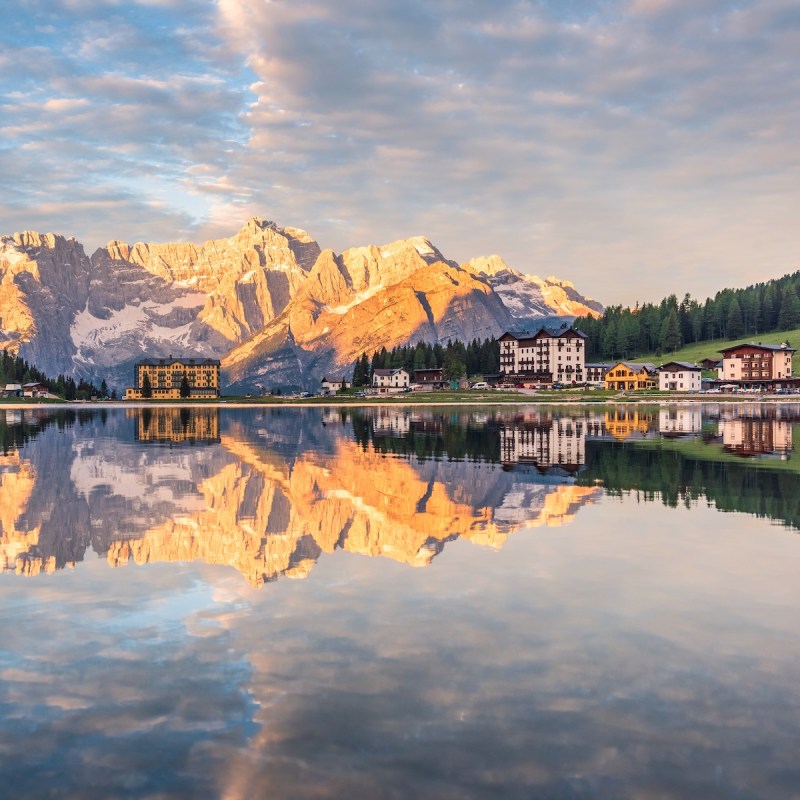 Sweeping panoramic views of snow-capped mountains perfectly frame quaint alpine villages filled with medieval character. Alpine villages are synonymous with fairy-tale towns in Europe. Simply walking the charming cobblestone streets in one of these small towns will transport you to another time and place. Take a minute to slow down and experience the half-timbered buildings, pristine lakes, and medieval town centers that will envelop you in the rich history they hold close.
Below are a few of my favorite alpine villages and towns. For simplicity, they are presented in alphabetical order.
7 Alpine Villages In Europe That Make You Feel Like You've Stepped Back In Time
1. Annecy, France
Cobblestone streets lined with charming cafés and stylish shops fill the center of Annecy's old town, Vieille Ville. As you criss-cross over the canal on medieval bridges and along small alleyways with ancient walls, you are transported back to when villages were ruled by a count or marquis.
Wind your way past the canal and through the adjacent park where you will find locals and tourists gathering to enjoy a scrumptious gelato on a beautiful summer day.
2. Chamonix-Mont-Blanc, France
Chamonix-Mont-Blanc sits at the base of Mont Blanc, where the Alps create a junction of France, Switzerland, and Italy. Chamonix is renowned for its fantastic skiing. To fully appreciate the town's surrounding mountains and stunning panoramic views, you must take the Panoramic cable car to the top of Mont Blanc. Jump on the Le Petit Train that spins around the city offering open-air views of colorful houses in this fairy-tale destination.
Built in true alpine style, the Hotel Mont Blanc is an experience unto itself. Dine at the onsite restaurant Le Matafan and explore sumptuous, seasonal cuisine.
3. Cortina D'Ampezzo, Italy
Mention a trip to the Dolomites to any ski enthusiast and they are ready to hop on the next flight. Cortina d'Ampezzo is a ski resort in northern Italy, part of the Dolomiti Superski area, and perfect for an on-the-slopes vacation. Events from the 1956 Winter Olympics were held in Cortina and will be again for the 2026 Winter Olympics in Milano Cortina.
Cortina's alpine beauty and long history is reflected in its nod to traditional Tyrolean cuisine. A must-try is the canederli — a Tyrolean knödel made with dried bread, milk, and eggs.
4. Èze, France
Perched on a mountain top in the Provence-Alpes-Côte d'Azur region of southern France, Èze has a picturesque old town with winding cobbled streets, stunning Mediterranean views, and two exclusive five-star hotels. The old town must be reached on foot; no motor cars are allowed in this mountaintop village. Since there has been no "urban renewal," the medieval architecture is completely intact and imparts a dreamy, slow-vacation fairy-tale destination feeling.
At the very top of this pedestrian old city are the ruins of a medieval castle that offers hearty climbers a most precious panoramic view of the French Riviera coastline. The castle grounds have a beautifully landscaped garden offering guests a chance to stop and soak up the magnificent view, the sweetly aromatic flowers, and the glorious Mediterranean sunshine.
5. Grindelwald, Switzerland
Grindelwald is a picturesque village in the Bernese Alps and the perfect spot for skiing and hiking in the Jungfrau region. A quintessential alpine village, Grindelwald is equally stunning when covered with snow drifts or cheery fields of wildflowers. The village center is filled with half-timbered houses and gives way to rolling hills and magnificent mountain peaks.
And not only skiers will enjoy this charming little region. Sledging (sledding) is a popular winter pastime and many downhill slopes have sledging runs. Locals, and a few intrepid tourists, can also be found winter hiking down the slopes. Everyone wants to get outdoors and enjoy the fresh alpine air in Grindelwald.
6. Mondsee, Austria
If you are a fan of The Sound of Music, then you may have heard of the charming little town of Mondsee. The lakeside oasis is so stunning, it is a much desired and picture-perfect wedding destination. It is also home to the Basilica of St. Michael, the movie setting for Maria and Captain von Trapp's wedding.
7. Val D'Oingt, France
The labyrinthine streets climb up, up, and up in the little hidden gem of Oingt. Located in the Beaujolais vineyards area of the Rhone (Auvergne-Rhône-Alpes region), Oignt is an enchanting medieval town filled with fairy-tale charm. Little shops and cafés line the cobblestone streets and are accessed by slanted steps and low doorways.
The medieval streets are lined with stone houses made with a local honey-colored stone giving the town a soft, ethereal glow when kissed by sunshine.
Alpine Cities, Towns, And Villages
Picture-perfect scenes are the hallmark of historic alpine cities, towns, and villages. Many of the most charming spots have luxury accommodations for overnight travelers. Alternatively, you will certainly find one or two just a day trip away from any major European alpine city.
Carve some time out of your next visit to the Alps region to explore one of the enchanting sights. Their history, cuisine, shopping, and natural beauty will transport you to a simpler time.