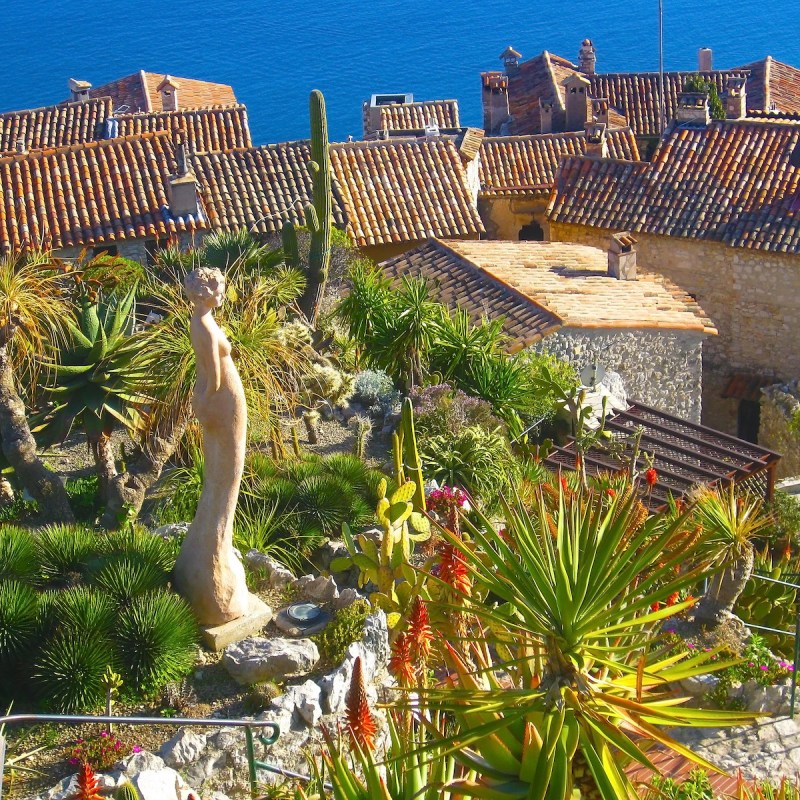 Exploring the medieval village of Eze begins with a long climb up, up, and up. The newer section of the city is drivable, however, to visit the historic village, you need to walk. This delightful pedestrian-only old city is a jumble of stone steps, narrow streets, and small landings; a picture-perfect fairytale village. A short drive from Monaco or Nice, the ride to Eze is a scenic climb along the hilly French Riviera shoreline. Whether you spend a couple hours, a full day, or a getaway stay, you will fondly remember your visit to Eze, France.
The historic hilltop village is filled with charming shops, beautiful terrace scapes, a Neoclassical church, hilltop exotic gardens, and castle ruins. The panoramic views from up top are unparalleled; a visit to Eze needs to be on your French Riviera itinerary.
Explore The Narrow Streets
Undulating streets, just wide enough for a small cart, are lined with stone walls, pop-up gardens, pretty little cafés, and unique specialty shops. Each small stairway or turn in the path opens to an evermore charming vista just begging to be explored.
Eze is the perfect village for wandering until you are lost, peering over fortress walls with panoramic overlooks, and enjoying a coffee at a tiny sidewalk café. The enchantingly romantic nature of the city imbues a sense of old-world elegance and grace.
Pro Tip: There is only one way in and out, so you can't get too lost, but you can soak up the centuries of history with each footfall.
Jardin Exotique D'Eze
Spreading across the ancient medieval fortress of Eze is the hilltop exotic garden, Jardin Exotique d'Eze. Winding garden trails take you through cacti and other pretty Mediterranean plants. The garden is where visitors can see the most stunning views — from the Esterel Mountains to the Gulf of Saint-Tropez — the panorama is breathtaking. Verdant gardens dotted with colorful flowers, bright blue skies, and turquoise waters come together in nature's perfect harmony.
Pro Tip: It is a good hike to get to the castle ruins to view the gardens, but the outlook at the top of Eze is worth the climb.
Shops And Galleries
Shoppers will love popping in and out of cute stores tucked into small nooks and crannies along every street and alleyway. Filled with French fashion, custom jewelry, and Riviera-inspired trinkets, you will need an extra suitcase for all of these beautiful things.
Artists flock to the Cote d'Azur and you will find several art galleries showcasing masterful works. Shop with care-free abandon; you can always have everything shipped home.
Fragonard Perfume Factory
Tour the Fragonard Perfume Factory and explore the fine art of perfume making. The factory houses a cosmetics laboratory, soap workshop, and parfumerie.
Fragonard's iconic rose- and duck-shaped soaps are a staple in every proper household in France. Shop at the store for soaps, perfumes, cosmetics, and an assortment of other toiletry products along with beautifully arranged gift sets.
Eze Castle
Eze Castle dates back to around 220 B.C. when locals sought shelter against invasion on the rock of Eze. In the later part of the 12th century, the castle was erected and guarded by the dukes of Savoy's Castellans officers.
Today, the ruins of Eze Castle, at the top of the village, is home to the Jardin Exotique d'Eze. It is a lovely spot to wander and soak up the Mediterranean coastal view and bright sunshine.
Pro Tip: You can wander through the garden and ruins finding the very best spot for a selfie with a gorgeous background that will be the envy of all your friends.
Nietzsche Path
Friedrick Nietzsche, the famed philosopher, spent a few years wandering Eze. A path he reportedly frequented runs from Eze Village to Eze-Bord-de-Mer. It is named the "Nietzsche Path."
According to AllTrails, Nietzsche's Path is a 3.1-mile out-and-back trail. Appropriately rated as hard, the trail can be steep in spots, but you will have opportunities to rest and enjoy the views along your hike.
Pro Tip: The challenging up-and-downhill climb requires sure footfalls with sturdy shoes. Trekking poles would be very helpful along the Nietzsche Path.
Notre-Dame De L'Assomption
At the top of the village, just below the castle ruins, is Notre-Dame de l'Assomption, or "Our Lady of the Assumption Church." The church's 18th-century Neoclassical style — rebuilt on the foundation of the original 12th-century structure — is beautifully appointed. The artwork and statuary are opulent and ornate. With side chapels dedicated to the Virgin Mary, Saint Francis of Assisi (protector of the animals), and Saint Gratus (protector of the harvests), the church is a lovely spot to light a candle and say a prayer for someone you love.
Pro Tip: The church sits just below the castle ruins and can be quite a climb, but it is worth the exertion.
Take An Eze Tour
The easiest way to visit Eze Village is to book a tour from Nice. Many tours include a visit to nearby Monte Carlo and Monaco. The tour company typically collects you at your hotel and whisks you off along the coastal road to Eze. Along the way, there are stunning overlook spots for photo opportunities of the Mediterranean Coast.
One of the best parts of booking a group or private tour: You don't have to drive or navigate; you just sit back and enjoy the scenery.
Pro Tip: From Nice, a tour to Eze, the Monte Carlo Casino, and the Prince's Palace of Monaco are doable in 1 day — albeit a long day.
Where To Eat In Eze Village
Along the winding streets, you will find charming cafés where you can order a coffee and pastry or local wine and sandwich. Lazily munch as you watch the tourists pass by. For something a little more elegant, lunch at La Chèvre d'Or — advanced reservations are required. Alternatively, experience a meal at the Michelin-starred restaurant Château Eza for a haute-cuisine-focused visit.
Pro Tip: Small, exclusive cafés and restaurants hide behind closed doors. If you want to experience one-of-a-kind dining experiences in Eze, book a stay at one of the luxurious hotels and your concierge will set you up with a meal not soon forgotten.
Where To Stay In Eze, France
Guests who want to stay overnight in Eze will be treated to five-star elegance with nary a village sound to wake you during the night. Accommodations at Eze's luxury hotels are some of the best ways to enjoy a romantic stay in this heavenly oasis.
The five-star boutique hotel Château Eza offers 14 beautifully appointed rooms, panoramic terraces, and exceptional customer service. You will be treated like the king (or queen) of the château and never want to leave.
Another exceptional stay is the Château de la Chèvre d'or, a Relais & Chateaux property. The château is designed around the stunning coastal view. Opulent and elegant, a stay at this five-star property will leave you feeling like royalty.
The Romantic Village Of Eze
The tiny medieval village of Eze definitely needs to be on your French Riviera bucket-list. Whether you are visiting Eze for a day, or staying for a luxurious weekend getaway, you will be enchanted by this historic medieval town.