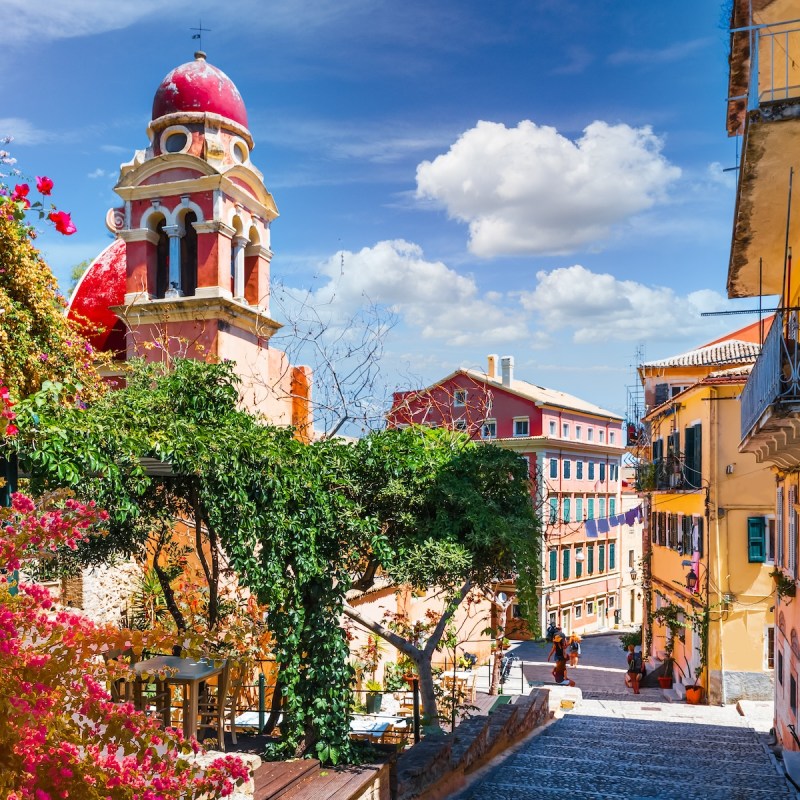 Taking a fall getaway to a European island is the perfect way to enjoy a relaxing yet adventurous getaway. With temperate weather, reduced accommodation rates, and fewer crowds, it's an ideal time to explore charming destinations like Gozo, Jersey, Sardegna, Corfu, and Mallorca.
These islands have natural beauty, rich history, and exhilarating activities like hiking, cycling, and water sports. Whether you want a beach vacation, a mountain escape, or a cultural experience, you will find it on these European islands during the fall season.
1. Gozo, Malta
Gozo, Malta, is a hidden gem perfect for a fall getaway. This charming island is known for its stunning natural beauty, rich history, and warm Mediterranean climate. In the fall, the temperatures are warm enough for swimmers and sunbathers but not too hot to explore the island's outdoor attractions.
One of the main draws of Gozo is its beautiful coastline, with crystal-clear waters perfect for water sports and beach lounging. The island is also home to many historic sites, like the Ggantija Temples, which date back to 3,600 BC.
When you want to get out and about, Gozo has a variety of hiking and cycling trails. The island's landscape is varied from flat to challenging hills. On this tiny island, you rarely lose sight of the Mediterranean Sea. Gozo is a unique destination if you want a combination of relaxation and adventure for your fall getaway.
Bonus: Fall is the shoulder season in Gozo, with reduced rates on accommodations of all kinds.
2. Jersey, British Isles
Jersey is an enchanting island between England and France in the English Channel. Mild temperatures, natural beauty, and fascinating cultural heritage put Jersey on the must-explore list during autumn.
The beautiful coastline and beaches beg for water sports and beach combing. The island is also home to many historic sites like Mont Orgueil Castle. It dates back to the 13th century and has unforgettable views of the surrounding area.
Jersey has hiking and cycling trails winding through the island's rugged landscape and along the Atlantic Ocean for a more active holiday. It is a grand destination for a relaxing yet adventurous fall getaway.
3. Sardegna, Italy
Sardegna, Italy's second-largest island, is a paradise for a fall getaway. Whether it's a beach, a mountain trail, or an Italian village, Sardegna will satisfy your fall travel bucket list.
The island's coastline is a long stretch of white sand beaches skirted by clear turquoise waters and rocky coves. The highlight is La Pelosa Beach. Nature enthusiasts will love exploring the island's rugged interior, impressive mountainous terrain, and ancient forests. The island is also home to many historic sites, like the Nuraghe di Barumini — a UNESCO World Heritage Site that dates back to 1,500 BC. If you're looking for a relaxing yet adventurous fall getaway, Sardegna is the perfect destination.
4. Corfu, Greece
Corfu is a beautiful island with a distinctive fall experience. It is a serene and peaceful island in fall, with fewer crowds and cooler temperatures. Corfu is covered with lush greenery and it is estimated that there are over 4 million olive trees on the island. The landscape is sprinkled with olive groves, vineyards, citrus groves, and cypress trees.
The weather is mild in fall and the sea is warm enough for swimming, snorkeling, boating, and other water activities. The island's beaches are less busy, making them a superb place to relax and soak up the sun.
The fall season is the precise time to explore Corfu's historic sites, including the Old Town, a UNESCO World Heritage Site. Corfu is a fall destination that offers relaxation, exploration, and fewer crowds.
5. Mallorca, Spain
Mallorca is a popular summer destination, but the fall season is an excellent time to visit this beautiful island. The crowds have thinned out and the temperatures remain warm enough to enjoy outdoor activities. With its spectacular coastline, rolling hills, and delightful villages, Mallorca is an ideal destination for a fall getaway.
Take a leisurely bike ride along the island's diverse trails, explore the historic sites, or relax on a sandy beach. Fall is also the time for grape and olive harvests, where you can indulge in sumptuous local wines and olive oils. With its unique blend of relaxation and adventure, Mallorca is a wonderful destination for a fall trip.
Conclusion
European islands are the perfect fall getaway destinations for many reasons. The mild temperatures, reduced crowds, and gorgeous natural beauty make them ideal for relaxing and recharging. Many European islands offer a mix of relaxation and adventure for those who want to explore and enjoy outdoor activities.
With clean, clear waters, scenic beaches, and historic sites, there is something for everyone. Additionally, the shoulder season in the fall often means reduced accommodation rates, making a European island getaway more affordable. From Gozo and Jersey to Sardegna and Corfu, European islands are the ultimate getaway for fall travelers.