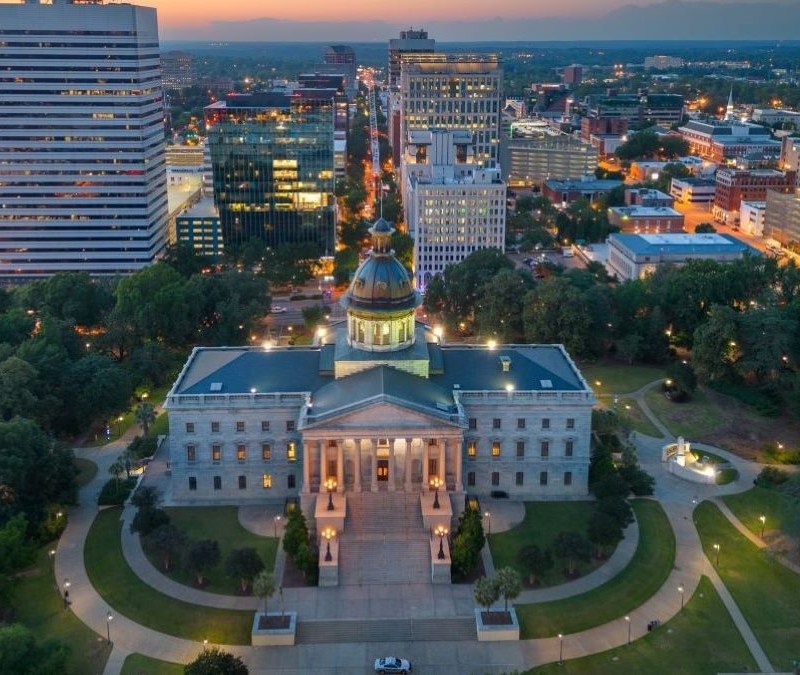 Known by many locals as "Soda City" – not thanks to any connection to the fizzy beverage, but rather due to the affectionate shortening of its name to "Cola" – Columbia, South Carolina, is home to the South Carolina State Museum (in the building that once was the world's first fully electric textile mill), the Columbia Marionette Theater (one of the few dedicated puppet theaters in the United States), the Riverbanks Zoo (one of a handful in the nation with a permanent koala exhibit), and the Columbia Fireflies minor league baseball team.
And amidst all these attractions, Columbia is also attuned to the dietary needs of its visitors and residents. With the rising awareness of celiac disease (an autoimmune condition in which the ingestion of gluten, a protein found in wheat, rye, barley, and their hybrids, leads to damage in the small intestine) and gluten intolerance, or non-celiac gluten-sensitivity (a non-autoimmune condition in which gluten consumption causes sickness after eating), finding a good meal between taking in the sights has never been easier. (A happy fact for the roughly 1% of Americans with celiac and 6% with gluten intolerance.)
If you're on a gluten-free diet, here are some of the top restaurants that are reported to have gluten-free menus or options in Columbia, South Carolina. (Remember to always alert your server to any dietary restrictions. Some of the venues listed here may not be safe for those with celiac or who are sensitive to cross-contamination. Be sure to call the restaurant ahead of time with any concerns.)
Gluten-free restaurants in Columbia, South Carolina
1. Tazza Kitchen
4840 Forest Drive, #20, Columbia, SC 29206
tazzakitchen.com
1-803-782-0760
This contemporary casual eatery features a variety of types of fare, from pizzas to salads to tacos. Although not a gluten-free establishment, the labeled dishes are "suitable for most gluten sensitivities," the restaurant notes. It is important when ordering to alert your server to your dietary restrictions.
2. Publico Kitchen & Tap
2013 Greene Street, Columbia, SC 29205
publicokitchenandtap.com
1-803-661-9043
Featuring fusion Lat-Asian cuisine, this hip and relaxed restaurant offers a wide variety of dishes that are either naturally gluten free or can be made so with some ingredient swaps. All burgers and sandwiches can be made gluten free by substituting the bun for a lettuce wrap, and all tacos can be made gluten free by subbing in a corn tortilla or lettuce wrap.
3. Mellow Mushroom
1009 Gervais Street, Columbia, SC 29201
mellowmushroom.com
1-803-933-9201
A popular chain restaurant, the Mellow Mushroom menu includes a variety of gluten-free pizzas, from the house special to "Mighty Meaty" to "Veg Out." The 10-inch pies are prepared according to the restaurant's "certified gluten-free safe procedures." You can finish off your meal with a Sweet Street gluten-free brownie.
4. Basil Thai Cuisine
702 Cross Hill Road, Suite 300A, Columbia, SC 29205
eatatbasil.com
1-803-782-0716
With various locations in North and South Carolina, diners can choose from a range of "refined Thai cuisine," including soups, salads, stir-fries, curries, and fried rice. A variety of dishes are or can be made gluten free upon request.
5. Good Life Cafe
1216 Taylor Street Columbia, SC 29201
goodlifecafe.net
1-803-726-2310
Reputed to be one of the only organic, raw, and vegan restaurants in the Columbia area, this cafe offers a breakfast menu, a main menu, and a grab-and-go menu, all including a variety of gluten-free options. Sit and dine, or choose a snack to enjoy while sightseeing!
6. Eggs Up Grill
2930 Devine Street, Columbia, SC 29205
4711 Forest Drive, Suites 15 & 16, Columbia, SC 29206
eggsupgrill.com
1-803-661-9174 (Devine Street)
1-803-820-0742 (Forest Drive)
Breakfast, as they say, is the most important meal of the day. Start yours off with a hearty gluten-free meal from this restaurant, featuring two locations in Columbia. "Gluten-friendly" items include "Loaded Home Fry," "Southwestern," and "Gluten-Friendly Pancakes."
7. Ally & Eloise Bakeshop
2833 Devine Street, Columbia, South Carolina 29205
5209 Forest Drive, Suite B, Columbia, South Carolina 29206
allyandeloise.com
1-803-708-2982 (Forest Drive)
1-803-661-6653 (Devine Street)
With locations on both Devine Street and Forest Drive, this bakery can help satisfy your sweet tooth no matter where you are in Columbia. Tasty gluten-free treats include "Queen Mother Cake Bars" — chocolate cake made with ground almonds and topped with espresso ganache — and gluten-free cookie gift boxes.
Columbia's gluten-free treasures: dine with confidence in Soda City
There's a world of gluten-free flavors waiting for you in Columbia. Enjoy every bite, and discover the heart of South Carolina!
Disclaimer of Medical Advice: This information does not constitute medical advice or recommendation of any kind, and you should not rely on any information contained in such posts or comments to replace consultations with your qualified healthcare professionals to meet your individual needs.