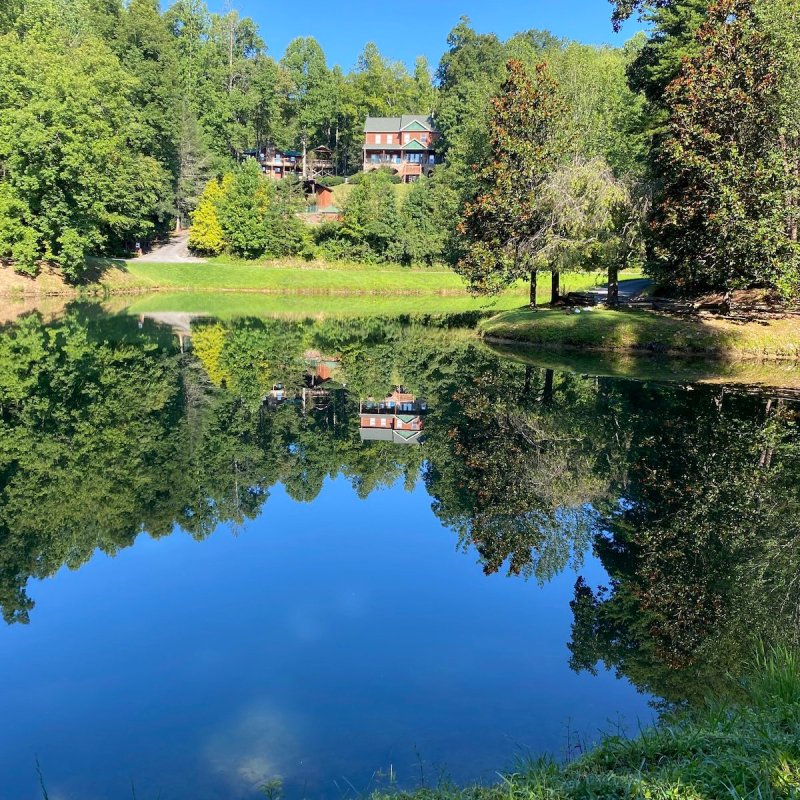 Renting a chalet in the mountains around Gatlinburg is a unique experience. Not only can you enjoy a secluded home in the mountains, but you are also close to the Great Smoky Mountains National Park and all of the other attractions in the area at the same time.
There are many companies in the area with chalets and cabins, and it can be overwhelming to find one. I have rented chalets in the area for over 25 years. Below, I will share with you my tips on how to rent one, the best location, and some other ways to enjoy a perfect vacation.
Rent A Chalet From The Best Company
To rent a chalet in Gatlinburg, you have two choices: You can rent from a local agency, or you can use an online service like Airbnb or Vrbo.
Over the past 10 years, I have used Airbnb and Vrbo for a number of vacations with my family. I like that it is easy to see everything about the home online. Usually, these homes have extra amenities, especially for vacationers. Most of the time, these online services are my first choice.
Gatlinburg is a unique town when it comes to renting a chalet. While there are quite a few Airbnb properties available, there are also a number of local agencies that specialize in renting these homes.
These agencies started before the internet existed. Take Mountain Laurel Chalets for example. They started in 1972 when residents Dot and Ralph Egli took care of other people's vacation homes while they were away. The local motels would call Dot and Ralph when they filled up to see if they had any spare beds for guests that were stranded without a room.
Since they have been in business for so long, they offer a few advantages over an Airbnb-type online rental. They have been my top choice in Gatlinburg for years.
Agency Experience
Most of the AirBNB rentals I have stayed in are managed by the owners that live in another part of the country and they have someone local that looks after the chalet for them. Usually, they do not have much experience in customer service or all the nuances in renting and taking care of a chalet. Most of the time, they have a full-time job doing something else, so even getting in touch with them can be an issue.
Local chalet rental agencies have years of experience and customers are their number one priority. I often find they go out of their way to help. They left stuffed animals for my grandkids and some cinnamon roll bread from the local donut shop in our chalet recently. (It's called "Monkey Bread" at the Donut Friar in Gatlinburg. It's amazing!)
Dedicated Service Staff
Staying in a chalet with your family is a great experience since you have the entire secluded home all to yourself. However, one disadvantage is when there is a problem with something in the home. There is no one nearby to help like there is in a hotel.
With a local agency, they have a team of service techs on call and can respond very quickly. With Airbnb, the owner or caretaker must call a plumber or service tech for you, and you are at the mercy of a third-party company.
Last year, my mother was staying with us in a chalet and the battery on her rental car died. We just called Mountain Laurel's office and their service tech was there in 10 minutes with jumper cables.
You can even call them for little things, like just needing a light bulb changed.
Local Staff
Local agencies have staff that live in the area full-time. If you have a question about the best restaurant or the best way to get to the park, they are ready to help and are experts. It's like having your own personal tour guide you can call anytime.
With Airbnb, the owner is often in another part of the country and may not know the area very well. Getting a prompt response from them is even tough sometimes.
Selection Of Chalets
Local chalet rental agencies have a large selection of chalets to choose from. If there is a problem with the chalet after you have booked it, they can easily move you to another one.
This happened to me a few years ago. Mountain Laurel Chalets called me to explain that the chalet I had booked had an issue and already had a few alternative suggestions ready. They moved me to a different one in just a few minutes.
This also happened to me with Airbnb when the owner decided not to rent the home any longer a few weeks before my trip. But, they had no other options for me, so I ended up canceling my trip because it was difficult to find anything else available.
Laundry Service And Supplies
This is something you don't really think about when renting a chalet. The nice thing about a hotel is getting clean towels and linens anytime you need them. With Airbnb, if you need clean towels, you must wash them yourself. Did you run out of paper towels or use that one trash bag they left you for an entire week? Well, you are on your own.
With a chalet rental agency, it is the best of both worlds. You can simply stop by their office and get clean towels, linens, trash bags, or whatever you need. Forget shampoo? They have you covered.
The Best Chalet Location
The one nuance of renting a chalet instead of staying in a hotel is understanding the location. In many cases, there are plenty of pictures of the chalet online, but the exact location may be somewhat gray.
In the Gatlinburg area, the location of your chalet can make or break your visit depending on what you plan to do. Traffic in Gatlinburg can be heavy, especially on the weekends and during the summer and fall.
First, before you book a chalet, ask the rental agency where it is located, if it is not clear on their website. Get an address and plug it into Google Maps.
If you are planning to visit the national park, you certainly do not want to stay east of Gatlinburg off highway 321. You will have to fight traffic through town since there is no reasonable route to the park from this area.
The best area I have found to rent a chalet is west of town off Ski Mountain Road. There are plenty of options to avoid traffic in this area; even the sky tram from Ober Mountain is an option.
This area also borders the park and some chalets are close to the hiking trails. If you enjoy hiking, give the agency a call and ask if they have any that are close. This is a great way to enjoy the Great Smoky Mountains National Park and you don't have to drive anywhere!
Chalet Amenities To Look For
While you obviously need enough bedrooms for everyone in your family, there are a few other amenities to consider.
Some people do not like to cook on vacation, while others enjoy it. I tend to be in the middle and cook a few nights and go out or order other nights. One thing I like to look for is a gas or charcoal grill. Last year, I rented a chalet with a large charcoal grill and smoked a prime rib one afternoon. It was a very relaxing afternoon and it tasted great.
In the summer, swimming pools are popular for kids but hard to find around Gatlinburg, except for at a few larger chalets. However, check with the agency you are renting from. There are three community centers with swimming pools near Ski Mountain Road and your chalet will often include a free pass.
Over the past few years, it seems that theater rooms have become more common. I used to think of them as something I would not get much use out of. But in 2021, I rented a chalet with one and we enjoyed it a lot. It is a good way to relax and something you don't get to enjoy every day.