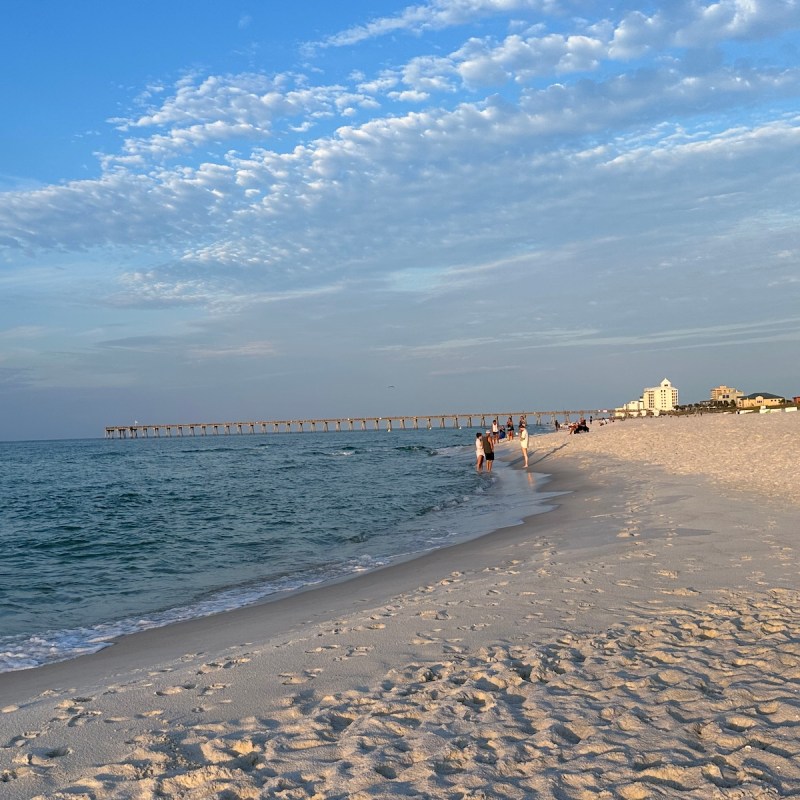 Are you looking for the perfect beach getaway? Pensacola Beach in Florida is a fantastic destination, offering breathtaking views and plenty of accommodations to make your getaway a dream vacation. With its white sand beaches, beautiful blue water, and a plethora of activities ranging from sailing adventures to sampling delicious seafood dishes, Pensacola Beach is a favorite for all kinds of travelers.
But first, it's important to find the right place to stay while visiting. Read on to discover some great ideas about where you can rest your head in this idyllic destination.
My husband and I have visited Pensacola and Pensacola Beach twice. The last time was in September. We stayed at the Fairfield and toured several other hotels. The majority of the properties are part of the Innisfree Hotels group.
Fairfield Inn & Suites Pensacola Beach hosted our visit. All opinions are my own.
1. Fairfield Inn & Suites Pensacola Beach
The Fairfield Inn & Suites Pensacola Beach is a unique beachfront hotel that opened on Pensacola Beach in June 2023, marking it one of the final pieces of recovery from Hurricane Sally, which devastated the area in 2020. The property replaced a hotel torn down due to irreparable damage created by the monstrous storm.
Soaring 11 floors, the 209-room property features modern structural and design elements. The stunning second-story lobby also ensures a more symbiotic relationship with Mother Nature should another major storm come. Windows in the rooms of this new hotel can withstand category-five hurricane winds.
Another significant element of this property is that they have created unique rooms for multi-gen families with young children. They understand that guests visit for the beach and the sunshine, but after a few days, the kiddos need a break, and an air-conditioned room with bean bags and a gaming system has been the right fit for guests looking for a short respite. The room layout gives everyone a little breathing room with separate private spaces and still provides that amazing gulf-front view.
Check out some of the new Fairfield Inn & Suites Pensacola Beach highlights:
The Gulf Coast's Largest Lazy River
At 315 feet long and holding 60,000 gallons of water, the lazy river meanders past three waterfalls, a skyline of palm trees, a hot tub, and a zero-entry pool, giving rafters a long, memorable ride.
State-Of-The-Art Fitness Center
The fitness center is in a spacious 800-square-foot modern facility with floor-to-ceiling windows that provide breathtaking views of the Santa Rosa Sound with workout equipment from top performance brands.
Modern Upgrades For Comfort And Convenience
High-speed Wi-Fi is available throughout the property and central air conditioning provides quiet, efficient, and healthy air circulation in guest rooms and public areas. The bathrooms have great lighting and the showers have excellent water pressure and plenty of hot water.
The breakfast area is spacious with plenty of variety, including make-your-own waffles. The hotel also has a large laundry room, a business center, and a fire pit for guests.
Beach Rentals Are Available
The Fairfield Inn & Suites Pensacola Beach works with a third-party vendor to provide umbrellas and chairs on the beach as well as boogie boards and other beach rental equipment.
2. Pensacola Beach Resort
Formerly Margaritaville, the hotel underwent a renovation and is now the Pensacola Beach Resort — a totally private, serene sanctuary on the Emerald Coast.
This luxurious hotel offers beachfront rooms with stunning views of the Gulf of Mexico. You can watch the sunrise from your balcony as you drink your morning coffee. The Pensacola Beach Resort features a full-service restaurant, a tiki bar, an outdoor pool, and a fitness center. The rooms are bright and spacious with gray and light blue as primary colors and bold blue and navy accents.
The Pensacola Beach Hotel is located directly on the beach and is perfect for those looking for a private and relaxing upscale stay with a touch of coastal elegance.
3. Holiday Inn Resort Pensacola Beach
Holiday Inn Resort Pensacola Beach is family-friendly with over 300 feet of pristine beachfront. The hotel features standard guest rooms and one-bedroom suites with balconies overlooking the ocean. The rooms are spacious and amenities include an outdoor pool, water slides, hot tubs, a complimentary breakfast buffet, free Wi-Fi, and a fitness center. The resort also offers a variety of activities for families and kids, including a kids club and water sports rentals.
Kids love this hotel with seasonal interactive pirate and mermaid shows along with movies shown poolside.
An additional perk is you have access to the pools and lazy river at neighboring Fairfield Inn & Suites.
4. Hampton Inn Pensacola Beach
This beachfront hotel offers comfortable rooms with private balconies and ocean views. The hotel features two beachfront pools, a tiki bar, a fitness center, and complimentary breakfast. The Hampton Inn Pensacola Beach rooms have all the amenities for a comfortable stay. It's an excellent option for travelers who want a beach vacation at an affordable price.
The hotel offers spacious rooms and suites with private balconies overlooking the Gulf of Mexico.
5. Hilton Pensacola Beach
Offering stylish and comfy rooms with gorgeous views of the Gulf of Mexico or the Santa Rosa Sound, the Hilton Pensacola Beach is perfect for an extraordinary vacation. Decorated in shades of blue and floor-to-ceiling windows overlooking the pool, the lobby feels aquatic.
Just beyond the pool is one of the world's whitest beaches. The sand is like powder. Many weddings take place on this beach.
When staying at the Hilton Pensacola Beach, you are within walking distance of many attractions and restaurants.
6. Surf & Sand Hotel Pensacola Beach
Surf & Sand Hotel Pensacola Beach is located directly on Santa Rosa Sound in downtown Pensacola Beach. It features comfortable guest rooms with private balconies overlooking the sound or Gulf of Mexico, depending on your chosen side!
Onsite amenities include an outdoor pool with cabanas, hot tubs, and fire pits for roasting s'mores! They also offer free floaties, paddleboards, and kayaks for endless fun under the sun.
7. Portofino Island Resort
This ultimate Gulf Coast resort features spacious, luxurious multi-bedroom suites with breathtaking views of the Gulf of Mexico. Portofino Island Resort and Spa is the perfect place to stay if you want to experience luxury in Pensacola Beach. The 28-acre resort boasts tropical foliage and palm trees with meticulously maintained grounds.
This island getaway also offers a variety of amenities, including two outdoor pools, an onsite restaurant, a spa, and a fitness center. Guests can also take advantage of the resort's private beach access.
Where To Eat In Pensacola Beach
You will work up an appetite with all the fun you will have at the beach. There are dozens of restaurants, but four I highly recommend:
Oyster Bay Boutique Hotel
If you're looking for a more intimate and unique experience away from the beach crowd, then the Oyster Bay Boutique Hotel is a great choice. Located across the bridge in Pensacola, this boutique hotel features a stylish white and sand-colored décor with spacious rooms, comfortable beds, and modern amenities. It is near the historic district where you can see so much on foot. We stayed at the Oyster Bay Boutique Hotel 2 years ago around Christmas. It is an excellent alternative to the beach.
Pensacola Beach offers visitors a variety of accommodation options. No matter where you choose to stay, there are countless things to do and see, along with the beautiful beach and all the activities it offers. I'm betting one of the above will be the perfect place to stay in Pensacola Beach for your upcoming vacation. Happy travels!