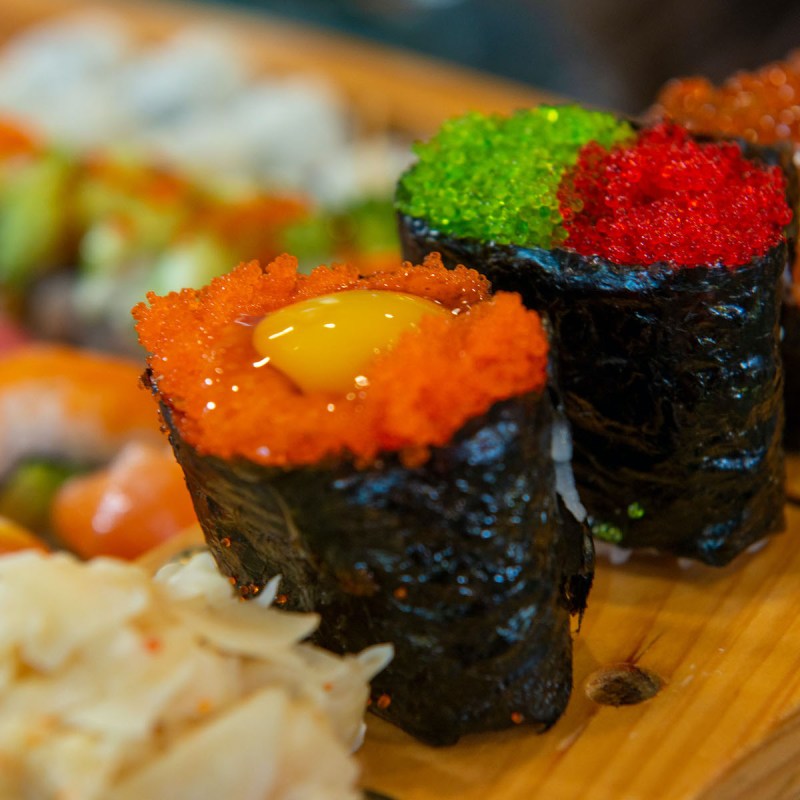 If you're looking for a fantastic dining experience while in Pensacola, Florida, you'll want to check out some restaurants on this list. From seafood to Italian, there's sure to be something tempting on the menu in this Gulf Coast city.
Here are some of the best restaurants to check out on your next visit. The restaurants were selected by visiting, talking with residents and guests, and receiving suggestions from the local destination management organization. They are listed in no particular order.
Visit Pensacola provided some meals. All opinions are my own.
1. Jaco's Bayfront Bar & Grille
Overlooking the Palafox Pier Marina at the end of South Palafox Street, Jaco's Bayfront Bar & Grille offers fresh fare and excellent service.
When we visited, we started our meal with a bruschetta that included fresh homemade focaccia with various spreads along with a signature island-style flatbread spread with a tomato basil sauce topped with crab, shrimp, mozzarella, pancetta, spinach, onions, jalapenos, and mango salsa. They have quite a variety of flatbreads available.
Both our meals were scrumptious. For the main course, my husband ordered the Bayfront Baltimore Crab Cakes. I enjoyed the Cuban sandwich.
I want to try the Boston Bibb Lettuce Wraps when we visit again. You can order them with chicken, shrimp, or steak and topped with mango salsa and sweet Thai chili glaze.
They have hefty servings, and the service was impeccable.
Pro Tip: Dine inside or on the deck. It is an excellent place to enjoy the bay's spectacular panoramic sunsets.
2. McGuire's Irish Pub
Once a small neighborhood pub, McGuire's Irish Pub is now a themed New York Irish saloon with a craft brewery. The Gregory Street restaurant is enormous, seating 615 people.
The oldest brewery in Florida offers fine porters, ales, and stouts brewed on site. They also have one of the world's largest restaurant wine cellars with award-winning wine.
The unique thing about McGuire's is the decor. Have you ever seen a million dollars? You can see over a million at McGuire's if you look up. Over one million George Washingtons are signed and hanging on the walls and ceilings throughout the restaurant.
They serve the typical Irish pub fare. When we visited, we started with the Blue Angel Chips; fresh hot potato chips served with a cold blue cheese dip.
My husband selected the grilled hickory prime rib steak for his entree, and I enjoyed the cedar-planked Alaskan salmon seasoned with a black mustard Irish whiskey glaze.
The next time I visit, I plan to try the Jameson pork chops — the same Irish whiskey glaze over grilled French loin pork chops served with applesauce.
Other traditional Irish menu items included corned beef and cabbage, Irish lamb stew, fish and chips, shepherd's pie, etc.
They serve lunch, dinner, brunch, and "night owl" for those sticking around until closing time. McGuire's is open until 2 a.m.
Pro Tips: The brewmasters will be happy to show you around and answer questions if you desire a brewery tour. Take an extra dollar bill to hang with the other million.
3. George's Bistro + Bar
George's Bistro + Bar has exceptional service, a masterfully crafted menu, and a modern space exuding Southern charm.
George's Bistro + Bar is where the South of France meets the South with fresh ingredients from the local area.
Order the Wild Blackberry + Strawberry Fields Salad drizzled with a balsamic, blackberry sweet and sour dressing for a light meal.
A local favorite is the grouper, seared and served with honey lavender glazed tricolor carrots, corn, and brown butter roasted spaghetti squash.
If you want meat, try the grilled lamb chops. They are dusted with the chef's spice blend and splashed with pomegranate and aged balsamic reduction.
4. Pearl & Horn
The Pearl & Horn is a fast, upscale casual restaurant located in Pensacola's new outdoor food hall on Palafox and Main. It is a sister restaurant to George's Bistro + Bar in Uptown Pensacola.
Pearl & Horn is open for lunch and dinner.
The P&H Lobster Smash Burger is a popular entree. They combine Angus beef and butter-poached lobster to create a surf and turf sandwich.
Another dish recommended by locals was the Coastal Roll, full of lump crab and blackened shrimp.
5. Polonza Bistro
Another Palafox Street restaurant, the Polonia Bistro, serves breakfast and lunch during the week and brunch and dinner on weekends.
The chef combines classic southern ingredients with an elevated style.
A breakfast favorite is the Florida Pancakes, which includes three orange-infused pancakes topped with orange butter and vanilla whipped cream, almost like a creamsicle.
Polonia Bistro has daily specials and all kinds of burgers and sandwiches. My favorite is the Bacon Jam Burger.
Next time I visit, I want to try the smoked jerk chicken.
Pro Tip: The menu changes with the seasons.
6. Carmen's Lunch Bar
"Yum" is the best word I can use to describe Carmen's Lunch Bar, where you can enjoy delicious Southern and international cuisine in a relaxed social atmosphere. Carmen's features an eclectic menu of fresh salads, homemade sandwiches, delicious soups, and savory tapas. This downtown Pensacola restaurant is located near the corner of South Palafox and Main Street.
Imported beers and boutique wines are available.
The locals I talked with said they couldn't recommend the Spanish crab melt enough! This delicious treat is made from local jumbo crab, manchego cheese, chorizo sausage, and lemon saffron and is served open-face over arugula.
My favorite item on the menu is the Cuban Pork Plantain "Pie." This gluten-free delight includes slow-roasted pork and chopped sweet plantains in a spicy red sauce.
7. The Wine Bar
The Wine Bar offers a welcoming space with a daily happy hour window from 11 a.m. until 6 p.m. They serve dinner every day. Lunch is served Monday through Friday, and brunch till 4 p.m. on the weekends.
They feature small plates, sandwiches, salads, and entrees.
The lump crab cakes is a delicious small plate served with peppadew pepper relish, remoulade, and wilted spinach.
I plan to try the roasted pork tenderloin topped with the snappy pepper jelly glaze on my next visit.
Pro Tip: A fun item for sharing is a charcuterie board. They include cured meats, baguettes, gourmet cheese, various fruits, rotating sides, and spiced almonds. Yum!
8. Sake-Cafe
Talk about pretty food, the Sake-Cafe Pensacola on 9th Avenue has some gorgeous presentations of delicious dishes.
They have an extensive sushi menu and offer house specials.
My top choice is the teriyaki salmon. When I visit next time, I want to try the karubi beef ribs.
Pro Tip: Check out their fabulous food presentation gallery and see how pretty the prepared entrees are.
The following restaurants are for a more splurge-worthy occasion downtown.
9. Jackson's Steakhouse
Rich in history and flavor, Jackson's Steakhouse is housed on the ground floor of a revitalized 1860s-era building overlooking Plaza Ferdinand, where a bust of Andrew Jackson stands. General Andrew Jackson accepted the transfer for the United States of Florida from Spain at the Plaza in 1821.
The restaurant is named after Jackson, and a re-creation of his signature serves as the logo and theme of the restaurant.
Steak and seafood are hand-selected and prepared to perfection earning Jackson's Steakhouse numerous awards. The steakhouse is considered one of Florida's top 25 restaurants.
French doors adorn the entryway of the historic building. The elegant dining room boasts handcrafted wrought iron chandeliers and showcases a magnificent mural.
Award-winning Executive Chef Irv Miller has a reputation for translating bold food ideas into irresistible scrumptious dishes.
Some of the inspiring dishes on the menu include Lamb Lollipops, Tournedos Americana, marasca duck breast, and double-cut elk chop.
On my next visit, I plan to try the crispy pork belly.
10. The District: Seville Steak & Seafood
The District: Seville Steak & Seafood sits on the site of the former Spanish Presidio and then the British Fort Pensacola. The two-story stucco and brick structure on East Government Street was built in 1888 across the street from the Seville Quarter Entertainment Complex.
Sophisticated and contemporary furnishings in the historic building give the restaurant a unique ambiance. Although the quality and service are upscale, the restaurant is a relaxing dining experience.
The executive chef, Josh Warner, has created a delicious menu only using higher grades of meat. They are dry-aged on-site in a temperature and humidity-controlled meat locker.
When we visited The District, we both enjoyed the filet mignon. I had a side order of the Brussels sprouts with bacon and walnuts.
Others were raving about the bourbon whipped sweet potatoes and the dry-aged steakburger.
Pro Tip: Be sure to walk around when you leave the restaurant to view the various meats through the window into the meat locker.
11. Restaurant Iron
Southern cooking with a contemporary twist, Restaurant Iron elevates the culinary offerings on Palafox Street in downtown Pensacola.
They stick with locally sourced and handmade food. Every recipe is prepared in their open kitchen with Executive Chef Alex McPhail in charge.
The comfortable, award-winning restaurant serves a variety of steaks, seasonal sides, and local favorites. Two dishes I recommend are the Crusted Gulf Redfish for the seafood lover and the sweet tea brined bone-in pork chop for the meat-eater.
Try the peppercorn crusted elk rack served with black truffle bread pudding, roasted spring onions, and pickled cherries if you want to splurge.
Be sure to save room for dessert at the Restaurant Iron. Try the Icebox Nutella Pie made with a toasted pretzel crust and filled with the Nutella Cremeax, topped with caramel sauce, and sprinkled with sea salt.
12. Angelena's Ristorante Italiano
Angelena's adds Southern touches to classic Italian cuisine, from handmade pasta to Gulf seafood.
Executive Chef James Briscione is not only an award-winning chef but a TV regular on the Food Network.
The Pasta Tasting Menu allows trying a three-course pasta dinner. The regular menu includes various pasta, seafood, and other options. On my next visit, I'm anxious to try the Neapolitan-style pizza from the wood-fired oven in the dining room.
Authentic Italian desserts are a highlight of a meal at Angelina's. Try the chocolate ganache with a gluten-free nut crust and salted caramel.
Angelena's is only open for dinner service Monday through Saturday.
Pensacola is home to some fantastic restaurants, from seafood eateries to international cuisine. If you haven't had a chance to try any of these amazing restaurants, make plans to visit Pensacola soon — I promise you won't be disappointed! Whether you're looking for a romantic dinner spot or somewhere fun, there's something for everyone in this Gulf Coast city.
For more ideas and inspiration on Pensacola, explore these articles: