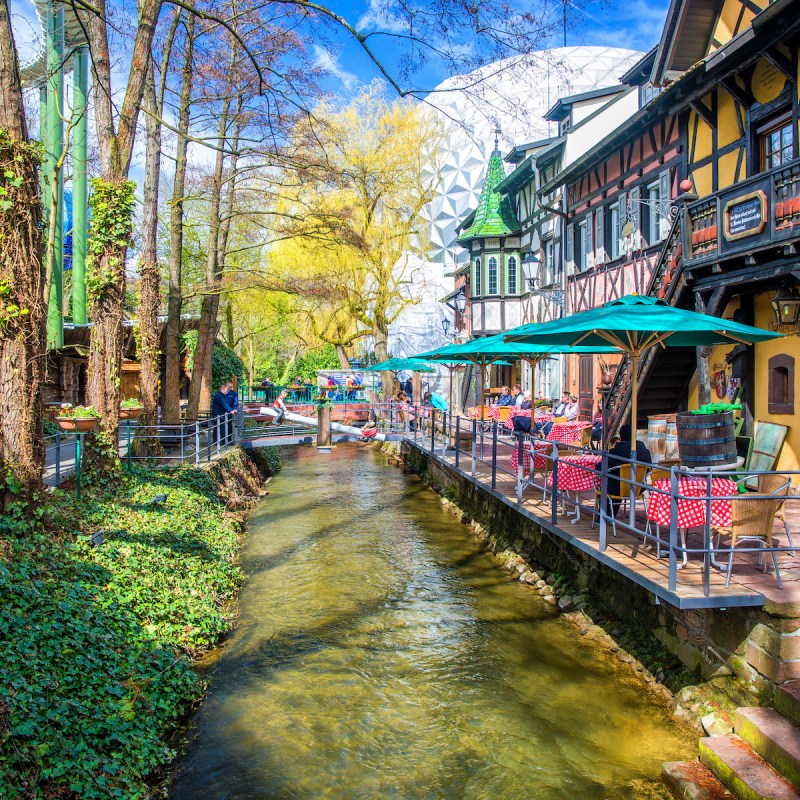 Europe is home to iconic attractions like the Mona Lisa, Eiffel Tower, and Colosseum. But across the continent are also some of the world's top amusement parks, many close to major cities and airports.
If you are ready for a break from visiting museums, cathedrals, and other historic landmarks, here's a look at the five best amusement parks in Europe.
1. Disneyland Paris, Paris, France
Disneyland Paris, the most visited theme park in Europe by a wide margin, is divided into two sites. Disneyland Park features classic Disney characters, themed villages, thrill rides, parades, theater shows, and nightly fireworks. Walt Disney Studios Park spotlights movies and characters from Disney, Pixar, and Marvel.
Located only a 20-minute train ride from Paris, Disneyland Paris is an easy day trip from the City of Lights. Plan ahead if you only have 1 day to spend. The park is huge and you don't want to waste time and energy pinballing aimlessly here and there. Invest in Disney Premier
Access to avoid waiting in long lines during high season.
The Sleeping Beauty Castle here is by far the biggest (twice as tall as Disneyland California) and most elaborate of all the Disney parks. Don't miss the Dragon's Lair beneath the castle. Other must-do attractions are Phantom Manor and Pirates of the Caribbean.
2. Europa-Park, Rust, Germany
Europa-Park is the largest theme park in Germany and, following Disneyland Paris, the second most visited in Europe. Located in the southwest triangle of Germany near the borders of France and Switzerland, visiting this one requires an overnight stay unless you live in the area. Note that the park is closed from early January through March.
Europa-Park is divided into 19 themed areas, most of them representing a European country, and is the roller-coaster king of Europe. And that is no surprise since it is owned by the same company that manufactures the coasters.
You do not need to be a thrill-ride enthusiast to thoroughly enjoy yourself here. Just wandering around feels like you are on a magical tour of the continent. The attention to detail is phenomenal. The Scandinavian area has fjords. Italy has a miniature St. Mark's Square. You can even stop by the Globe Theatre in the England section.
3. PortAventura World, Barcelona, Spain
Barcelona's largest theme park and most famous in Spain, PortAventura World is an easy day trip well worth taking. While Europa-Park takes you on a tour of Europe, PortAventura offers a condensed journey around the world.
Start with tapas in the Mediterrània zone, which is patterned after a typical Catalonian port city. If you are a roller coaster fan, get your thrills on the super-fast Furius Baco. Take a boat or train over to the tranquil Polynesia zone for shows featuring exotic birds and traditional dancing.
On to the China section where the main pathway is in the style of the Great Wall. Here, you can climb aboard Shambhala and Dragon Khan, two spectacular record-breaking roller coasters.
Travel next to México in the time before Columbus discovered the New World. You will feel like you are on the set of a cowboy movie when you arrive at the Far West area. Finish your adventurous day with some nostalgia at SésamoAdventure, if you were ever a Sesame Street fan.
4. Tivoli Gardens, Copenhagen, Denmark
Located in the center of Copenhagen and open since 1843, Tivoli Gardens is the second oldest amusement park in the world. Since Walt Disney visited several times in the '50s, legend has it that Tivoli was the inspiration for the original Disneyland.
Be sure to properly time your visit because, like Europa-Park, Tivoli Gardens is not open year round. It operates only from April through September and a few weeks during Halloween and the Christmas season — when the park is aglow with twinkling lights.
This place makes no pretense of having the newest, biggest, or best. It has a very old-fashioned vibe and, as its name suggests, the emphasis is as much on the beautifully manicured grounds as the rides. In fact, you can skip the rides altogether and purchase a ticket simply to enjoy the lovely parks and gardens.
5. Efteling, Kaatsheuvel, Netherlands
For fairy-tale aficionados, Efteling theme park is a dream come true. Located an hour south of Amsterdam, the attractions here are centered around ancient myths, legends, fables, and folklore.
Fairytale Forest is the park's oldest and most famous area. Showcasing fairy tales by Brothers Grimm and Hans Christian Andersen, you will stroll among giants and trolls in an enchanted woodland. Keep an eye out for Rapunzel, Little Red Riding Hood, Hansel and Gretel, Pinocchio, and the rest of the beloved storybook characters.
Discover the hidden city of Fata Morgana. Visit the fantasy world of Symbolica. Enter the cursed haunted house of Villa Volta if you dare. Take in views of Efteling Park from the rotating Thai Temple.
Boat rides, roller coasters, and themed shows round out a memorable day for kids and adults alike.