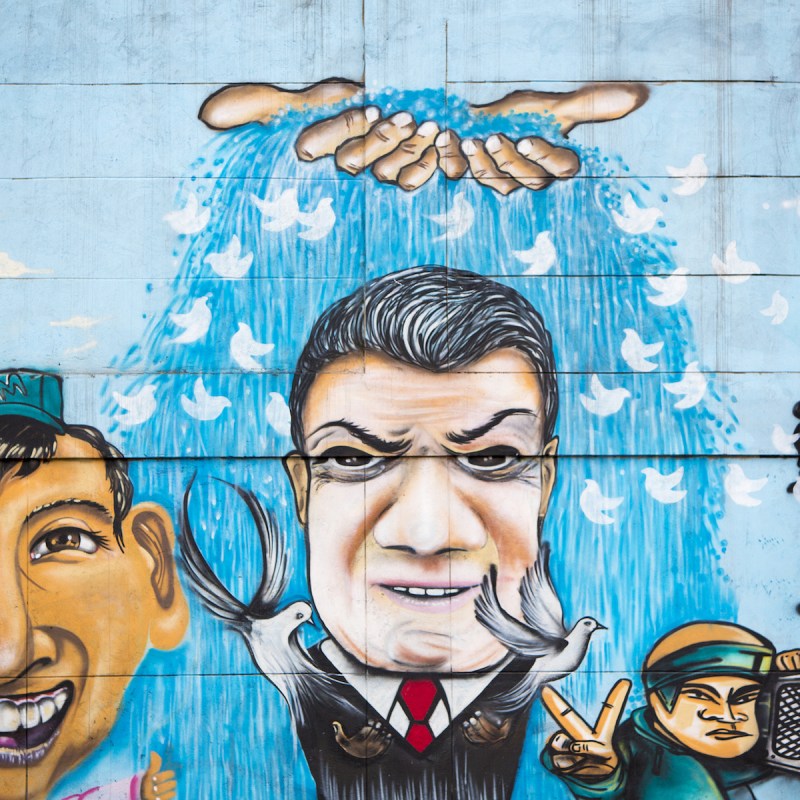 When you're visiting a new city, art can truly elevate the experience. Art, in all its wonderful forms and expressions, can serve as a teacher or a guide, allowing you to get to know a place, its people, its history, and its politics in a whole new way. While many of us make time to view masterpieces in a museum, a few lucky spots have them out in full public display as well.
Here are three of our favorite cities with especially vibrant scenes of street art.
1. Bogota, Colombia
A tragedy in Colombia's capital city was the turning point that gave birth to the artistic triumph seen in its streets today. In 2011, police shot and killed a teenaged graffiti artist while he was tagging an underpass. His death sparked massive protests, which eventually forced Bogota city officials to change street art laws and decriminalize graffiti. With that legal green light, grants were offered to artists and some were even given carte blanche to paint buildings in busy thoroughfares.
Today, that tradition continues as an exuberant celebration of a young artist's life taken far too soon. Everywhere you look in Bogota, the work of hundreds of graffiti artists — from budding to masters — is on stunning, riotous display. You'll find colorful murals depicting scenes and themes ranging from fanciful and full of whimsy, to historical, political, and powerful.
To get to the heart of Bogota's street art scene, head straight to La Candelaria. The city's oldest neighborhood — founded back in 1538 — is brimming with historic sites and plenty of graffiti to go along with it.
2. New York City
The Big Apple is where street art got its start and remains one of the best places in the world to see and appreciate it. All of New York can be a canvas: walls, doors, subway cars, bus stops, and anything else that can be painted. The work — from small tags to full, bright murals — packs a visual punch with its color, subject matter, and inspiration. Much of it will make you think, which is precisely what art is supposed to do.
While street art is everywhere in New York, there are a few standout stops. Make sure to check out the Bowery Wall. This place first became popular decades ago when a young Keith Haring created his first public work there. The family that owns the property decided to dedicate the space to street art, and now, this wall is reserved for murals created by artists from New York and around the world. 
If you're in the mood for an informal art stroll, head to Manhattan's Lower East Side. There, you'll find big, bold messages and full graffiti panels on nearly every block. Freeman Alley is constantly recreated with new art and is a good stop during your walk.
Finally, consider mixing in some culture with amusement at the Coney Art Walls. The outdoor museum, located within Coney Island's Amusement District, features murals created on freestanding walls. New pieces are added periodically, creating a wild, wacky wonderland that fits right in with the nearby roller coasters and thrill rides.
3. London, UK
Finally, for a European take on street art, head across the pond to London. It's a global epicenter of the scene and where you'll see many works from Banksy — one of the genre's biggest names (or pseudonyms rather).
The ever-colorful Brick Lane is one of the best one-stop shops in the city where you can get your art fix in. While it's also well-known for its breweries and Bangladeshi cuisine, Brick Lane boasts some of the most vibrant street art in London. Side streets like Hanbury and Pedley are also covered in it. A stroll through the area will reveal works by masters of the genre, as well as new artists.
And if you want to have the opportunity to see London street art as it's being created, the graffiti tunnel underneath the Waterloo tube station is the perfect place. It's a spot where artists can legally tag and spray to their hearts' content. It's a place where younger artists come to learn and attempt to make a name for themselves. It's a great place to see something new every day.
Conclusion
Street art, by its very nature, isn't made to last. It's painted and plastered over, or simply fades away with time. But in Bogota, New York, and London, the genre itself is built to stand the test of time thanks to the communities, art scenes, and governments that support it. You can easily spend a day in each place examining, comparing, and contrasting the street scenes in each city.
Pro Tip: Consider an organized walking tour to make sure you don't miss the best art or skip any context.