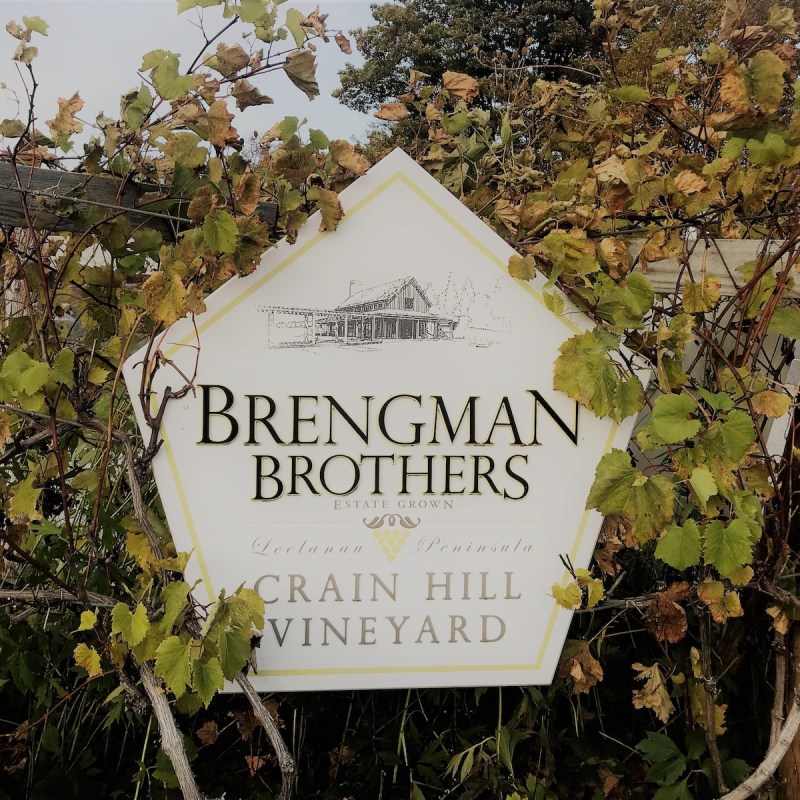 When you think of Traverse City, you may imagine the stunning views of Grand Traverse Bay and the farm-to-table food scene. But add the wine region to that image and you'll have a trifecta of food, wine, and ambiance.
Like other great wine regions such as Piedmont and Bordeaux, northern Michigan's wine country sits on the 45th parallel. Leelanau Peninsula and Old Mission Peninsula have climates that Lake Michigan tempers, so Michigan wines tend to be fruit-forward.
While you'll find approximately 50 fantastic wineries near Traverse City, here are nine of the best listed alphabetically.
Visit Traverse City hosted some of these tastings. All opinions are my own.
1. Bel Lago Vineyard
Located on the Sleeping Bear Loop of the Leelanau Peninsula wine trail, the Bel Lago tasting room sits on the southern end of Lake Leelanau. The vineyard grows over 100 grape varieties on its 37 acres near Cedar, just north of Traverse City. The New York Wine Competition awarded Bel Lago "Michigan Winery of the Year."
I love ice wine as a dessert and Bel Lago's doesn't disappoint. Their award-winning 2017 Riesling Ice Wine received 100 points at the International Eastern Wine Competition, winning Best of Show, Best of Class, and Double Gold.
What To Order At Bel Lago Vineyard
If you need a nibble during your wine exploration, they have options. My recommendations are:
Entrée: Pizza, artisan-designed, locally made for Bel Lago
Dessert: Cherry wine; it's like cherry pie in a glass.
Pro Tip: You can stay on their North Farm vineyard farmhouse, a remodeled 19th-century vacation rental surrounded by vineyards and hardwood.
2. Black Star Farms
Black Star Farms is about 15 minutes from Traverse City, situated on an equestrian-inspired estate. On the 160-acre estate, they produce over 45 types of wine and spirits. Their range is vast, from dry to sweet and still to sparkling. Black Star Farms has two tasting rooms, one at Old Mission Peninsula and one at Suttons Bay.
The bed-and-breakfast-style Inn at Black Star Farms offers 10 guest rooms each named after a star. You could spend the entire weekend on Black Star Farms, hiking and biking their trails through the forest and around the vineyard.
What To Order At Black Star Farms
Before I do a tasting, I always plan my trips to Black Star Farms around mealtime to take advantage of their farm-to-table restaurant, Bistro Polaris. Some of their must-try dishes are:
Entrée: Salsiccia, a wood-fired pizza
Wine: Sirius cherry wine, rich dark cherry with a hint of cinnamon
Pro Tip: Guests at the inn must be at least 18 years old and it has a no-pet policy.
3. Bonobo Winery
Owned by Carter and Todd Oosterhouse, Bonobo seeks to remove the pretenses from wine. The 19-acre vineyard grows seven grape varieties — pinot blanc, pinot gris, chardonnay, sauvignon blanc, riesling, pinot noir, and cabernet franc.
What To Order At Bonobo Winery
Bonobo Winery offers a monthly three-course, artisan small-plates menu. And here are some wines to try:
Wine: 2021 Riesling, with tastes of gooseberry, peach blossom, and honeycrisp apple
Dessert Wine: 2019 Brut Cuvée, made using a traditional champagne method of 100 percent estate-grown pinot noir and chardonnay grapes.
Pro Tip: Call ahead, as their kitchen may be limited or closed during private events.
4. Brengman Brothers At Crain Hill Vineyard
Brengman Brothers, a micro-winery using estate-grown grapes, aims to develop a Leelanau terroir with an old-world spirit. They say that "Dirt does matter!" using cool climate vinifera grapes to work their magic.
In addition to their winery, Brengman Brothers has a distillery making grape brandy. They harvest riesling, gewurztraminer, and ugni blanc slightly later than you'd typically find. It produces wines with 10–10.5 percent alcohol and a fruit-forward spirit.
They offer a variety of experiences to enjoy while sipping your glass of wine. You'll find everything from art exhibits to oyster crab socials and stargazing.
What To Order At Brengman Brothers
You can enjoy lunch in their tasting room with a modern ambiance or on the patio.
Wine: DaGudScht, a fun name for this bubbly blanc de blancs extra brut
Entrée: Pure Michigan pastrami sandwich on a brioche-style bun
Pro Tip: Call or check their social media to validate current kitchen hours.
5. Brys Estate Vineyard & Winery
Brys Estate is a 155-acre estate of which 44 acres are vineyards. They planted eight different varieties, including red grape varietals — pinot noir, merlot, and cabernet franc — and the white varietals like chardonnay, riesling, pinot gris, pinot blanc, and gewürztraminer.
In addition to wine, a unique feature of Brys Estate Vineyard is the Secret Garden in an area too low to grow grapes. Lavender and grapes grow well together in Provence, so they started with 1,000 lavender plants and opened to the public in 2016. Today, the Secret Garden grows nine varieties of English lavender, U-Pick strawberries, a U-Cut flower garden, and an herbal garden. In addition, they grow sage, peppermint, and lemon balm in the herb garden.
They offer overnight guest accommodation in a former barn turned into a luxurious, modern farmhouse.
What To Order At Brys Estate Vineyard & Winery
Accompany your wine with one of their snack items, typically a cheese and charcuterie board.
Wine: 2020 Pinot Noir Reserve features black cherry and white pepper.
Dessert: Lavender ice cream or lavender shortbread cookies at the Secret Garden
Pro Tip: The Wine Wagon Tour & Tasting is a 2-hour experience that takes you to five locations throughout the 155-acre estate winery via an electric shuttle.
6. Chateau Chantal
In 1983, Robert and Nadine Begin founded Begin Orchards, which eventually became Chateau Chantal, a winery and inn in the Old Mission Peninsula 12 miles north of Traverse City. Originally a cherry farm, the 65-acre estate includes 40 acres of planted grapevines featuring classic European-style wines. They farm more than 100 acres and source additional grapes from Mendoza, Argentina. Today, Chateau Chantel offers a range of wines from very dry to slightly sweet.
In addition to traditional wine tastings, Chateau Chantal offers cooking classes from January through May. You'll learn to create dishes that perfectly complement the winery's portfolio. They offer Jazz at Sunset, where you'll spend an evening listening to live jazz while enjoying a glass of wine overlooking the stunning vistas of Grand Traverse Bay.
To experience more of the Old Mission Peninsula and the Traverse City area, Chateau Chantel offers bed-and-breakfast-style lodging with stunning vineyard views.
What To Order At Chateau Chantal
They offer a variety of specialty dinners and overnight guests breakfast.
Wine: Late Harvest Riesling, their best-selling wine
Dessert Wine: Vidal Ice, sweet and fruity with an incredible finish
Pro Tip: Make reservations early for the Thursday evening Jazz at Sunset events.
7. Mawby
Mawby has been in business for 50 years. Larry Mawby began producing still wine in 1973. After realizing the climate and growing region would produce high-quality sparkling wine, he created his first in 1984. In the late 1990s, he abandoned still production and only made sparkling wines.
What To Order At Mawby
Known for their sparkling wines, try one of these:
Wine: Freestyle Rose, semi-sweet, Cuve Close Method bubbly
Wine: Green, a tropical fruit blast designed for summer
Pro Tip: If you have more than six people in your group, they suggest you make a reservation.
8. Mari Vineyards
When Marty Lagina founded Mari Vineyards, he selected grapes never grown on Old Mission Peninsula — sangiovese and nebbiolo. He also planted riesling, merlot, and cabernet franc, typically grown in the region. His namesake for the winery was his grandmother, Teresa Mari.
These vineyards are another with stunning views. You won't need a reservation to sit on the lawn and enjoy the view above East Grand Traverse Bay.
What To Order At Mari Vineyards
Try one of these:
Wine: 2021 Sauvignon Blanc, a northern Michigan expression of this wine type
Dessert Wine: Essenza Dell'albero Maple Wine, created from Old Mission Peninsula estate sugar maple trees
Pro Tip: You can't make reservations on the phone. You must use their online reservation system.
9. Rove Estate
Rove Estate's tasting room, at 1,165 feet, sits on the highest point in the Leelanau Peninsula. It's higher than Pyramid Point and Empire Bluffs. So, if you're looking for a stunning place to enjoy the sunset and a glass of award-winning wine, this is the place to go. They use estate-grown grapes from fifth-generation, family-owned farmland.
Owner Creighton Gallagher and his wife McKenzie welcome the entire family. Even the kids will enjoy the ample outdoor space, including games, dance areas, fire pits, and the Rove Trail Loop.
What To Order At Rove Estate
I recommend these wines:
2021 Pinot Noir with balanced aromas of cherry, baked cranberry, cocoa, and clove
2021 Select Harvest Riesling with the essence of ripe peaches, citrus, and a crisp, clean finish
Pro Tip: While you can make reservations for your tasting, walk-ins are welcome.
If you're planning a trip to explore Traverse City, here are some other articles to check out: