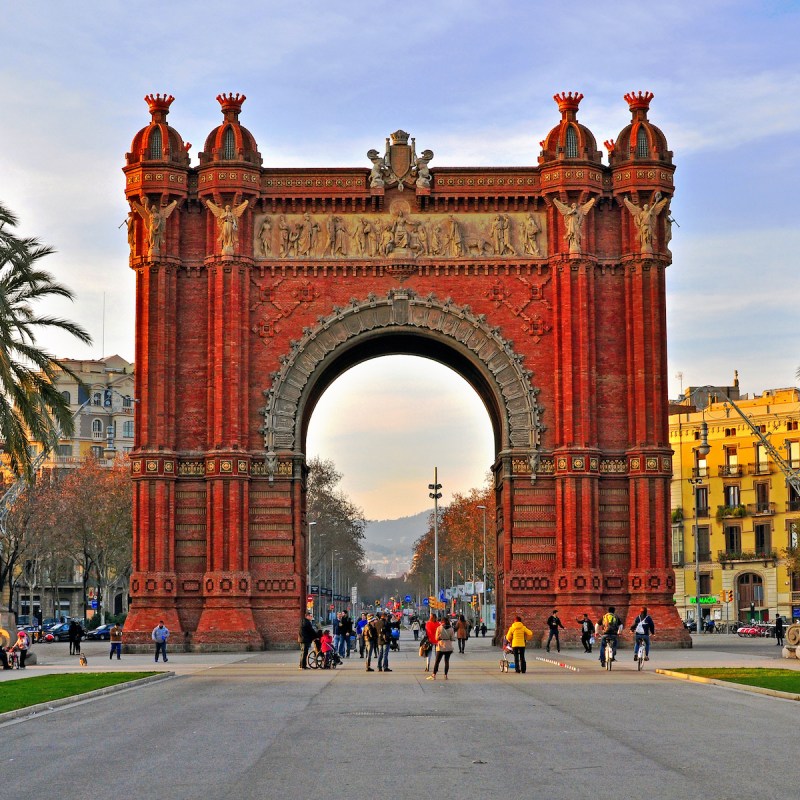 Lying on either end of the narrow region holding the Pyrenees Mountains — where France meets Spain with Andorra somewhere in the middle — are the two cities of Barcelona and Bilbao. Both are part of Spain, but one identifies as Basque and the other as Catalan. Both are near or on the coast and are famous for their historic quarters and superb food. But which one ought you travel to see if you only have time to pick one?
Despite, on paper, being practically interchangeable, there are differences that a first-time visitor should take into consideration when planning to have a closer look at northern Spain. From location to size, sights to see and day trips to take, even the weather and food, everything makes a difference.
Having visited both cities repeatedly, and loving both, I would not know which one to recommend to you because both are worthwhile cities to visit. But maybe these key differences will help you make a choice.
1. Location
Bilbao Is Near The Atlantic Coast
The de facto capital of Basque Country (Basque and Spanish are the official languages here), Bilbao lies on the river Nervion, which flows some 8 miles from Bilbao into the Bay of Biscay, part of the Atlantic Ocean. Officially part of the Basque region in northern Spain, Bilbao is a mere 75 miles from the French border, with the foodie capital of San Sebastian 63 miles away. Bilbao is also part of the Camino de Santiago, making it popular with pilgrims.
Barcelona Lies On The Mediterranean
Barcelona is the capital of Catalonia (Catalan and Spanish are the official languages here) and lies on the Mediterranean Coast, some 93 miles south of the French border. The coastline that stretches alongside Barcelona is the Costa Brava, a popular beach destination for Europeans and overseas visitors.
2. Size And Getting Around
Bilbao Is Tiny
Bilbao is a city with merely 350,000 inhabitants and is nestled between two mountainous ridges, alongside river Nervion. Its compact size makes it easy to explore on foot, although, there is a metro that connects the further-away points, such as the Museum of Fine Arts with the old town, and the seaside.
Barcelona Sprawls But Has Great Public Transportation
With its population of 1.62 million, Barcelona is nearly five times the size of little Bilbao and it can be a chore to get to the spread-out sights dotted around the city. That said, the metro system is fast and easy to use. The most popular sights are concentrated in and around the old town, with just the odd outlier — such as Mount Tibidabo or the Sagrada Familia — to get to.
3. The Weather
Bilbao Can Be Rainy
With the Atlantic in close proximity, Bilbao tends to get fewer sunny days than Barcelona. On average, it's around 5 degrees Fahrenheit colder, with average annual temperatures of 68 degrees Fahrenheit. There is an average of 163 recorded days of rainfall, roughly 44 percent of the year, and I can confirm that the last two times I was there, it rained. But it never lasted all day.
Barcelona Is A Summer-All-Year-Round Destination
Barcelona has a recorded 55 rainy days per year on average, making it a veritable desert compared to Bilbao. The average annual temperature is around 73 degrees Fahrenheit, with summer temperatures reaching above 86. When it gets sunny in Barcelona, because of the density of the buildings, it can quickly feel too hot.
4. Attractions
Bilbao Has The Guggenheim
There is no doubt that Bilbao's main draw is the Frank Gehry-designed Guggenheim Bilbao Museum. In all its silver splendor, it presides over its river location, and inside and out there are art installations and exhibitions that are truly world-class. If you see nothing else in Bilbao, this will do. But, there is more. The old town of Casco Viejo is wonderful, on a smaller scale than Barcelona's old town, and as such, is much more manageable. There are mountains with grand views on either side as well as fabulous shopping along the Gran Via. Within the old center, the Gran Via (dare I say it) is better than in Barcelona because it is more compact. Not to miss is the Art District, the cathedral dedicated to Santiago, the maritime and archaeological museums, and more.
Barcelona Is All About Gaudi
Barcelona has Gaudi, whose presence is felt everywhere, with not only the Sagrada Familia Cathedral, but also Park Güell, Casa Mila, and various other buildings. Those, together with the main drag of Las Ramblas, bring so many tourists into the city that the locals are getting fed up. Add an old medieval and Roman center, the beaches, and modern as well as traditional art museums, and there is too much to mention, really. Another attraction that might be a little unusual — but one I love — is Sant Jordi Day celebrated on April 23 each year. On this day, Spain's equivalent of Valentine's Day, couples give each other roses and/or books, and the entire city is filled with book stalls and rose vendors.
5. Eating And Drinking
Bilbao Has Pintxos
Pintxos, pronounced "pinchos," are basically the Basque version of tapas — little bites you get with your glass of wine. For a small city, the food scene is great in Bilbao, with plenty of little eateries in the old town as well as international restaurants. Head to Plaza Nueva in Casco Viejo to work your way through all the little pintxos bars. Local specialties to try fresh from the Atlantic — including bacalao pil-pil, a dish with the ubiquitous bacalao cod fish — are found everywhere. Most of the specialties here are seafood, from cod to hake to tuna, and the spider crab is also very popular. But there are also bean stews, such as alubias de Tolosa, often with added chorizo. For dessert, try the pastel vasco, a light and spongy vanilla tart.
Barcelona Does Tapas
Pretty much the same thing as pintxos, tapas are small snacks best savored with a good glass of wine. Then there is paella (despite originating further south), churros (freshly fried dough sticks covered in sugar, cinnamon, or chocolate), and plenty of choices of gorgeous ham (such as the Iberico ham). This ham is available in little paper cones right at the city's loveliest food market, La Boqueria. For the rest of these delicacies, you can get the best idea of the sheer variety of foods available in Barcelona by joining a culinary tour.
6. Day Trips
Great Food And Drink Destinations From Bilbao
One day should be taken up by heading to the coast on the metro. It is easy and cheap. You cannot only spend the day on the beach; stop off at Vizcaya Bridge — the world's first transporter bridge and an engineering marvel. Then, spend a day exploring the Rioja region with its wonderful wines but also some superb architecture to spot along the way, such as the Frank Gehry-designed winery and another designed by Santiago Calatrava. And for true foodies, a visit to San Sebastian is a must.
Beaches And Another Country From Barcelona
Barcelona's Costa Brava is — as I already mentioned — a very popular summer beach paradise. Studded with pretty villages, the entire coast is worth a road trip. You can also take in Girona, just a bit farther north toward France, while you are at it. While Bilbao is quite isolated, there are plenty of day trips from Barcelona all within easy reach.
7. Further Afield Side Trips
Bilbao Is On The Camino De Santiago
If you have time, you could visit France's Atlantic Coast from Bilbao, with cities such as Biarritz and Saint Jean de Luz just around the bay. And then, you can always head off on the Camino del Norte to Santander for a week.
Barcelona Offers A Chance To Take A Boat Out
Fancy some island-hopping? Then, head to the Balearic Islands from Barcelona. The first time I visited Barcelona, my parents and I headed onward to Ibiza, but you can also take the ferry to Mallorca. Menorca and Formentera? Even better. If you have a rental car, you can take it with you.
Verdict: I am still unsure. Bilbao is small and manageable with some first-class architecture in and around, while Barcelona is big, full of crowds, and yet so attractive. Maybe see both?!