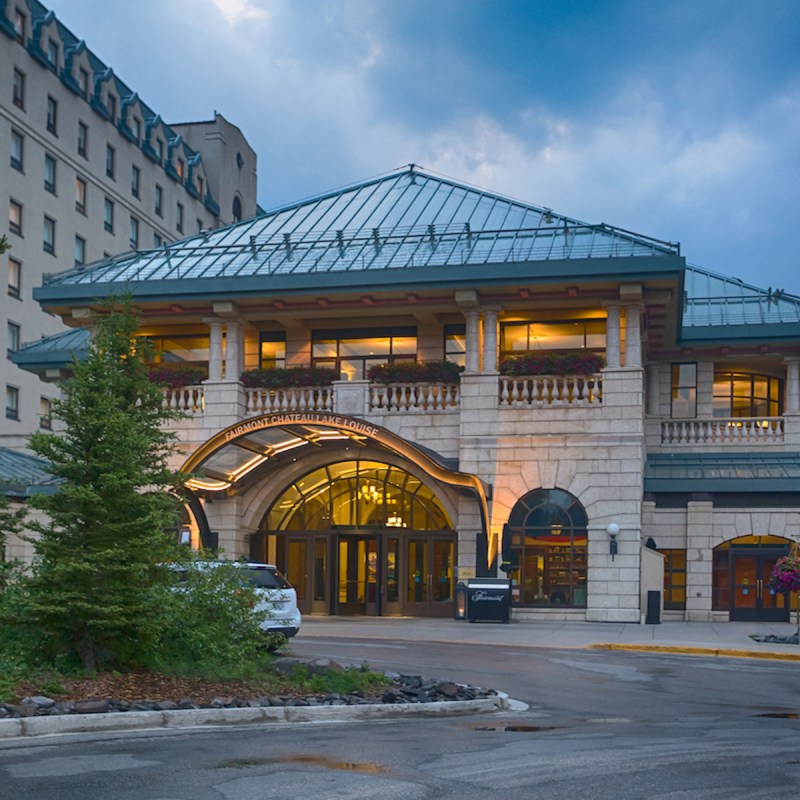 TravelAwaits' 2023 Best Of Travel Awards, presented by
AllTrails
and with the support of
Luggage Free
, the premier luggage shipping service, showcases our readers' favorite destinations and businesses. Nominations and voting took place earlier this year, and we hope the final selections inspire your future adventures; congrats to all of the winners!
With the recent explosion in the popularity of peer-to-peer vacation rentals, some travelers may be asking themselves why they would even bother with the old hotel brands at all. As fantastic as vacation rentals can be, it's often hard to beat the reliability, consistency, and professionalism of a hotel managed by an experienced staff.
To conclusively sort the best from the rest, we asked TravelAwaits readers for their favorite hotel brands and – as a bonus – the best hotel rewards programs. Here are our readers' top-rated picks.
1. Marriott (Winner)
From humble beginnings in the 1950s to its current status as a global mega-chain, Marriott is one of the hotel brands that travelers can rely on time after time. Over 8,000 Marriott hotels can be found in over 160 countries, which means that guests can enjoy a comfortable stay whether they're tasting wine in Aix-en-Provence, France, seeking luxury in Dubai, or letting the good times roll in New Orleans. Marriott's portfolio is made up of other respected brands like Ritz-Carlton, St. Regis, and Sheraton hotels, so guests can always find a property that suits their needs and budget.
2. Hilton
From San Francisco to Da Nang, Vietnam, Hilton hotels meet the high standards of guests across six continents. Topping Business Insider's 2020 list of best companies to work for, Hilton employs over 62,000 people who work to provide guests with the best hotel experience possible. In addition to providing guests a comfortable place to rest their heads while traveling, Hilton Hotels & Resorts has partnered with Peloton to encourage wellness for travelers and support sustainability in a variety of ways across its properties.
3. Four Seasons Hotels & Resorts
There are plenty of hotel brands that promise luxury, but few deliver quite like the Four Seasons does. Case in point: The Four Seasons offers a series of globe-trotting private jet adventures. These remarkable themed journeys take you and your small group of friends and family into the heart of some of the world's most memorable travel experiences — all in dreamy luxury and comfort. If the private jet is a little out of your budget, Four Seasons properties in Athens, Paris, Hawaii, and other popular destinations will give you a more manageable taste of the good life.
4. St. Regis Hotels & Resorts
St. Regis Hotels & Resorts is managed by Marriott International, but this brand has its own unique flavor that has kept guests returning since the St. Regis New York was founded in 1904 by John Jacob Astor. The luxurious original location on NYC's iconic 5th Avenue sets the tone for the rest of the brand: the opulence of a bygone era. St. Regis's portfolio of resorts takes this vision and transports it from urban centers to some of the finest beaches and mountains in the world.
5. Hyatt
The Hyatt's legacy begins with quality and convenience rather than luxury and sophistication. While the Hyatt brand does include luxury hotels, weary guests can reliably find comfortable rooms in the Hyatt hotels of countless cities – without breaking the bank. With a great rewards program and so many options for locale and budget, just about every traveler will enjoy staying at a Hyatt property.
6. Fairmont Hotels And Resorts
Fairmont Hotels and Resorts has a presence across the globe with a particularly strong place in Canada's luxury hotel scene. Without a doubt, the Fairmont Empress in Victoria, British Columbia, is a great example of the high standards that the organization maintains. The modern elegance of Fairmont hotels is as appealing as the company's golfing, dining, well-being, and spa experiences.
7. Kimpton
Owned by IHG Hotels, Kimpton is a brand mostly made up of boutique hotels that maintain their own distinct historical names and legacies. This idea means that the quality across different hotels is consistent, but each property has its own unique identity, appeal, and flair. Kimpton continually adds to their portfolio, meaning that fans of the brand can always try new destinations, hotels, and resorts.
8. Ritz-Carlton
The Ritz-Carlton comes from a pedigree that is literally synonymous with class (see "ritzy"). From these legendary beginnings, the brand has grown to be a place to stay when visiting the great capitals and relaxing hideaways of the world. The Ritz experience doesn't just stop at lodging; it's based on high-quality moments throughout a person's travels. That may mean dining and clubs for some or spas and golf for others, but either way, our readers never forget their Ritz-Carlton experiences.
9. Wyndham Hotels
With over 9,000 locations around the world, this very well may be the largest hotel franchise on the planet. Wyndham Hotels offers six categories ranging from extended stay and economy all the way up to "upscale" and "distinctive." Familiar Wyndham brands include Super 8, Days Inn, Ramada, La Quinta, and many other friendly staples that make up the backbone of the American hospitality industry. While many of the companies on this list focus on luxury, Wyndham makes travel possible for more people. After all, a road trip on a tight budget can be a better adventure than much more expensive options.
10. Accor
The Accor group of hotels includes thousands of unique properties in over 100 countries, meaning you may have stayed in one without even knowing it. Managing brands like the Orient Express and Raffles means that Accor properties are allowed to do what they do best – provide guests with unforgettable travel experiences. These memorable experiences are surely part of why our readers chose this brand faithfully enough to keep it in the top 10.
11. Rosewood
Rosewood Hotels & Resorts is a smaller operation than some of the other reader picks on the list, but the company uses this scale to focus on the finer details and provide guests with unparalleled travel experiences. According to Rosewood, the company is based around "A Sense of Place philosophy," which means that each hotel is specifically designed to reflect the individuality of its home city.
12. AYANA
Offering a refreshing break from the legacy brands on the rest of the list, our final entry represents a handful of hotels and cruise experiences in Indonesia – more specifically, in Bali, Jakarta, and Komodo. It's hard to say whether it's the gorgeous environment of Komodo National Park, the luxurious digs designed around local culture, or the accommodating staff that wowed our readers, but it's safe to say that the brand has earned its place among the top dogs – just a few photos will convince you.
Best Hotel Rewards Programs
As you can see from the list above, there's a lot of tough competition in the hotel game. One of the ways hotel brands set themselves apart from other properties is by offering reward programs to guests to encourage customer loyalty. Here are some of the best hotel loyalty programs to consider if you'd like to capitalize on the rewards.
1. Marriott Bonvoy
Marriott also took our number one spot for the reader-favorite hotel brand, making for a winning combination. Guests can earn points at Marriott by staying at hotels in its portfolio, but they can also earn points by participating in tours and activities, using a Marriott Bonvoy credit card, or spending at one of Marriott's travel partners. Even more fun is spending the points; guests can earn free hotel stays, comped dining, golfing, shopping, and spa experiences, Marriott Bonvoy Moments, and flights and car rentals.
2. Hilton Honors
A close second on the brand list as well as the rewards rankings, Hilton offers excellent rewards as well. Right off the bat, new Hilton Honors members earn 1,500 bonus points with their first stay and 3,000 points with their second. Points can be spent on free nights at Hilton properties, but they can also be redeemed with brand partners or spent on experiences like concerts, games, dining, and more.
3. IHG One Rewards
IHG One Rewards is another favorite program for our readers, though it is structured a little differently from the previous two entries. IHG's system is based around tiers; for example, Club Members can earn points and gain access to member rates, but Gold Elite members' points never expire, and Diamond Elite members receive dedicated support. The structure is extensive but definitely worth checking out, especially for travelers willing to commit so they can access the higher tiers.
4. Accor Live Limitless
While TravelAwaits readers can be a diverse crowd in backgrounds and interests, one thing tends to be common among them: They love getting out and doing things. That fact is exactly what makes Accor Live Limitless (or ALL) popular with our readers. As you might expect, ALL rewards travelers for staying in a variety of Accor-owned brands. In addition, though, travelers can earn points by getting out and exploring bars and restaurants, activities, and even safaris, luxury train journeys, and transportation. Those points can then be spent on other experiences, multiplying the fun of travel.
5. World Of Hyatt
This loyalty program shares the point reward components and member rates of other programs, but World of Hyatt also offers a unique "Milestone Reward" benefit. As frequent visitors hit certain milestones of nights stayed per year, they unlock all sorts of new rewards in addition to the normal rewards points they earn throughout the year. The benefits at World of Hyatt are impressive; unlock even a few and you'll wonder how you ever traveled without them.
Read more from our 2023 Best Of Travel Awards: