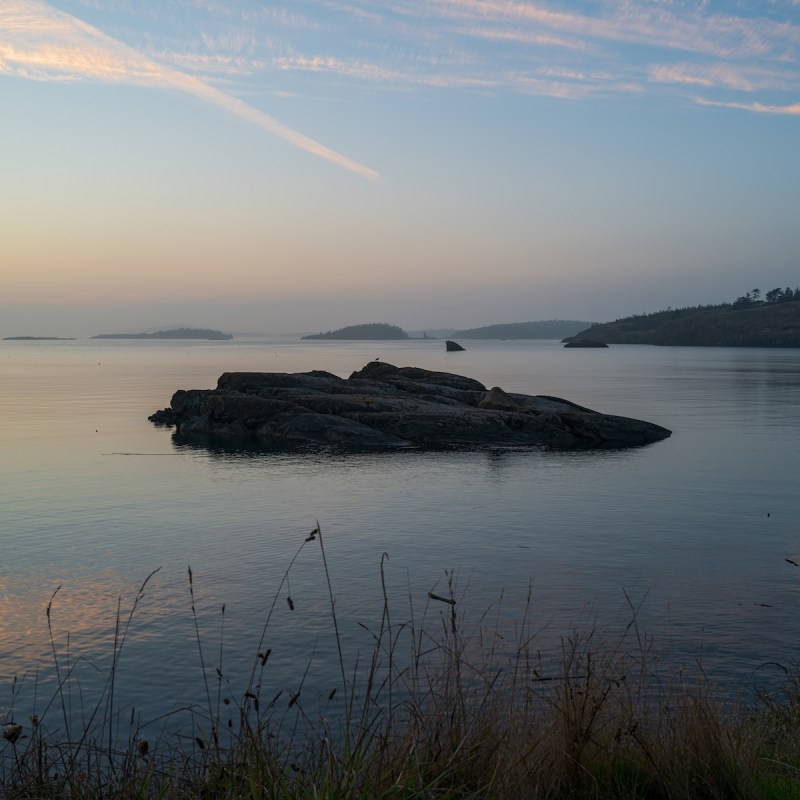 Lopez Island serenely sits nestled in the San Juan Island archipelago of Washington State. A picturesque destination known fondly by locals as "the hidden gem" for its natural beauty and relaxed pace of life, this is one island we visit regularly. Calling Washington home, we find this idyllic island offers the perfect romantic getaway for anyone seeking peace, tranquility, and a renewed connection with each other.
Lopez offers charming rural landscapes, stunning beaches, and a vibrant local artisan community all within a laid-back atmosphere of island life. Whether the two of you enjoy time together birding, hiking, biking, or you are just looking to unwind, Lopez Island captures plenty of things to do together to make lasting memories as well as strong bonds. Or, maybe do nothing at all but unplug, unwind, and simply enjoy each other's company.
While my stay and visit were sponsored by VisitSanJuans, all opinions and recommendations are my own.
1. Beaches
Agate Beach
With over 60 miles of shoreline, Lopez Island is a haven for beach lovers. From sandy beaches perfect for sunbathing to rocky shores for tide-pooling, there is something for everyone. Agate Beach, located on the southern end of the island, is popular for its colorful agates and stunning sunset views. Hold hands while strolling the shoreline and collect a bit of both to add to your memories.
Spencer Spit State Park
Spencer Spit State Park, on the northeastern tip of the island, offers sandy beaches, walking trails, and picnic areas, making it a perfect leisurely spot for a day by the water.
2. Biking
Lopez Island is famous for its bike-friendly roads and scenic cycling routes. Renting a bike from Edenwild makes for a seamless ride, or bring your own and explore the island at a leisurely pace, taking in the pastoral scenes and beautiful waterfront views.
Shark Reef Sanctuary
We packed a picnic lunch and rode from Lopez Village to Shark Reef Sanctuary, located on the southwestern tip of the island, where we hiked a very accessible trail out to the edge of the water. The rugged landscape is breathtaking, making this the perfect backdrop for lunch.
Lopez Island Loop
The Lopez Island Loop is a popular 30-mile bike route that takes you around the entire island, passing by farms, forests, and picturesque waterfronts. Try an electric bike for an easier and more relaxed ride.
3. Kayaking Or Paddleboarding
The calm waters surrounding Lopez Island make it ideal for kayaking or paddleboarding. Rent a kayak or paddleboard and explore the island's pristine bays, coves, and inlets at your own pace. What could be more romantic than a serene paddle along the shoreline, observing the abundant wildlife, and enjoying the peace of the island's waters together? Perhaps it's another memory in the making to write down in your journal.
4. Lopez Island Farmers Market
Lopez Island is renowned for its vibrant local farming community and visiting the farmers market is a must-do activity. The Lopez Island Farmers Market, held on Saturdays during the summer months, offers a wide array of fresh produce, local crafts, and live music. It's a great opportunity to meet local producers, sample some delicious local tidbits, or purchase fresh fruits, vegetables, and handmade crafts to take with you as a wonderful way to keep the romance going once you return home.
5. Lopez Hill
Lopez Island is home to several beautiful parks and nature reserves that offer fantastic hiking opportunities. Bike on over to Lopez Hill Preserve, a 400-acre nature reserve with a network of well-maintained trails each leading to stunning viewpoints overlooking the Salish Sea, lush forests, and wildflower meadows.
6. Lopez Island Historical Museum
If you are a passionate history buff, then immerse yourself in the island's stories by visiting the Lopez Island Historical Museum. Learn about the area's Native American heritage, early European settlers, and rich maritime history. The museum features artifacts, photographs, and exhibits that showcase the island's unique cultural heritage, making it a fascinating destination for history lovers and those interested in local lore.
Pro Tip: The museum is open seasonally and staffed by volunteers. Check its hours of operation before heading out.
Best Restaurants On Lopez Island
Ursa Minor
In the evenings, enjoy a romantic dinner at Ursa Minor, one of the island's cozy restaurants.
Lopez Island is known for its farm-to-table cuisine. Go ahead and indulge in delicious meals made from local produce and experience the unique flavors of the region. Many restaurants on Lopez Island also offer waterfront dining, providing scenic views while you savor your meal.
Skarpari
Or, for a more intimate experience, try your hand at cooking. Skarpari is made up of the dynamic duo of Krista and Chris Stovall, who will take you into the gardens and the wilds of Lopez Island to forage for edible plants, herbs, and even seaweed. Return to Edenwild Inn to cook up dinner and dessert using the day's foraged goodies fresh from the vine, garden, and sea — all under the gentle direction of the Stovalls.
Edenwild Boutique Inn
The first step to planning your romantic weekend on Lopez Island is finding the perfect accommodation and that begins at the Edenwild Boutique Inn. Located in the heart of Lopez Village, the Edenwild looks out towards the waters of Fisherman's Bay with stunning views of the sea, plus its centralized proximity allows easy access to the island's natural wonders.
Take life down a few notches at this wonderful boutique hotel while you relax and unwind on the veranda and watch the sunset over the Salish Sea. In the morning, innkeepers Anthony and Crystal Rovente provide a fresh, locally sourced breakfast right to your room so you may greet the day at your leisure.
Fall In Love With The Island
Fall in love with each other all over again while you soak up the island's natural beauty, charming atmosphere, and secluded settings. Whether you take home fond memories of adventure, relaxation, or those quiet moments simply enjoying each other's company, Lopez Island is the perfect destination to rekindle your relationship.
So pack your bags, grab your sweetheart, and escape to Lopez Island for a weekend of romance and adventure you'll never forget.
Related Reading: