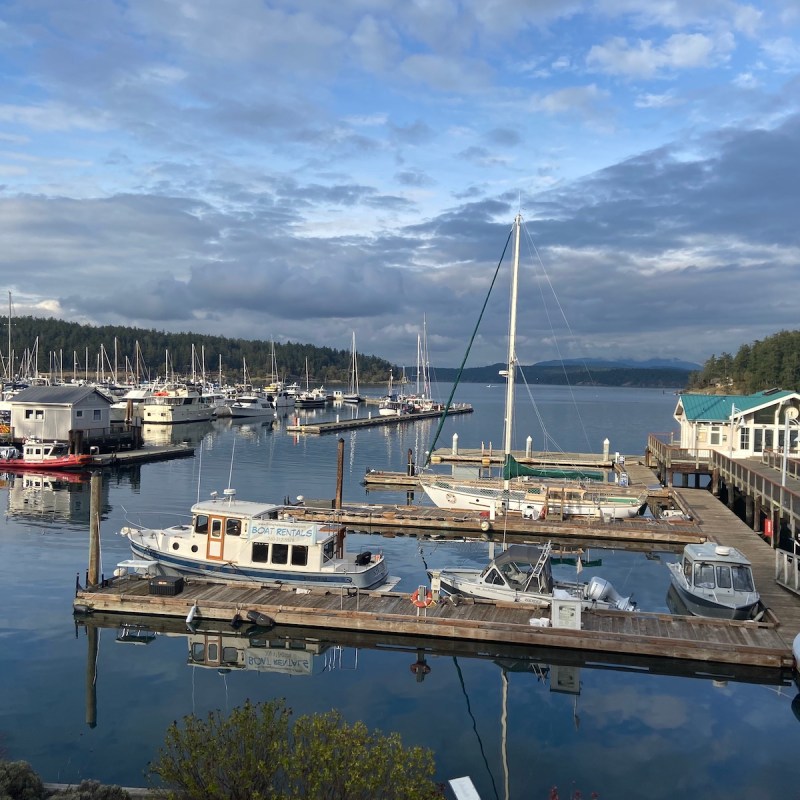 San Juan Island is one of 172 islands making up the San Juan Islands off the northern coast of Washington State. The second largest island in the archipelago is 20 miles long and 7 miles wide. With incredible ocean views, rolling hills, farms, and fields, San Juan is a delightful getaway from the hustle and bustle of the city.
The scenery is magnificent, but whale watching is the highlight of a trip to San Juan Island. Here are my tips for whale watching on scenic San Juan Island.
The San Juan Islands Visitors Bureau, Friday Harbor House, and Lakedale sponsored my trip. All thoughts and opinions are my own.
1. Whales To Watch For
Killer Whales (Orcas) are the main attraction off San Juan Island. The characteristic black body and white markings are unique and allow for the identification of individuals. Three pods make the Salish Sea home. The pods are named J, K, and L pods. Orcas travel together in matrilineal groups led by the eldest female. Research shows that each pod has a distinctive vocal dialect. About 90 percent of their diet is salmon. The transient orcas also feast on sea lions.
2. Start Your Visit At The Whale Museum
The perfect place to start your visit is The Whale Museum at Friday Harbor. There are two floors to the museum. The first floor houses small exhibits, video presentations, and a gift shop. The second floor is a large exhibit room. View life-sized models and complete skeletons to appreciate the size of these mammals. Listen to the "whale songs" when you step into the phone book in the large exhibit hall. Take time to view the informative videos.
At the museum, you can also "adopt" an orca. See the photos of all the resident orcas and choose which one you want to support.
3. How To Watch For Whales From Land
Head to Lime Kiln Point State Park, also known as Whale Watch Park, on the island's southwestern shore. Take the San Juan Scenic Byway from Friday Harbor, about 9 miles to the park entrance. As one of the locals explained, "If you are going to see whales from land, this is the place to do it!" Lime Kiln is the only park in the U.S. dedicated solely to whale watching and it overlooks Haro Strait, waters favored by the whales. The 41-acre park has a variety of viewpoints, picnic tables, bathrooms, a visitor center, and a 1919 lighthouse. At the lighthouse, enjoy listening to whales with the underwater hydrophone. Take time to read the interpretive displays along the pathway.
Pro Tips: You need to pay for parking or display your Discover Pass. You can purchase a day pass or a yearly pass online. Or there is a kiosk at the park. The day pass is $11.50 and an annual pass is $35. Remember park and beach etiquette: Take nothing and leave nothing behind. The Internet doesn't always work along the west coast of the island, so I suggest you either bring a printed map or download one onto your phone.
4. How To Watch For Whales From A Sea Tour
Enjoy whale watching and wildlife sightings with San Juan Safaris. Voted #1 Echo Adventure Tour in the Pacific Northwest, San Juan Safaris proudly upholds the guidelines for respectful wildlife viewing. Local naturalists provide fascinating commentary on the area and wildlife.
Our 3.5-hour tour gave us plenty of opportunities to observe orcas as well as sea lions and bald eagles.
Packing Hints: Dress in layers; it can be chilly out on the water. Wear sturdy closed-toe shoes and bring a hat and gloves. Also, bring a non-breakable water bottle and some snacks to enjoy. Remember your binoculars.
Pro Tip: The San Juan Safari Office is just steps from the ferry landing terminal at Friday Harbor. As such, parking can be tricky. The closest parking spots are limited to 2 hours. Plan to park your vehicle at least three blocks away, either on Spring Street or First Street by the Courthouse. Be sure to allow extra time for this so you can catch your sailing.
5. How To Watch For Whales While Kayaking
Kayaking is very popular around San Juan Island. If you are looking for whales, begin your journey off Roche Harbor on the island's northern coast.
Several companies offer guided paddles of various lengths. One of the locals recommended always having a guide for the first kayak trip.
San Juan Safaris also offers kayaking tours, including a 3-hour Sanctuary Whale Watching Cruise out of Roche Harbor.
6. Learn How To Be "Whale Wise"
The ocean is a fragile environment and can be harmed by human activities. Help protect marine wildlife by learning the guidelines and laws at this site.
Stay 400 yards away from the whales at all times.
Check that any guide or tour is a Pacific Whale Watch Association or San Juan Islands Kayak Association member. Members of these organizations are committed to education, conservation, and responsible wildlife viewing.
Visit the website www.ssamn.org to learn more about green practices, toxins, and how you can help at home. Also, be sure to choose a company that utilizes locally-certified naturalists.
Fun Fact: These are the home waters of Lolita, the orca captured in 1970. After 50 years of captivity, the Miami Seaquarium will be returning Lolita to the Salish Sea. Check the link for updates.
Where To Dine
Rocky Bay Cafe
From casual to elegant, San Juan Island has a dining experience to please all. Begin your day at Rocky Bay Cafe for a hearty, delicious breakfast. Rocky Bay is a local favorite located on Spring Street in Friday Harbor.
Harbor House Restaurant
Enjoy dining at the Harbor House Restaurant in Friday Harbor. While marveling at the harbor view, begin with an island-inspired cocktail like the PNW Martini. I enjoyed the Prawn & Pesto Pasta: house-made lemon trottole pasta, prawns, pine-nut pesto, and crumbled feta. Teamed with the Boston Bibb Salad, this was a lovely dinner.
Duck Soup
Another of my favorite dining spots is the seafood restaurant, Duck Soup, located a mere 5 miles north of Friday Harbor on Roche Harbor Road. A local favorite since 1978, the rustic setting and creative dishes make for a delightful evening. Begin your meal with house-baked warm sourdough bread, olive pate, and whipped butter. This has been a staple since 1978. For my entrée, I chose the scallops with curry beurre blanc, cilantro black rice, and chili crisp bok choy. What a delicious combination!
Where To Stay
Friday Harbor House sits atop a bluff about a block from the ferry terminal. The hotel offers unparalleled views of the ferry terminal, marina, and the San Juan Channel. You are only minutes away from shops and restaurants. Check into the Relax and Rejuvenate Package offering keepsake Boca Terry Friday Harbor spa robes, the Rose All-Day spa bundle, and two splits of rose prosecco. There is also a yoga mat in each room.
Looking for another unique San Juan Island experience? Head 4 miles north of Friday Harbor on Roche Harbor Road to Lakedale. The resort offers both lodging and glamping options throughout the 82 lakeside acres. This is the first time I have stayed in a deluxe yurt. What a treat! Spacious, with a full kitchen, hot tub, and private deck, I was won over by the upscale yurt experience.
How To Get To San Juan Island
Located approximately 100 miles north of Seattle, most folks arrive via ferry. From Seattle, drive north on Interstate 5 to milepost 230, and follow State Route 20 West to Anacortes and the ferry terminal. The Anacortes Ferry takes you to the scenic town of Friday Harbor.
Check for schedules and current ferry conditions from Anacortes to Friday Harbor.
Pro Tip: You can purchase tickets online and in advance. I strongly recommend also making reservations. Ferry travelers are charged only on the westbound trip. For shuttle service from Sea-Tac Airport to Anacortes Ferry Terminal, contact Airporter Shuttle Service.
San Juan Island is a destination that offers relaxation and nature. The "island life" is rejuvenation at its finest. Plan a visit soon; you will be glad you did!
Related Reading: