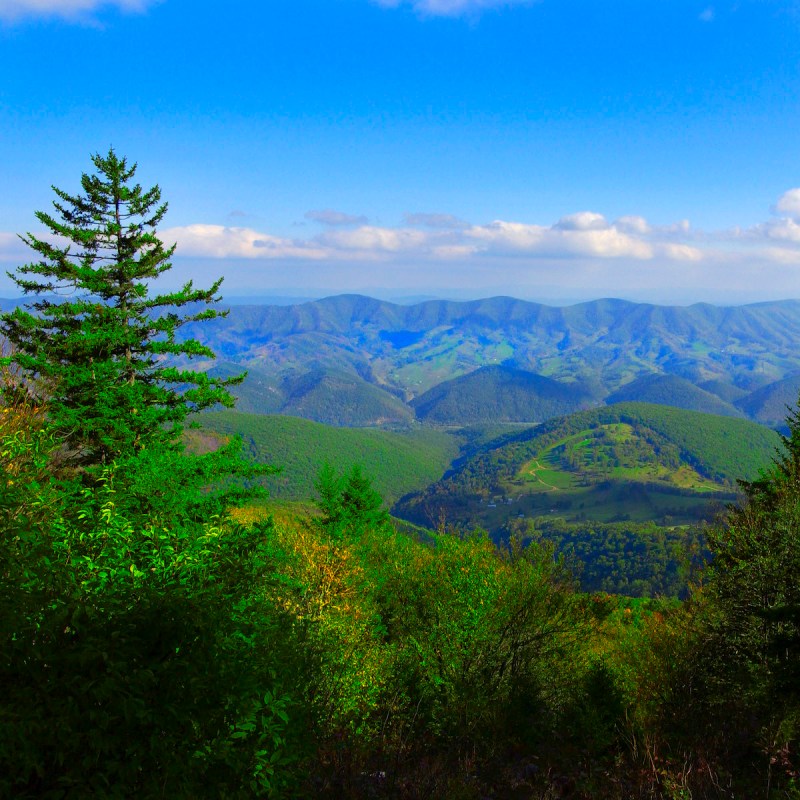 My first trip to West Virginia was eye-opening. People say you don't know what you don't know, and that's true about the state of West Virginia. With a state motto of "Almost Heaven," West Virginia is telling the rest of us that it's something special, and I have to agree.
The Monongahela National Forest is one of the state's recreational gems. Situated in eastern West Virginia, its 919,000 acres offer a vast area to explore nature amid peaceful surroundings. According to the U.S. Forest Service, roughly three million people visit the national forest each year, making it one of the hot spots in West Virginia.
And, it's no wonder, with more than 500 hiking trails, countless streams and fishing holes, plenty of picnic spots, and places to stay, the Monongahela National Forest is a prime spot for any outdoor lover. Here, in no particular order, are the best experiences in the Monongahela National Forest.
While I was hosted for my West Virginia stay, all opinions are my own.
1. Cabins Of Kelly Mountain
If you're an outdoor lover but want to be pampered, a stay at the Cabins of Kelly Mountain will be perfect for you! Situated at the edge of the Monongahela National Forest, the Cabins of Kelly Mountain offer a secluded stay amid the forest yet conveniently just minutes away from downtown Elkins.
This property includes four large cabins all connected via redwood decking out front. The Cabins of Kelly Mountain would be the perfect spot for a multi-gen family trip with each family in their own cabin but only a stone's throw away from each other. The cozy setting would also be a spectacular spot for a romantic retreat. The two-bed, two-bath cabin we stayed in was deluxe — complete with a large sauna inside and a bubbling hot tub on the deck outside.
Our homey cabin had everything we needed, including coffee — no need to make that morning coffee run. We loved the large, ultra-comfy king beds, and the floor-to-ceiling windows provided great views of the elm and yellow poplar trees. The spotless cabins featured rustic furniture; much of it made of reclaimed wood from Hurricane Katrina. This property is a small, well-cared-for place with all the comforts of home.
2. Seneca Rocks
Head to Seneca Rocks to enjoy the outdoors and do a little hiking, rock climbing, fishing, or simply take in the scenery. The rocky formation is one of the area's best-known spots to enjoy the outdoors. Start at the Seneca Rocks Discovery Center and follow the trailhead for a short 1.3-mile out-and-back hike that climbs to an observation platform near the top of the rocks. This short and steep trail gains over 700 feet in elevation! There are places to rest along the trail, so you can take your time.
If you like heights and want to take in even more amazing views, hike to the top of Seneca Rocks. If you're not keen on this sort of thing, you'll still get gorgeous West Virginia views from below. Alternatively, if you're not into hiking, how about horseback riding or climbing? You can do either at Seneca Rocks and both options are quite popular. West Virginia in general is known to be a great place for rock climbing. Another favorite where climbers test their skills (and their nerves) is the popular New River Gorge.
3. Elkins, West Virginia
Elkins is a town of about 6,000 residents that sits in the Appalachian Mountains, at the edge of the Monongahela Forest. We enjoyed quite a few local restaurants in Elkins, many of them in the cute old-fashioned downtown area. This is the type of small town that seems to be a throwback to earlier times. It's the kind of small town where you can set your watch by the church bells that ring daily at noon. If you want to be close to outdoor activities like hiking, fishing, and biking, but want good meals and a nice place to stay at the end of your day, Elkins is a good bet.
Pro Tip: Try CJ Maggie's for a delicious lunch. They're one of the few spots we found open on Sunday.
4. Thomas, West Virginia
After several locals recommended we check out the nearby town of Thomas, we hopped into the car and made the short drive to the quaint mountain town. At about 3,500 feet, the drive from Elkins to Thomas was full of twists and turns, and spectacular scenery. There are quite a few roadside pull-outs where you can take in the view and grab the perfect photo, which we did a few times.
Thomas and nearby Davis are popular mountain escapes for urbanites in D.C., Baltimore, and Pittsburgh. It's only a few hours from the hustle of the city, yet you're seemingly worlds away once you're here. We enjoyed shopping in the unique shops and galleries along Front Street.
The Purple Fiddle
While you're here, make sure to stop into the Purple Fiddle. This cool spot is home to live acoustic Appalachian music shows that are open to all ages, a deli food menu, and a good selection of craft beers. This is a place you can bring your grandkids and they can have an ice cream while you enjoy an Irish coffee and listen to great music. I can't wait to go back and catch some Appalachian folk music. The Purple Fiddle, along with unique shops and art boutiques, make Thomas a must-visit spot in the area.
5. Blackwater Falls State Park
More outdoor fun awaits at Blackwater Falls State Park. This 446-acre park, which has been within the parks system since the 1930s, is a popular spot near Davis, West Virginia. Whether you're looking to hike, sled, fish, or just relax in nature, you can do it all at Blackwater Falls. The park is home to more than 20 miles of hiking trails, along with pristine fishing waters, disc golf, and more.
Pro Tip: The Blackwater Falls State Park Lodge, with more than 50 rooms, is just one of the places to stay within the park. You can also check out more than 30 cabins, and of course, there is camping as well.
6. Trout Fishing
West Virginia is home to great fishing. Whether you want to fish from a boat or try your hand at fly fishing, you'll find places in the Monongahela Forest. The Elkins, West Virginia, area is known for its fantastic trout fishing, with anglers coming from all over to cast their line in search of rainbow, golden, and brook varieties. The Cranberry River is one of the most popular spots in the state for fly fishing and it has even been named one of America's 100 best trout streams!
7. Spruce Knob
The highest peak in the Allegheny Mountains, Randolph County's Spruce Knob is an impressive 4,863 feet above sea level and boasts great views. The Whispering Spruce Trail is a half-mile trail on Spruce Knob where you can take in the view from a variety of vantage points. While you're here, be sure to check out the Mountain Center Observation Tower perched atop the knob. This tower offers unbelievable views day or night. Many people put Randolph County at the top of their list for dark-sky viewing opportunities. Since there's so little light pollution in the area, you can see the galaxies above and beyond!
8. Dolly Sods Wilderness
A hiker and backpacker's haven, Dolly Sods is a wilderness area that consists of over 17,000 acres near Davis. This gorgeous area is open year-round, but your best bet is to go in the spring, summer, or fall as the roads aren't plowed in winter. If you're looking for a great spot to get away from it all, check out under-the-radar Dolly Sods for pristine beauty and quiet surroundings.
Related Reading: