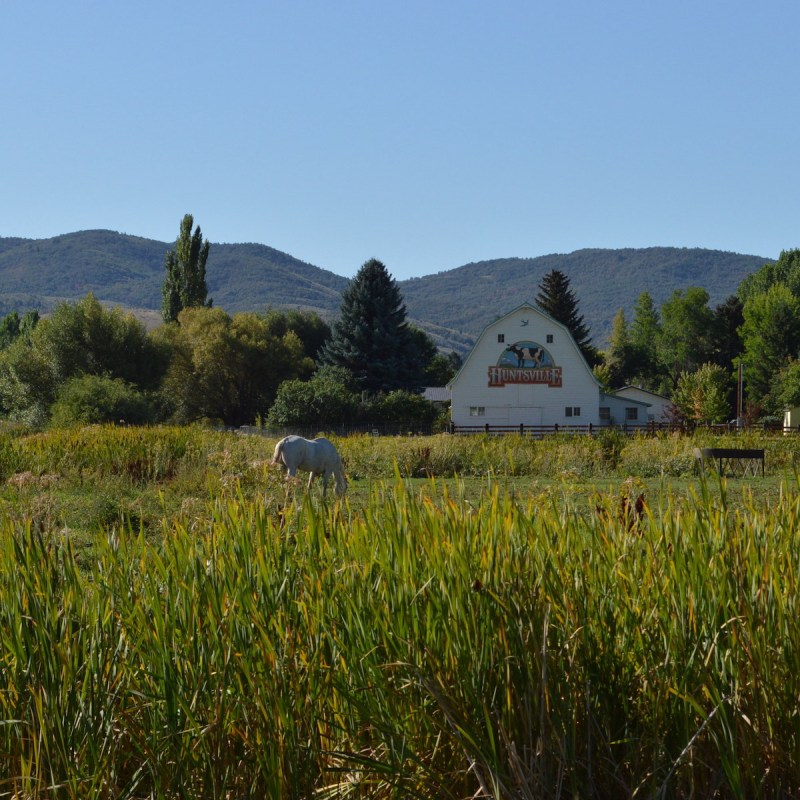 Nestled in the Wasatch Mountain Range north of Ogden, Utah, lies Huntsville — a small village near three ski resorts, mountain trails, and a very large lake. Huntsville may be small and not easy to find but it's worth a trip in the summer to a charming jewel that attracts snow lovers by the thousands in the winter.
I started in Ogden, taking the North Ogden Canyon Road (Highway 39) and continuing on Highway 162. Stop at the pullovers with amazing views of Ogden where large maps give directions to hiking trails ahead. Near the Diamond Peak Sports Center, the road turns into a loop around Pineview Lake.
My early September trip integrated autumn colors with tall green grass mingled with wildflowers. A blue-ribbon creek appeared in valleys I shared with the cyclists, hikers, and watersports enthusiasts also enjoying this beautiful winding journey to Huntsville.
On The Route
1. Mountain Trails
Cruising past snow warning signs, this pleasing route took me deep into the mountains dotted with foot and hoof trails snaking through valleys and around a pristine lake. A favorite trail for cyclists was near a splendid blue farmhouse.
2. Pineview Reservoir
The perfect place for a pleasant break was a boat ramp parking area on Pineview Lake with easy access for fishing, kayaking, or hanging out on the shore. Pineview Lake is created by two rivers flowing in and out, forming the perfect habitat for fish, birds, and human fun. Holding the Utah state record for the largest tiger muskie caught (weighing over 33 pounds), the reservoir draws fishing enthusiasts from all corners of the state. I watched a group of kayakers unload and hit the water among egrets and kingfishers darting about. The highway circles the entire reservoir, and campgrounds and picnic areas are found along the route in many places.
3. Eden
In the shadow of Powder Mountain, the 828 population of Eden swells in the winter as a popular ski resort. In the summer, the town's name aptly describes the amazing scenery. If you are hungry, the Eats Of Eden serves interesting salads, Mediterranean flatbreads, burgers, and fried ravioli.
Pro Tip: In April, the Powder Mountain Moon Bike shop gives demo rides of their all-electric snow bikes with hot dogs on the side. More information is available at #PowMow!
Huntsville
Huntsville's historic character is nicely restored, founded in 1860 near the South Fork River, before the dam created the reservoir. Filled with shady cottonwood trees, the spot was popular with passing settlers such as Brigham Young and Peter Skene Ogden, who eventually created towns further south. Further from downtown are historic barns and homes amid lovely views of Pineview Lake. It is no wonder Huntsville is a popular choice for a day trip from Salt Lake City, less than an hour's drive away.
This fun and funky village sits on a long peninsula extending into Pineview Lake, almost surrounding the entire village. Turn off the highway when the big white barn with a beautiful mural looms into view. In the winter, this barnyard is full of skiers. On this day, horses roamed freely in an emerald field of tasty grasses. A sure sign that Huntsville was not a ghost town was the large, well-maintained city park greeting visitors and the nearby library. I spent the day roaming the village and found a lot of fun things to do.
4. Shooting Star Saloon
Considered the oldest bar west of the Mississippi River, the Shooting Star Saloon is hard to miss. Established in 1879, this "hole-in-the-wall" bar covers its walls with taxidermy animals and serves mainly burgers, chips, and beer. I heard that their Star Burger is legendary — beef patties, cheese, and a grilled knackwurst Polish sausage!
Pro Tip: Their hours may vary due to the season.
5. Detours
Home to the SnowBasin Ski Resort, the village also has a quaint section downtown, nicknamed Detours, designed to draw skiers for food, fun, and the perfect place to discuss the day's adventures. Closed during my trip, it was still fun to roam through the quaint buildings and sit for a while in a swing made from an old ski lift.
6. Cyclists Heaven
Throughout my month-long visit to Utah, bicycles were everywhere: families with children using training wheels, church parking lots on Sunday, and many strapped to cars. Biking trails shared with horseback riders crisscross these mountains. Renting bicycles in Utah is easy and ski shops often turn into bicycle shops in the summer.
7. Mark B. Goodson Art Gallery
In a remarkable restored historic building painted a deep purple is where award-winning painter Mark Goodson lives and creates his amazing landscape paintings. He also offers painting classes during the week. Even though my trip was not on a weekend, his gallery was open, and I was able to visit with him. His breathtaking work has been shown and sold regionally and internationally, becoming a Utah treasure himself.
8. Horseback Riding
Horseback riding is also extremely popular in Utah, sometimes sharing the same trails. However, bringing your own horse on vacation is not usually an option. Don't worry, the nearby Red Cliff Ranch outfits and organizes riding opportunities throughout the summer, including guided tours. More information is available about this family-owned business on their Facebook page.
9. Huntsville Astronomic And Lunar Observatory
Across from the city park and within view of the saloon is Compass Rose Lodge, a marvel architectural design that blends historic features, such as an old silo, with modern elements and a few steampunk features scattered throughout. A family business, the hotel is a place where the visitor is not sure what century is portrayed but always feels homespun.
In addition to offering various activities, the lodge hosts a 16-inch aperture Ritchey-Chretien telescope for visitors. Designed with hyperbolic-shaped mirrors like the Hubble Space Telescope, distant galaxies seem like a few miles away.
10. Mountain Berries
When leaving Huntsville, you might be inclined to go south to Salt Lake City. Instead, I wanted to see the other side of the Pineview Reservoir and took Highway 39 to circle the lake. Soon after leaving Huntsville sits Chris' Café, a family-owned diner since 1961 in an alpine log house, with a rustic interior of wood paneling and a beautiful rock fireplace. I skipped lunch at the saloon in Huntsville because a few weeks earlier a bird guide told me about Chris' specialty — fresh raspberry milkshakes with local berries. I also devoured an amazing hamburger and fresh-cut potato fries.
Wasatch-Cache National Forest
Another reason for taking this route was to see a section of the Wasatch-Cache National Forest, a 1.6 million-acre forest that covers parts of Utah, Wyoming, and Idaho. After passing the Winter's Grove Nature Trail, Highway 158 eventually leads to the original Highway 162 I started with in North Ogden. Many nice campgrounds and marinas along this route are open at no charge for a day picnic. With leaves different shades of gold and red, I crossed paths with wild turkeys on a short hike from a campground.
The crystal-clear creeks flowing beside the road in the Cache National Forest are perfect for soaking your feet after a hike. An American dipper soon joined me; little gray birds that are unique among their species for their ability to dive and swim underwater.
Know Before You Go
Four areas around the reservoir require a fee for entry and camping overnight, usually beginning on May 15. Yes, you can bring your dog and the sharks in the lake are just a myth.
Related Reading: