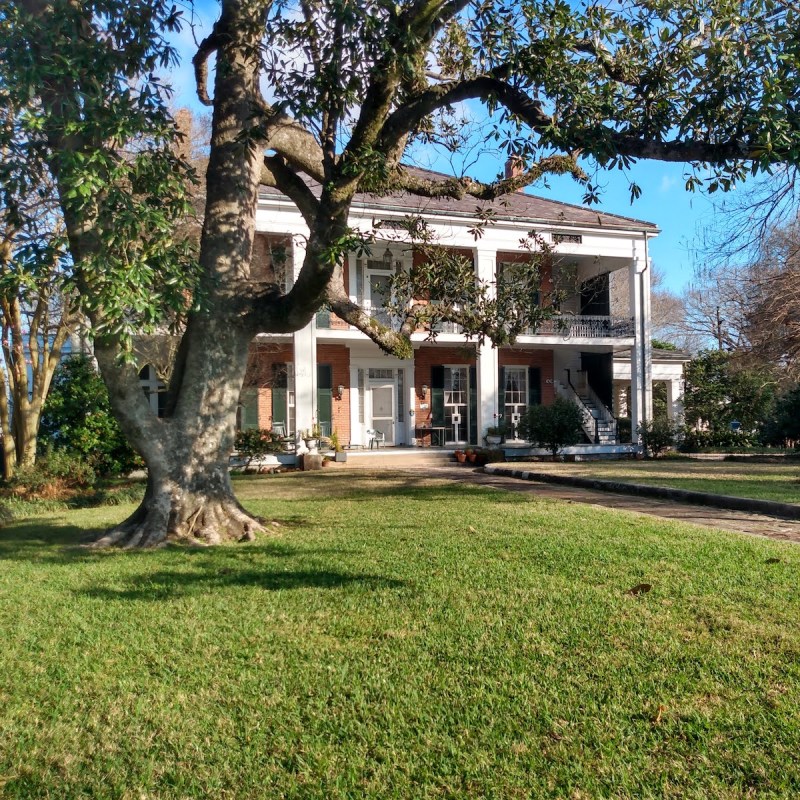 A few months ago, I kicked off 2023 with a road trip to Baton Rouge, Louisiana, to visit friends on a sunny January weekend. Adding 3 days to explore, I found numerous distinctive places, extraordinary food, and a fun town with a delightful ambiance.
These are just some of the ways to occupy yourself and your group while exploring the different areas within Baton Rouge.
Downtown Baton Rouge
Downtown is a thriving, well-preserved historic district because many of the founders' families have remained in the city they love, raising families, creating or nurturing businesses, and being proud to support the culture they created. The following places are all within walking distance of each other. However, the Capitol Trolley system is available for your convenience.
1. Spanish Town
Thanks to the Visit Baton Rouge office who gave me a tour, I discovered a wonderful designated historic district of Spanish heritage older than Baton Rouge, dating to 1805. The area has become famous for its colorful homes scattered with pink flamingos. Once a year, the neighborhood hosts the largest Mardi Gras parade in Baton Rouge, adorned with everything pink. Guided tours of this private residential neighborhood are recommended.
2. Louisiana Capitol Building
The tallest capitol building in the United States is adorned with beautiful interior granite and murals. My favorite feature was the rooftop deck on the 27th floor with amazing views of downtown and the mighty Mississippi River. There is a nice little gift store with Louisiana souvenirs and free recipe cards. From the day the capitol building was built, the then-Governor declared the surrounding grounds were open to the public, and still today, family picnics in the shadow of the Capitol are a popular tradition. An interesting feature not to miss is the steps leading to the capitol's front door. Carved into each step is every U.S. state and the date it entered the Union.
3. Veteran's Memorial Park
Surrounding the capitol are beautiful gardens, fountains, statues of veterans, and an arsenal museum. Four military barracks that originally housed soldiers protecting the Mississippi shipping port have been restored and are today used for Louisiana congressional housing when in session. The setting was lovely, even on this cold and windy January day, with a large fountain in the middle of the barracks courtyard.
Pro Tip: Before leaving downtown, stop at BRASS on North Boulevard, the Baton Rouge Souvenir Shop, for one-of-a-kind handmade items made by local artists.
4. Old State Capitol
Overlooking the Mississippi River, the original 160-year-old statehouse is a few miles from the current and interestingly designed as a medieval castle. Now the Museum of Political History, I was very disappointed it was not open due to renovations because one of the most important historic events in the U.S. happened here: the 105-mile March For Civil Rights. On August 10, 1967, two activists started the march in Bogalusa, Louisiana, but gathered 600 more people when it ended at the old capitol's steps. President Lyndon Johnson understood the importance of protecting these brave Americans and sent the National Guard to protect march participants and supporters along the route.
5. USS Kidd Veterans Museum
A National Historic Landmark, this 1945 WWII Fletcher class destroyer has been restored to not only a museum with a full-scale gun deck of Old Ironsides, but it's also a world-class convention center. Located a mile from downtown, the destroyer is docked on the Mississippi River shores.
6. Magnolia Mound Plantation
A short drive from downtown is Magnolia Mound Plantation. Built in 1792 on 15 acres of beautiful grounds, it features original buildings filled with period furniture and active gardens. Various guided or self-guided tours are available at a very nice gift store and educational center. Pay attention to the six live oak trees planted in 1776 called the Bicentennial Oaks, still proudly shading the front porch of the main house.
7. Louie's Cafe
I ended the day with another legend — a stylish retro diner where the focus is friendly service and good food. Since 1941, Louie's Cafe has been an anchor in a revived historic district near the Louisiana State University and is famous for serving a hearty breakfast all day. My seafood omelet for lunch lived up to its reputation.
LSU Campus
Advice from friends in Texas says I simply must see the LSU (Louisiana State University) campus. Since my friends in Baton Rouge were packing to move, I stayed at the Cook Hotel and Convention Center located on the campus. Not only did I have a stunning view of University Lake, but nearby was a nice walking/running path used often by students. My friends were right: The campus is beautiful with large trees and old-world-designed buildings. There are also a few nice places to visit on the campus.
Pro Tip: Get a room on the top floors facing east for amazing sunrise views over the lake.
8. LSU Museum Of Art
Located on the fifth floor of the Shaw Center for the Arts, the museum houses one of the finest collections of art in the state, ranging from Rodin to rare pottery pieces found in Louisiana. The hours vary with class sessions, so check before you go.
9. Anderson-Campbell Tiger Walk
Housed in a well-built enclosure with a natural habitat fit for a tiger is where Mike #7 lives — a real roaring tiger and the famous LSU mascot. Across from Tiger Stadium, Mike roams, or takes naps, in an area with two sides protected by double rows of chained fencing. In the back is a hidden shelter where he can find peace from a busy day of greeting fans.
10. Elsie's Plates And Pie
At the end of a long day walking, I took my friend's advice on Creole pot pies from Elsie's Plates and Pie. Named after Elsie Marie Campeau Rupe, grandmother of Proprietor and Chef Paul Chauvin Dupre, the Creole chicken pot pie was absolutely delicious. I had enough leftovers for the next night!
South Baton Rouge
I spent my last "tourist" day before meeting friends and exploring suggested sites south of town. The road across from the Cook Hotel is River Road, hugging the lake and eventually becoming Highway 327. What a lovely drive, passing near the Bluebonnet Swamp Nature Center; which I made a note for next time because everyone I met in Baton Rouge said not to miss it.
11. Calandro's Gourmet Grocery
A Baton Rouge icon, Calandro's is a small, non-traditional grocery selling the best of Louisiana soul food. I went to buy items for a picnic lunch but found myself roaming every aisle just for the fun of it. They have an enormous section for wine and beer right next to a deli section filled with gourmet cheeses, crackers, and sandwich meats. The row of hot sauces resembled an international tour. The bakery — stocked with freshly baked bread, pastries, and cookies — had a busy demand for King Cakes.
Pro Tip: Buy a double-batch of the almond coconut chocolate cookies; otherwise only crumbs will remain for the picnic.
12. LSU Rural Life Museum
My target for the morning was the Rural Life Museum, a collection of historic plantation buildings and period furnishings moved to this site and made into a village, complete with a church, school, slavery homes, a blacksmith shop, a cemetery, and outhouses. The perfect place for my picnic was near a country church. The large, newer building housed historic artifacts from outhouse seats to a dozen horse-drawn buggies. A well-designed interpreter told the true story of how a plantation operated, even the sad story of the slaves' lives.
13. Modesto Mexican
That evening, my friend took me to her favorite restaurant, Modesto on Burbank Drive. It spotlights tacos made with authentic Mexican spices served with interesting hand-crafted cocktails. My fajita tacos were beyond delicious.
Pro Tip: Dining In Baton Rouge
Allow more time in this charismatic city to experience Louisiana through amazing food found in artisan restaurants. On my list for next time are Coffee Call for the best beignets by Food & Wine Magazine; Jolie Pearl Oyster Bar for oysters cooked many ways; Poor Boy Lloyd's, the oldest restaurant in Baton Rouge; and Mestizo, Mexican with a Louisiana flair. I'll meet you there!
Related Reading: