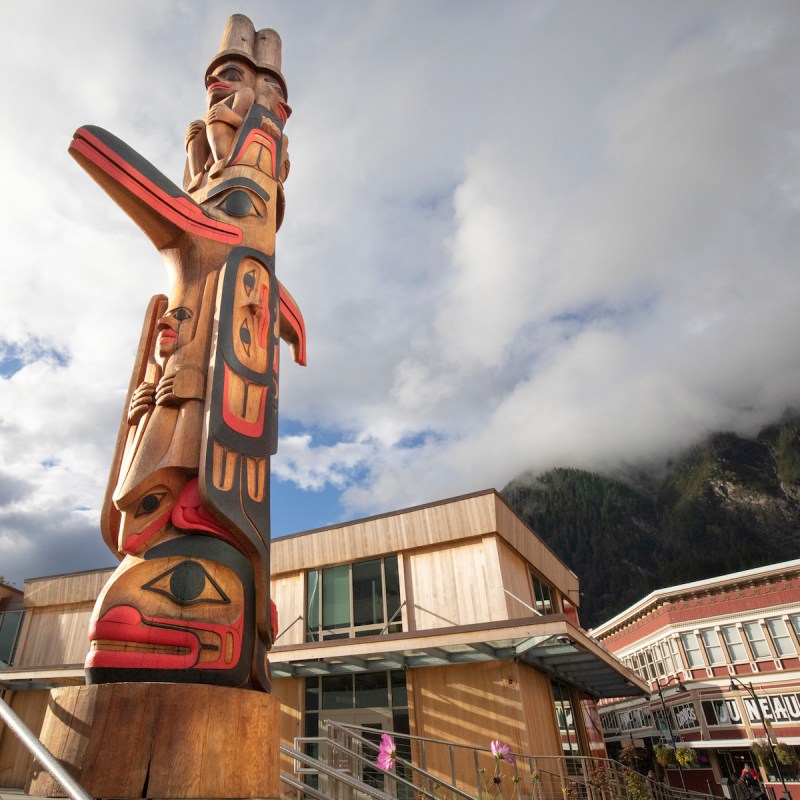 After years of planning and countless hours of work by master artisans from Indigenous groups across Alaska, 12 totem poles are about to be raised along the waterfront in Juneau, Alaska.
Importantly, several bronze masks will also be mounted nearby during the ceremony.
The two projects, known as Kootéeyaa Deiyí, or Totem Pole Trail, and Faces of Alaska, honor the five major Native groups of Alaska.
Both projects are the result of years of work by the private, nonprofit Sealaska Heritage Institute (SHI). Founded in 1980 to perpetuate and enhance the Tlingit, Haida, and Tsimshian cultures of Southeast Alaska, its goal is to "promote cultural diversity and cross-cultural understanding through public services and events," SHI explains. It also conducts social scientific and public policy research that promotes Alaska Native arts, cultures, history, and education across the state.
"SHI continues its efforts to make Juneau the Northwest Coast art capital, and I think people will be amazed to see these installations," Rosita Worl, president of SHI, said in a statement. "We can't wait to unveil them to the public."
The ceremony, which will be open to the public, will be held on Saturday, April 22, at Heritage Plaza by the Sealaska Heritage Arts Campus on Seward Street in Juneau.
Don't worry if you can't travel to Juneau on short notice; the event will also be live-streamed on SHI's YouTube channel.
Totem Poles' Importance
The totem pole, or kootéeyaa in Lingít, gyáa'aang in X̱aad Kíl, and p'tsaan in Sm'algya̱x, is one of the most widely-known art forms of the Indigenous societies of the Pacific Northwest of North America. While its exact origins are unknown, scholars have traced the earliest known examples of this artform to the Tlingit, Haida, and Tsimshian of Southeast Alaska, Haida Gwaii, and northern British Columbia, according to SHI.
"The carved figures depict crests, spirits, and designs that symbolize the rich history of clan origins and migrations, as well as significant ancestors who made lasting contributions for their descendants," SHI continues. "Carved exclusively of red cedar, totem poles are raised on important occasions such as marriages, the construction of a new clan house, or the transfer of historic names and titles from one generation to the next. 'Shame poles' were also carved if an individual or clan grievously offended another clan."
The Totem Pole Trail
During the totem pole ceremony on April 22, 12 of the planned 33 totem poles will be raised on what will be known as Totem Pole Trail.
That initiative, which was launched in 2021, has come to fruition thanks to a $2.9 million grant from the Mellon Foundation. Importantly, the grant also provided funds that allowed apprentices to be mentored by each of the artists.
"We discovered through this process that there aren't a lot of master artist Northwest Coast totem pole carvers. SHI's Native Artist Committee considers a person a master artist totem pole carver if he/she has carved at least five totem poles," Worl said. "With the limited number of master totem pole carvers, the mentor-apprentice arrangement became a vital component of the project."
The totem poles will serve as an entry point from the waterfront to Heritage Square, which encompasses the intersection of Seward and Front Streets in Juneau, as well as the surrounding area. Each totem pole will feature a corresponding storyboard that identifies the clan, crests, and information related to the artwork, according to SHI.
The Faces Of Alaska
The Faces of Alaska art installation at the Sealaska Heritage Arts Campus will feature bronze masks that represent Alaska's five major Native groups, including the Inupiat, Yup'ik, Alutiiq, and Athabascan. The fifth group will be a combination of the Southeast tribes, Tlingit, Haida, and Tsimshian, because their cultures are similar, according to SHI.
Master artists from each of those groups were selected to create four-foot monumental bronze masks, which are representative of their region's artistic traditions. The masks, which will be positioned on pedestals, will provide a "centerpiece for discussion and education" on Alaska's different cultural groups, SHI continues.
"I saw Juneau and Southeast Alaska as the gateway to the rest of Alaska, and I wanted to introduce visitors and residents to the other Indigenous groups of the state," Worl said. "Additionally, other groups of Alaska Natives have settled in Juneau and Southeast Alaska, and I wanted to make them feel welcome in our region."