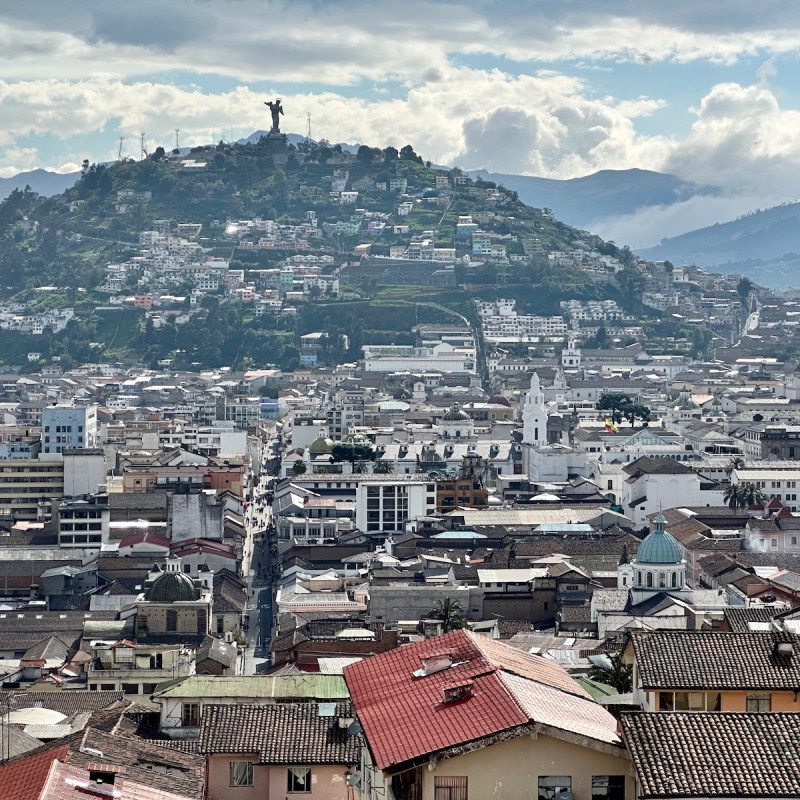 Exploring the equator in Quito, Ecuador, provides an opportunity to experience amazing natural and cultural landmarks, including the dividing line between the Northern and Southern Hemispheres. Located 9,350 feet above sea level in the Central Andes Mountains, Quito is known for its rich history and culture, and its presence at the equator and in the Andes means a slew of unique experiences.
If you've got a few days to explore Quito, visiting the equator line and the two museums and monuments dedicated to it is worth a long morning or afternoon. Even better, it's still close to other must-see excursions in the city.
Here are the five unique adventures I had exploring the equator in Quito, Ecuador.
Our visit to the equator line in Quito was part of a hosted trip with Kontiki Expeditions — all opinions are my own.
1. Mitad Del Mundo
The "False" Equator
I know this may sound confusing, but bear with me: The location of the equator was originally set by a French geodesic expedition team led by Charles-Marie de La Condamie in 1736. The team spent 8 years surveying and studying the area, but their location of the equatorial line was off by about 200 meters, though the pre-Colombian Quito people were spot on, archeological evidence proves.
Before the actual equatorial line was found closer to The Museu Inti Nan (The Intiñan Museum — more on it below), Quito built a massive monument, museum, and a replica Colonial village at the "false" spot to memorialize the equator. Mitad del Mundo is a 100-foot-tall monument with a giant yellow line dividing the hemispheres, making it a popular spot for photos.
Mitad del Mundo also includes a small but well-curated museum about the ecosystem, indigenous culture, and history of Ecuador, as well as a village of shops, food vendors, and craftsmen. It's a great place for an introduction to the equator and to Ecuador itself. If you happen to visit on the weekend or during special holidays, the central plaza at the Mitad del Mundo hosts concerts, special entertainment, and cultural events for tourists.
Pro Tip: If you aren't taking a guided tour, then getting to Mitad del Mundo by bus is another option. Regular buses depart from Quito's northern Ofelia bus station to Mitad del Mundo throughout the day and stop right outside the equator monument.
2. Intiñan Site Museum
The Real Fun Begins
Located right next to Mitad del Mundo is The Intiñan Museum, which has its own marker and is closer to the right spot. This is where the real fun at the equator begins. Be sure to take the guided tour around the museum. The guides share a wealth of knowledge about the equator and then lead you in some hands-on equator tricks, such as trying to walk a straight line with your eyes closed, demonstrating the loss of muscle strength when you stand on the line of the equator, and balancing an egg on a nail.
You can even see a demonstration of how water swirls in opposite directions on either side of the equator (known as the Coriolis Effect).
Fun Fact: Things like weight and balance are different on the actual equator. According to our guide, I officially weigh 1 kilogram (2.2 pounds) less while standing on the equator line than I do anywhere else on Earth.
Again, you'll have plenty of opportunities to take photos while straddling the equatorial line, and while the whole experience is a little cheesy, it was fun and interesting. If you're drawn to the slightly macabre, you can learn to make a shrunken head with step-for-step instructions at the museum. But it is also full of other less-squirm-inducing educational delights, including a display of totems at Totemic Forest and an art gallery of local artists.
Before you leave, you'll also receive a personalized certificate declaring how you stepped across the equator at Mitad del Mundo.
Pro Tip: Although amusing and fun, science so far has not backed up any of the claims about the guides' tricks they demonstrate on the equator. In fact, the Coriolis Effect has no effect on the direction of draining water in household drains anywhere and you can likely balance an egg on a nail head anywhere with enough patience, so take the "scientific" demonstrations with a grain of salt.
3. Khoura Chocolate Artesanal
Support Small Cacao Farmers
No trip to Ecuador is complete without indulging in the famed cacao culture and curated chocolate industry. Cacao production is an important sector of Ecuador's economy and culture, with historical roots tracing back to pre-Colonial times.
With an ideal climate, rich soil, and over 300 years of tradition, Ecuador's cacao production is predominantly done as a traditional, small-scale operation with farmers using simple agricultural methods. The country's unique varieties of cacao makes the cacao beans from Ecuador highly sought after by the global chocolate industry.
Located just a 4-minute drive from Mitad del Mundo is one of those small, family-owned cacao and chocolate factories. Khoura Chocolate Artesanal supports small cacao farmers by producing artisan dark chocolate and other cacao products — roasting and preparing chocolates in a wide variety of flavors on site at its small, friendly factory.
Pop in for a tour that covers how Khoura creates its unique chocolates (try the dark banana chocolate bar!), a tasting of different qualities of cacao and different flavors of the chocolate produced, and a treat of rich, dark, heady hot chocolate at the end.
Leave plenty of room in your bags so you can come home with tons of rich, rare Ecuadorian chocolate to enjoy or give as souvenirs.
Fun Fact: One of the heritage cacao beans you can try is the Nacional — the rarest, most highly prized cacao bean in the world. Until 2009, the Nacional bean was thought to be functionally extinct. Today, The Heirloom Cacao Preservation Fund and other farmers and activists are working to bring back the population of pure Nacional trees.
4. Old Town Quito
The Historic Center Of Quito
With a population of over 2 million people, Quito has a unique atmosphere created by the presence of pre-Colombian, Colonial, and modern architecture and many parks, churches, museums, and other landmarks, so it has become a great tourist destination.
One of the best areas to take in the historic architecture and history is the historic center of Quito, nicknamed "Old Town." Partly because of this area, Quito was the first city declared a UNESCO World Heritage Site.
Begin your journey at Plaza de la Independencia, a popular square lined with a number of historic buildings including the Casa de La Cultura Ecuatoriana and the impressive Presidential Palace.
Basilica Del Voto Nacional
The city's largest cathedral is the Basilica del Voto Nacional, a grand neo-Gothic basilica that towers over the surrounding Old Town and is visible from most of the city.
The Basilica del Voto Nacional is a wonder of gothic architecture, but surprisingly, it's among the newest and still unfinished architectural wonders of the city. The plans to build the cathedral began in 1890, with construction beginning in 1892. More than 100 years later, construction work on the Basilica del Voto Nacional continues, making it the largest gothic cathedral in Latin America. The cathedral has bronze doors, soaring towers with stunning views of the city, and gargoyles inspired by the animals of Ecuador, including iguanas, tortoises, and armadillos.
Pro Tip: The cathedral isn't the only impossibly beautiful church in Old Town. Also worth a visit are San Francisco Church (known as the Iglesia y Convento de St. Francis) and the gold-enshrined La Compania de Jesus. All these historic structures offer tours, but be aware that they may be closed or access-limited due to weddings or other events.
La Ronda And Barrio El Carmen
La Ronda is one of Quito's most colorful and vibrant streets, full of picturesque Colonial buildings and shops, and Barrio El Carmen is an old neighborhood full of cobblestone streets and lovely colorful houses that are the perfect representation of Colonial architecture. Both are fun places to take in the vibe of Old Town Quito.
Pro Tip: If you're up for some shopping, know that many local craftsmen line the streets selling everything from handmade wood carvings to vast landscape paintings.
Casa Del Alabado
If you want a deep dive into Quito's indigenous and pre-Colombian history, then the Casa del Alabado ("House of Praise"), located in a gorgeous 17th-century Colonial mansion, is one of the best museums to visit. With more than 5,000 pieces of pre-Colombian pottery, tools, artwork, and weaponry, the museum contains eight rooms of more than 500 artifacts on permanent display.
This museum covers archeological information about the pre-Colombian population's ways of worship, ceremony, history, art skills, and connections with nature. Be aware that the museum is open from Wednesday–Sunday and entrance is by reservation only.
Pro Tips: If you're walking in Old Town, be aware of some steep hills that will literally take your breath away, especially in such high altitudes. A guided tour is also recommended for the sheer amount of history and knowledge they possess. We used Link Experiences, which was a fantastically organized and helpful service. Also, ask your doctor about a prescription for acetazolamide, which is used to prevent and treat high-altitude sickness.