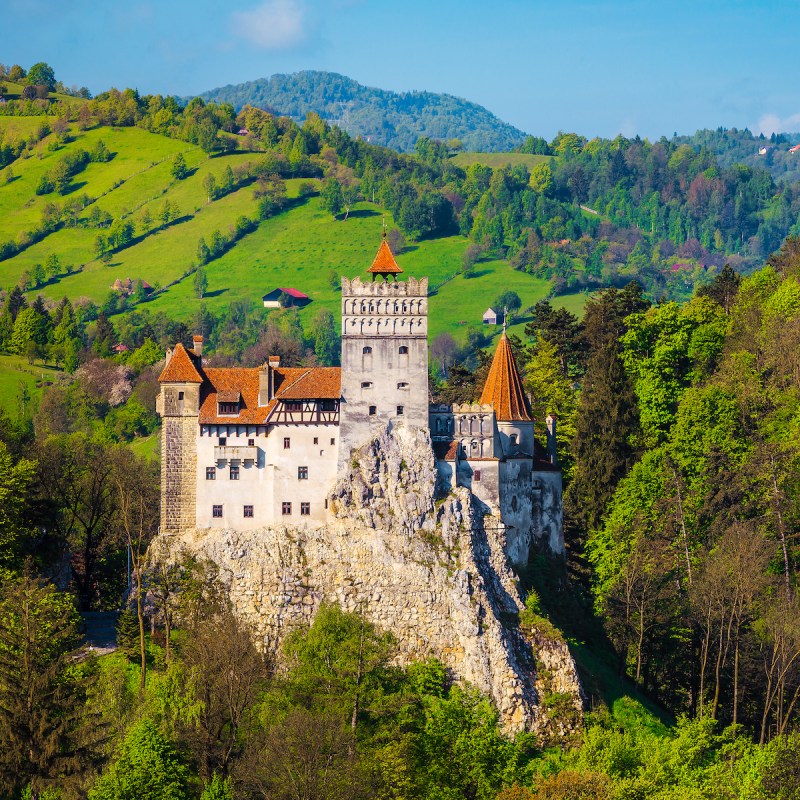 With a rich cultural heritage, stunning natural landscapes, and a diverse range of experiences all waiting to be explored, Europe has so much to offer a traveler. With such a wide range of fantastic things to experience, it might seem an impossible task to create a "to-do" list. But fear not! I've compiled a list of some of my favorite European travel experiences for you, and I hope this will inspire you to think outside the box and make your trip even more special.
From exploring an underground cemetery in Naples to a date with Dracula's castle in Romania, or viewing a vast collection of 20th-century art in Venice, there's something for everybody on this list. So, let's get packing for some experiences of a lifetime.
1. Northern Lights
Finnish Lapland
Seeing the ethereal northern lights in Finnish Lapland is definitely an unforgettable experience. Lapland, located in the Arctic Circle, is one of the best places in the world to see the lights. They are otherwise known as the aurora borealis — a natural phenomenon that occurs when electrically-charged particles from the Sun collide with particles in the Earth's atmosphere to create a stunning display of colors and patterns in the night sky.
Finnish Lapland is one of the most magical places you can visit. While you are here, visit Santa Claus and check to see if you're on his naughty or nice list, see reindeer, try husky sledding, give skiing or snow-shoeing a try, sleep in a glass igloo, have a traditional Finnish sauna, and of course, turn your eyes to the sky and hopefully catch a glimpse of the magical northern lights.
In Lapland, the northern lights are visible from late August until early April, with the best time to see them being in the darkest months of the year, November to February. It's important to find a location with clear skies and minimal light pollution, and be sure you have your camera ready. No one warns you that you often can't see them with the naked eye and that most photographs of the Northern Lights are taken with special camera setups and a long shutter speed. Also remember, most cell phones will turn off in the cold.
Pro Tip: The northern lights are visible roughly 200 nights a year in northern Lapland, while in southern Finland, they're only visible for around 10–20 nights a year. Take a northern lights tour to help you get to the best views.
2. Fontanelle Cemetery
Naples, Italy
Home to around 8 million human bones (mostly skulls) is the Fontanelle Cemetery beneath the bustle of the Naples streets. It is an old quarry that became a burial site in 1656 when the plague wiped out 250,000 of the city's residents, and again in 1837, when cholera epidemics struck, at which time Fontanelle became Naples's main burial site.
In the 19th century, the cemetery became overcrowded, and the bones of the deceased were moved to caves where they were arranged on shelves. In the early 20th century, the cemetery became a place of devotion for the poor of Naples, who believed that the souls of the dead could intercede on their behalf. The cemetery was maintained by a group of women known as the "pezzentelle," who cared for the skulls and prayed for their souls.
A visit to Cimitero delle Fontanelle is free and offers an opportunity to both learn more about the history of Naples and to experience the eerie beauty of the underground catacombs.
Pro Tip: Ignore the somewhat pushy guides at the entrance to the cemetery. Instead, book a tour in advance if you don't want to go it alone.
3. Glaciers
Svalbard, Norway
Norway's Svalbard is a beautiful and remote archipelago deep inside the Arctic Circle. The region is known for vast expanses of ice and snow, majestic mountains, and stunning glaciers. Visitors can marvel at massive glaciers — tinged an otherworldly blue — that cascade down from the mountains and into the icy waters below. The sound of creaking ice and the sight of frozen landscapes stretching as far as the eye can see will leave a lasting impression on anyone fortunate enough to witness the majesty of Svalbard's glaciers.
Despite its remote location and extreme conditions, Svalbard is a remarkable place and a popular destination for adventure tourism. It features activities such as dog sledding, snowmobiling, and glacier hiking, as well as the northern lights, which are visible here from October to February.
Svalbard is also home to the Svalbard Global Seed Vault, the world's largest secure seed storage facility, where seeds from around the world are stored to protect against the loss of plant species in the event of a global catastrophe.
Pro Tip: Book a journey on an expedition ship, like the Quark Expeditions' Ocean Adventurer, to get up close to glaciers, fjords, icebergs, and more.
4. Bran Castle
Bran, Romania
Bran Castle, in the Transylvania region of Romania, dates back to the 14th century and is known as the home of the infamous vampire, Count Dracula, a fictional character created by Bram Stoker. The castle is a stunning example of medieval architecture, with a unique blend of Gothic and Renaissance styles, and its towers, turrets, and battlements giving it a dramatic and imposing appearance. Inside, visitors can explore the castle's many rooms, including the eerie dungeons where prisoners were once held.
Bran Castle features an impressive collection of medieval weapons and armor, as well as artifacts from the region's cultural heritage. Another unique feature of the castle is the torture room, with its displays of all sorts of medieval torture devices. The models are accompanied by drawings and gruesome descriptions of exactly how they were used. (You do have to pay a little extra to enter this part of the castle, and if you're a little sensitive, you may want to skip it.)
Whether you're a history buff, or just a fan of horror stories and vampires, a visit to Dracula's Castle is a great experience.
Pro Tip: As one of Romania's tourist hotspots, expect the castle to be busy all year round. In the summer months, the entrance line can be long. To avoid long queues, arrive as early as possible, or book a tour that offers a skip-the-line ticket option. Most people wanting to visit Bran Castle base themselves in Brasov, a popular ski resort and hiking town in the Carpathian Mountains. It's only 30 minutes to Bran Castle from Brasov by car, and you can take a tour from here that includes Bran Castle and Peles Castle (one of the most beautiful castles I've ever seen). If you're short on time and can't stay over in Brasov, it's easy to take a day trip from Bucharest.
5. Art Along The Grand Canal
Venice, Italy
The Grand Canal is the main waterway in Venice and one of its iconic landmarks. Located on the banks of the Grand Canal is the Peggy Guggenheim Collection, a museum of modern art housed in the Palazzo Venier dei Leoni, a magnificent palace built in the 18th century.
The palace was originally designed by architect Lorenzo Boschetti but was never completed to his specifications. Over the years, various owners made changes and additions to the building, resulting in an eclectic mix of architectural styles and a stunning example of Venetian architecture. Its location along the Grand Canal makes it one of the most scenic and picturesque buildings in Venice.
Peggy Guggenheim purchased the incomplete building in 1949, living there until her death 30 years later. She filled its rooms with her vast collection of modern and contemporary art, including works by Jackson Pollock, Salvador Dalí, Pablo Picasso, Max Ernst, Joan Miró, and Alexander Calder. The building's interior is just as impressive as its exterior, with ornate staircases, frescoes, and intricate details throughout. The museum's galleries are spread over three floors.
Pro Tip: You can visit the Peggy Guggenheim Collection using the My Special Venice card, a digital card valid for 365 days that allows you to visit some of the most extraordinary cultural sites in Venice at reduced prices.
6. The Princes' Islands
Istanbul, Türkiye
The "Princes' Islands" (Adalar in Turkish) are a group of nine, small islands located in the Marmara Sea, a short ferry ride from Istanbul's Kabataş ferry dock. Of the nine islands, only four are open to the public: Büyükada (the biggest and most popular), Burgazada, Heybeliada, and Kınalıada. The islands are known for their stunning natural beauty, charming villages, and unique history, with many of their buildings dating back to the Ottoman era. Mainly car-free, the islands are known for their horse-drawn carriages (phaetons) and visiting really feels like you're stepping back in time.
The Princes Islands have evolved from a place of exile during the Byzantine era to a popular destination for tourists and Istanbulites alike looking for an escape from the hectic city. Each island has its own unique character and attractions, from the beautiful beaches of Büyükada to the secluded serenity of Heybeliada. On Büyükada, you'll find grand old mansions, secret swimming coves, and colorful local markets, with one of the main attractions being the historic Greek Orthodox Monastery of St. George dating back to the 6th century. A walk up to Büyükada's highest peak, Yücetepe, gives you incredible views all the way to Istanbul, far away on the horizon.
Pro Tip: Both regular ferries (operated by Şehir Hatları) and "sea busses" (fast ferries operated by IDO) will get you to the Princes' Islands. The sea buses are the fastest option but operate at irregular times and focus on locals commuting to and from work, stopping at all the islands, and taking around 55 minutes. The regular ferries are slower (can take up to 100 minutes) but cheaper and depart more frequently. Make sure you catch one of the first ferries of the day to beat the local crowds, and on arrival, check when the last ferry departs back to Istanbul. Alternatively, join a day tour with lunch from Istanbul.
I hope I've whet your appetite to explore some of the special places and experiences that Europe has to offer. Happy traveling!