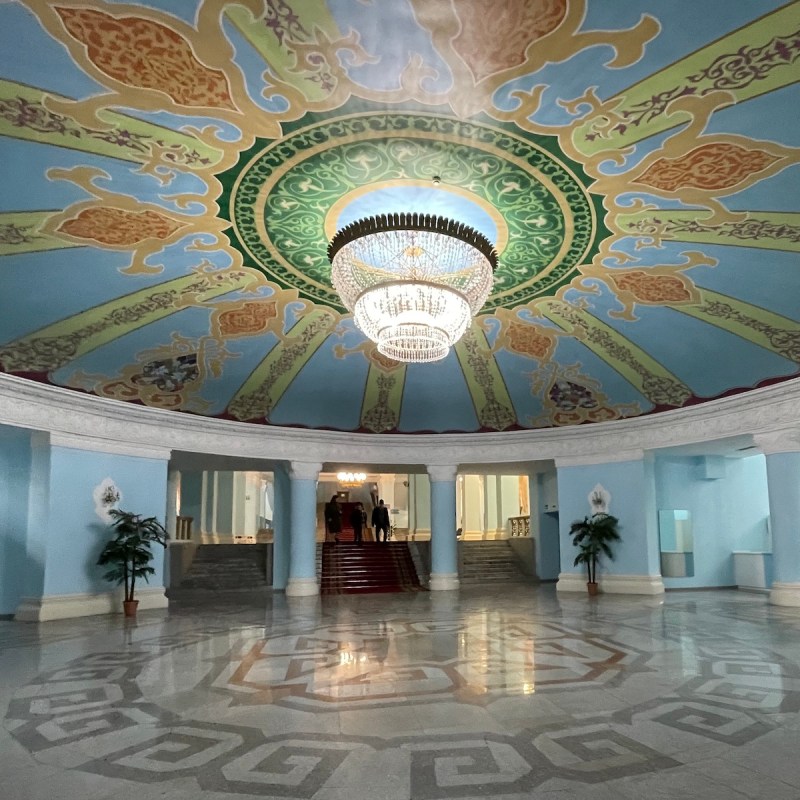 Who can point confidently to Kazakhstan, let alone Almaty, on the world map? If you have an inkling that it is in Central Asia, you might have a chance of hitting Kazakhstan. After all, it is nearly a third of the size of the U.S., some five times larger than France. And Almaty, the country's former capital, lies in the southeast of the country, near the border with Kyrgyzstan.
I have traveled a lot in my life, but the so-called "Stans" in Central Asia have so far completely eluded me, apart from a brief visit to Islamabad in Pakistan, that is. So, this year, my husband and I decided to embark on a few expeditions to the various and practically unknown countries that emerged when the USSR broke up. Having always been fascinated by the ancient Silk Roads that led through this formidable terrain of steppes and mountain ranges, plateaus and deserts, our quest involved experiencing some of the major stops along the routes that used to connect the Far East with Europe.
I found myself in Almaty not long ago and had a fascinating few days exploring this city, formerly known as Alma-Ata. It's the largest city in Kazakhstan, though no longer its capital (which, since 1997, has been Astana in the north).
Here are some very good reasons to fall in love with Almaty.
1. Silk Road Connection
Talkhiz Settlement, Talgar
For the main reason that brought me to Almaty, we head straight to the eastern outskirts of the city, to the small suburb of Talgar. After all, I was searching out the Silk Road connection, and the closest site, a UNESCO-listed Silk Road site, is the ancient settlement of Talkhiz on the edge of Talgar. Here a vast, reconstructed gate allows you entry to the archaeological dig, which highlights roads and buildings of this settlement.
It provided a resting stop along the route and was prosperous between the 8th and 14th centuries, thriving with artisans and craftsmen providing numerous services to the passing merchant travelers, arriving here with their caravans. Appropriately enough, the settlement lies at the foot of a mountain with two smooth humps, nicknamed Camel Mountain by the locals.
Pro Tip: Tourism is still in its infancy in Kazakhstan, and finding tours and guides can be quite hard. I found walking guide Dennis Keen, an American and adoptive Almatian, who guided us not only around Almaty but also took us here. He is full of love for all things Kazakh and a fountain of knowledge.
2. Tian-Shan Mountain Range
Shymbulak Ski Resort
I have to admit that I am a fan of the cold and absolutely adore snow. Some of it may well have to do with the fact that I currently live in the desert, but even when I lived in Germany, I loved wintertime. There is something about snow-capped mountains, skiing, the glaring white snow reflecting the sun, and the fact that you can happily sit outside for lunch despite it being 14 degrees F, that is difficult to beat.
Almaty is one of the few world cities that has a ski resort literally 20 minutes by car from the city center. At Medeu, where you incidentally also find the world's highest ice rink, you start by getting on one cable car to the first stop at Shymbulak Ski Resort. Here you have the baby slopes and the restaurants with fabulous views. You can get all the way up, by taking two more cable cars, to the Talgar Pass, which lies at 10,500 feet, and the views are breathtaking.
Pro Tip: My husband suffers from altitude sickness, and this three-step approach was perfect for us as we were able to figure out which was his cutting-off point. He felt it at the first stop, got a little worse at the second stop, and was really not happy at the top. If you or your partner suffer, this is a great spot for some experimenting, and hopping back into the cable car to descend to lower altitude if it hits you.
3. The Alma Museum
Almaty Hotel
Alma is the Kazakh word for "apple" and Almaty roughly translates "the place of apples." And this is truly where apples come from. And tulips, by the way, apologies to the Dutch. Kazakhstan is full of surprises and there are so many things to learn, and the apple connection is one.
This tiny but lovely museum (known as both the Museum of Apples and the Alma Museum) is inside Hotel Almaty. Here you get a bit of the history of apples, which covered the valley before Almaty grew, and which, amazingly, grew to a size of one pound in weight! Family-sized apples.
While you are in the hotel, pop to the top floor and look down from the balcony. Despite it being only a handful of floors, you can look across Almaty, because in the center, the buildings are very low, allowing a view across to the mountains.
Pro Tip: When you visit the hotel and museum, you'll be directly across from the opera house, where performances cost a fraction of the price they do back home. And it is an opera, so odds are you can't understand what they say anyway!
4. Green Space
I admit, I was in Almaty in winter, with everything covered in a beautiful layer of snow, but I still appreciated how very green this city is. There are few streets that are not lined with trees on both sides, and it is a nice mix of conifers and deciduous trees, so even in winter, you have greenery. Many of the streets have so-called "walking streets," where you have cars on either side, but in the middle lies a pedestrianized stretch, the length of the road, lined by trees, and benches, some with art, others, such as Tulebaev Street, with lyrics of songs by the locally revered rockstar Victor Tsoi, as well as his statue, on display. The many trees are watered by an age-old canal system that runs through the city.
Pro Tip: There are parks at every corner, but my favorite was the Panfilov Park within easy walking distance of the opera. Here you find horse rides on the weekends, an ice rink in winter, and the beautiful Ascension Cathedral, also known as Zenkov's Cathedral — a Russian Orthodox cathedral in cheery yellow with blue-and-white domes.
5. Museums
The Almaty museum that stands out the most is the Central State Museum of Kazakhstan. It boats grand Soviet architecture and eclectic displays, with the best being the room that explains the amazing cultural diversity found in Kazakhstan.
Pro Tip: Just outside, you'll find the beautiful Zodiac Fountain by Vladimir S. Tverdokhlebov, who also designed the lovely Silk Road mosaic by the entrance of the Hotel Almaty. It is a mix of western zodiac signs in the basin and golden Chinese zodiac statues with a Kazakh twist. So, for example, the dragon has been changed to a snail. I was not happy, as I am a proud dragon!
While they don't have websites (or English-language sites), there is also a Museum of Geology, one for musical instruments, and another for transport. But the one that took my breath away, for a reason beyond the exhibits, was the Museum of Archaeology. Inside, you stand under a yurt-like dome, clap your hands, or say "boo," and the reverberation is quite eery.
6. Cafés
Almaty Old Centre
The spread between the iconic Hotel Kazakhstan and the Opera House is considered Almaty's city center, and it is marked by plenty of trendy and iconic cafes. There is, for example, the hyper-trendy Julius Café, where you constantly have social media influencers posing outside, and my personal favorite, Nedelka, where the students from the nearby university congregate and the coffee, cake, and atmosphere are wonderful. It is also one of my favorite little buildings in town.
Pro Tip: Pop into Hotel Kazakhstan, the tall icon of the city, for a coffee in the lobby and use that as an excuse to take the lift to Bar Fly on the top floor for amazing views. Or come back later for dinner and drinks.
Note that Almaty is a strange city without a proper inner center, very unlike typical European cities, which usually grow outward from a medieval middle. Sadly, over the last two centuries, Almaty has been hit by three major earthquakes, so there is little ancient history left in the city.
7. Street Art
The Medeu District
Wherever I travel, I tend to search out street art. Almaty, while not covered in it as the encouragement of expression in its different forms is still in its infancy here after Russian rule, has a few lovely examples in what could be called the center (see above). There is the balloon art mural near the Archaeological Museum by London artist Fanakapan, which depicts two silver balloons spelling out QZ. As our guide Dennis explained, this celebrates the new way of spelling Qazaqstan. You can also search out and enjoy the giant warrior near Julius Cafe and a few more.
Pro Tip: Dennis has a bit more info on street art on his blog, and was, at the time of our visit, contemplating putting together a street art walk. Check his offerings as you plan your visit.