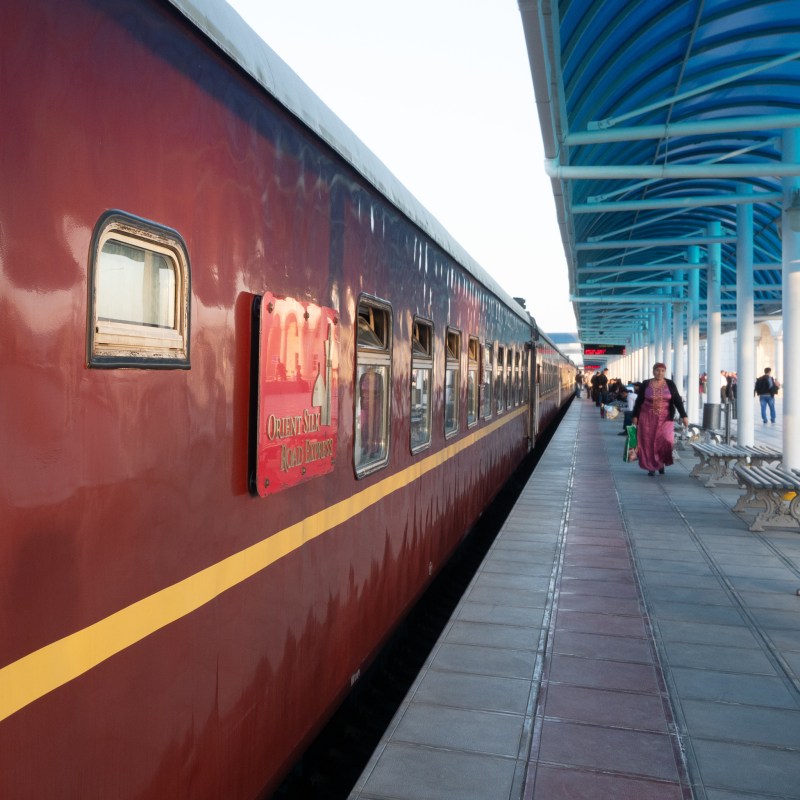 Reading about Marco Polo's Silk Road travels conjures up images of desert oases with bustling markets, mosques, minarets, and, of course, merchants with long-lashed camels bearing precious cargo.
The Silk Road was actually many trading routes linking China and the Far East with Europe and the Middle East. Beginning in the first and second centuries B.C., merchants traded silk, spices, gunpowder, and paper from the East and gold, silver, and wool from the West. Along with trading goods, merchants exchanged ideas at the caravansary, or inns, where they rested. Eastern religions, philosophies, and technology mingled with those from the West.
Today's Marco Polos can explore a silk route that starts in Turkmenistan, traverses Uzbekistan, and ends in Kazakhstan aboard a train that serves as a hotel and restaurant. Itineraries vary with the rail tour company you choose, but the following stops, which I experienced last October during a Lernidee trip with two friends — one who I've been traveling with for 32 years — should be included.
1. Ashgabat, Turkmenistan
Turkmenistan's capital city in a word? Bizarre — like being in a dystopian science fiction movie. Massive statues of President Gurbanguly Berdimuhamedow riding an Akhal-Teke horse and multi-story working thermometers decorate the roundabouts. Most buildings in the part of Ashgabat that tourists see are cloaked with white marble. Ashgabat holds a Guinness World Record for the number of buildings with white marble facades.
After dark, neon lights highlight massive wedding venues, hotels, and retail stores. Jumbotron screens flicker with images along the main thoroughfares but have no audience. It feels like a ghost town after the sun goes down.
State-approved tour guides accompany visitors to the city's most famous attractions: the Turkmenbashi Ruhy Mosque, Central Asia's largest mosque; the National Museum of History; and Turkmen Carpet Museum, Turkmenistan Independence Monument, and the Arch of Neutrality Monument. In addition to world records for the most white marble-tiled buildings and the largest mosque, Ashgabat is home to the world's largest indoor Ferris wheel.
Pro Tip: Americans need a Turkmenistan visa to enter the country. Although it's preferable to get one before you leave home, you can get one in the airport.
This is not a place where you have freedom to photograph anything you choose. When we were there, fellow travelers had their cameras taken and images deleted. Ask before taking photos. Luckily, the security guard returned the cameras.
2. Darvaza Gas Crater, Turkmenistan
If you want to see a bit of the real Turkmenistan, a trip to the very surreal Darvaza Gas Crater is in order. The gleaming modern architecture, pulsing neon lights, and wide boulevards of the planned, for-tourists-only part of Ashgabat aren't the biggest draw to Turkmenistan. It's the gas-belching, hissing crater, called the Gate to Hell, caused by a drilling accident nearly 50 years ago.
Although it's not part of a Silk Road rail tour, I recommend visiting Darvaza Gas Crater for three reasons. First, on the trip to the crater, you'll pass through Ashgabat, and instead of seeing a sterile, white marble city, you'll see modest homes, schoolchildren in colorful uniforms, and women in tall, domed hats and caftans (yellow or gold-colored if middle-aged and white if "older than Mohammed," i.e., 63 — ouch!).
Having a local driver is the second reason to visit Darvaza Gas Crater. He is likely to be the only Turkmen you'll meet, other than your guide, who may not be as forthcoming with information about Turkmenistan.
And the third reason? Darvaza Gas Crater is unlike any place you'll ever see — a place Turkmenistan hoped tourists wouldn't discover. Surrounded by the Karakum Desert, which offers unspoiled views of the Milky Way, the crater is 230 feet across and 100 feet deep. The methane-fueled fire still burns. Now the government allows visitors to look deep into the crater with little more than a metal chain between them and the so-called Gate to Hell.
Pro Tip: Arrange your Darvaza tour before you leave home. The concierge will not be able to book it for you in-country. Tours, lasting about eight hours, depart in the afternoon so you can see the crater after dark.
3. Bukhara, Uzbekistan
The city's historic center, a UNESCO World Heritage Site, is rich in monuments, mosques, mausoleums, and madrassas (Muslim schools). The Ark of Bukhara, a massive 1,600-year-old fortress that once protected royalty, now houses museums. Nearby, intricate designs on Kalan Mosque and its minaret can be appreciated during the day while colorful floodlights change their look entirely at night. Despite being hit by artillery, the minaret, held together with camel milk and sand mortar, still stands.
Five domes shelter the old city's market. Stores selling metalwork, handwoven carpets, and ikat cloth line the winding pedestrian-only streets. Check out either Chor Minor farmers market or the large open-air market, Markaziy Bozor, to interact with local people who are eager to meet (and feed) visitors.
Pro Tip: Local blacksmiths forge knives and scissors with etched designs on their blades. These works of art make unique souvenirs.
4. Khiva, Uzbekistan
Four gates allow visitors into the old city, also a UNESCO World Heritage Site. Labyrinthine passageways connect its 51 monuments. Bukhara's old city feels like the functioning community that it is, whereas Khiva's feels more like a living museum. Musicians, dancers, and puppeteers with marionettes parade through the narrow streets.
Climbing to the top of Khiva's fortress provides a bird's-eye view of the domes, passageways, mud-brick houses, and the iconic but unfinished blue and green tiled minaret, Kalta Minor.
If you need a quiet moment, view the 218 unique, hand-carved columns of Juma Mosque. Some date back 1,000 years.
Pro Tip: Stairs to the top of the fortress are steep, uneven, and lack a handrail. If you have mobility or balance issues, reaching the top will be challenging. If this experience isn't suitable for you or a travel companion, taking a camel ride or shopping in the handicraft market are great alternatives.
5. Samarkand, Uzbekistan
If you can only visit one city on the Silk Road, this should be it. Amir Timur, an undefeated Turco-Mongol conqueror, made Samarkand capital of his Central Asian empire in 1370. Focusing on education, the Timurid Dynasty built three mosaic-covered madrassas with inviting courtyards and opulent mosques around Registan Square. The Golden Mosque in Tilla-Kori madrassa is breathtaking. Nearby, Timur's mausoleum, Gur-e Amir, was a model for the Taj Mahal.
The Ulugh Beg Observatory, built in the 1420s, speaks to the dynasty's interest in science. Models explain the observatory's inner workings, but only the underground portion of its gigantic sextant remains.
Samarkand also has a large open-air farmer market near Registan Square. Stalls with ceramics, Uzbek tubeteika, or embroidered skull-caps, and souvenirs surround the food market.
Pro Tip: Visit Registan Square in the evening for a light show set to music. You can buy tickets to watch the show from the square or watch it from a promenade overlooking Registan Square for free.
6. Tashkent, Uzbekistan
Russia conquered present-day Uzbekistan for its cotton crops in 1876. After Uzbekistan gained independence from the USSR in 1991, Tashkent became the capital.
Tashkent is home to pedestrian malls and museums. An earthquake leveled the city in 1966. As a result, modern and Soviet-era architecture dominates the city. Monuments commemorate the earthquake, celebrate Soviet World War II heroes, and immortalize an unknown soldier and his grieving mother with an eternal flame.
The Hast Imam Library contains the Uthman Quran, written on vellum around 765 to 855 A.D., plus a large collection of other Korans.
A National Symphony Orchestra of Tashkent performance is an excellent introduction to the sounds of Uzbekistan's unique instruments.
Pro Tip: Many tourist sites require modest dress and head coverings for women.
7. Turkistan, Kazakhstan
Here you explore yet another UNESCO World Heritage Site and pilgrimage site, the Mausoleum of Khoja Ahmed Yasawi. Built between 1389 and 1405 A.D., the 35-room building has the largest dome in Central Asia.
Yasawi, a Sufi or Islamic mystic, built a subterranean home and mosque. It was converted to a museum and is within the UNESCO complex.
Pro Tip: Public restrooms/toilets are not always up to Western standards. Plan accordingly.
8. Almaty, Kazakhstan
Almaty has a European feel. Craggy, snow-capped mountains serve as a backdrop to trendy restaurants, Cartier and Coach stores, and the Ascension Cathedral, a buttercup yellow Russian Orthodox church in Panfilov Park.
Several restaurants, accessible by cable car, sit atop Kok-Tobe Hill and offer panoramic city views. After you dine on beshbarmak — a horse meat and noodle dish — or something less traditional, check out the bronze statue of the Beatles.
Pro Tip: Don't be shy about seeking medical care from your tour's physician as food-borne illnesses are common. Any food or beverages served in the dining car are safe to eat. While touring these cities, drink bottled water and avoid fresh fruit and uncooked vegetables except at restaurants your tour company endorses. Remember to use bottled water when you brush your teeth on the train and at hotels. Pepto-Bismol can lower your chances of getting travelers' diarrhea and can be taken prophylactically. Antibiotics shouldn't be taken unless needed, but your doctor at home may give you a prescription just in case. Although none of the countries we visited during this trip required vaccines, make sure you've had the Hepatitis A vaccine.