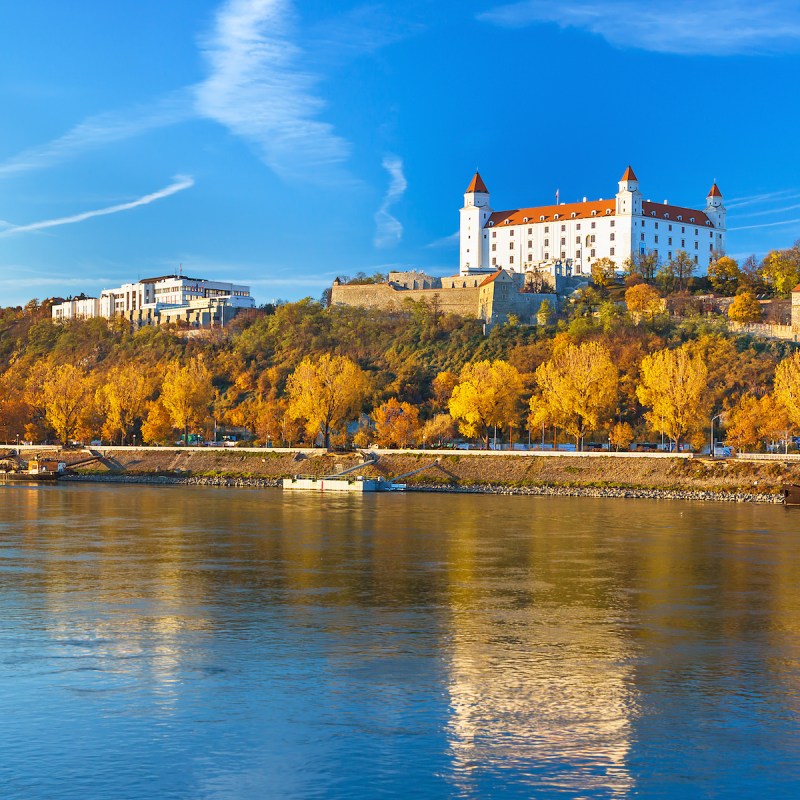 Looking for an affordable getaway to Europe? Europe is often considered fairly expensive for travel, but with some thought and planning, you'll find there are many affordable destinations across the continent that can make for a perfect budget vacation.
From beaches and mountains to historical places that date back thousands of years, Europe offers destinations for all interests and tastes. Sadly, many of these places will stretch your budget to the max. So, if you are looking for the cheapest European countries to visit, you'll need to think outside the box and head to lesser-known, but no less lovely, spots.
Here are 5 of my suggestions for the most affordable countries to visit in Europe — perfect for travelers who are looking for culture, history, and natural beauty, but without costing a small fortune or requiring a second mortgage!
1. Hungary
Hungary is one of the most expensive countries to visit in Eastern Europe, but still one of the cheapest to visit in Europe as a whole. Here, you'll find a rich history yet also a cosmopolitan country with a thriving food scene that you won't want to miss.
Hungary's capital, Budapest, is a delightful combination of two historical cities, lying opposite one another over the Danube River. Buda has its historical Buda Castle, and Pest's side is flanked by the imposing Parliament building, busy streets, and numerous other buildings that retain their centuries-old architectural heritage. The city is home to a long list of free attractions, including walking on the Chain Bridge across the Danube and exploring the Castle Hill area.
While some of the attractions in the castle area aren't free to visit, they're still very affordable. The neo-Gothic Great Market Hall, Budapest's oldest indoor market, is a great place to search for budget souvenirs and cheap snacks, including many traditional Hungarian foods — the country's favorite fast food is lángos, a sort of deep-fried pizza topped with cheese, tomato sauce, or sour cream. GuruWalk offers numerous free walking tours of Budapest to help you discover all the city's hidden treasures.
Outside Of Budapest
Outside of the capital, things are even cheaper. The countryside is charming, with even older traditions, not to mention the locals' passion for winemaking and tasting! Visitors to the lake resort town of Tihany and those heading to Bükk Mountains for outdoor adventure will find low prices year round.
Pro Tip: In June, Budapest city sponsors a "Night of the Museums," where you can visit many of the city's landmarks for free.
2. Portugal
An abundance of natural beauty makes Portugal a favorite European holiday destination. Unfortunately, most visitors don't venture much beyond the golden Algarve beaches. But if you travel a little deeper and leave the crowds behind, you'll discover so much more, while making your holiday budget go much further.
Top Portuguese cities like Lisbon and Porto are on most travel bucket lists. Budget travelers should add cities like Algarve and Cascais into the mix. These cities are the perfect spot to enjoy the sun, and you can spend your days immersing yourself in Portuguese culture and food without breaking the bank. You can find affordable lodging and inexpensive food in the many white-washed villages and towns throughout Portugal, and cosmopolitan cities such as Lisbon, Porto, and Funchal can be just as budget-friendly thanks to a wide range of accommodation and dining options.
Portugal's Free Attractions
Some of Portugal's most interesting destinations are free to explore. These include the ancient town of Evora, a World Heritage site, and the 12th-century Templar Castle and Convent of Christ in the town of Tomar. Keep an eye out for free museums such as the Museu Coleção Berardo in Lisbon or free walking tours like this one in Faro, Algarve. The Faro District in the south is a popular destination for its golden sands, cliffs, and lighthouses, while visitors can head to the archipelago of Madeira for its rugged volcanic hiking trails, beautiful harbor, and great scuba diving. This affordable European destination offers the perfect blend of adventure, relaxation, and culture
Pro Tip: The biggest expenses of a trip to Portugal are food and accommodation, though visiting outside of peak season (June to August) will reduce these costs considerably. Prices drop even more between November and February, though temperatures still remain around 64 degrees Fahrenheit.
3. Slovenia
Slovenia is perfect as a destination for affordable travel, and this is one of the cheapest countries to visit in Europe.
Ljubljana
Ljubljana, the capital, is one of the cheapest and most underrated cities in Europe, and one of its most overlooked capital cities. It's beautiful and packed full of history, and best of all, the relative lack of tourists means prices for attractions and historic sites are surprisingly low.
Ljubljana also has a reputation for being a green and pedestrian-friendly city — the Old Town, home to Ljubljana Castle, Ljubljana Cathedral, and Triple Bridge (Tromostovje), has been car-free since 2008. In addition to its green and cultural initiatives, the city is a popular destination for well-priced restaurants and cafés, and during the summer months, many set up along the Ljubljana River, making for a lively alfresco scene.
Most visitors come to Slovenia for its Adriatic shoreline. Koper Beach, nearby Mestna Beach, Moon Bay, and the famous seaside resort of Portoroz are all very affordable in late spring when temperatures are already summery, but the tourists haven't arrived yet. Away from the coast, Lake Bled is perhaps the best-known destination and one of the most stunning sights in the country. Other budget destinations include the medieval town of Piran; the fortified village of Štanjel; and Triglav National Park, where you can hike to the top of Mount Triglav.
Winter In Slovenia
Don't miss Slovenia for a winter trip either. If you're looking for some of the best ski resorts in Europe, the country is well worth considering. Beautiful resorts like Kranjska Gora boast prices significantly lower than their French and Austrian counterparts, and if you don't already know how to ski, you can always sign up for some lessons at the local ski school.
4. Slovakia
Bratislava
One of the cheapest countries in Central Europe to visit, Slovakia has a lot to offer, not only in its major cities such as Bratislava but especially in its smaller towns. Tourists will find their holiday dollars get them quite a bit more here than in many other European destinations. Slovakia is home to numerous UNESCO World Heritage Sites, castles, memorials, and monuments — all free or very cheap to discover.
Slovakia's capital, Bratislava, is the most expensive destination in the country — but even here, you can keep your trip cheap by taking advantage of the many free things the city has to offer. Bratislava is relatively small and can easily be explored on foot, and aside from its many galleries, spread throughout the city, Bratislava is also home to lots of street art and sculpture. Join a Free Original Bratislava Alternative Street Art Tour to experience the city to its fullest.
Outside Of Bratislava
Outside of the city, food and accommodation are even cheaper. Slovakia has some amazing countryside, with a lot of space to explore, particularly in the High Tatra mountains, the country's tallest mountains and a massive national park with hundreds of miles of hiking trails. All national parks are free in Slovakia.
Pro Tip: Bratislava is only an hour by train from Vienna.
5. Montenegro
Once part of Yugoslavia, Montenegro is a very new country, having regained independence in 2006. This is also a country that many people wouldn't be able to place on a map! Montenegro is an extremely affordable destination, but do be prepared to pay a little bit more for things like accommodation.
Having said that, Montenegro is only as expensive as you allow it to be. If you want a budget-friendly trip, you could probably do Montenegro on as little as $20 a day, and if you wanted to go all out and enjoy a luxury vacation you could spend $200. However, if you're somewhere in the middle, then you'll find that too.
Compared to other Mediterranean countries, Montenegro is easy to travel through without having to spend a lot. Most travelers visit the cities along the coast, like Budva, Herceg Novi, and Kotor, but there are tons of other spots to explore. Ada Bojana, a small island away from the pricey shoreline towns, is a prime destination for kitesurfing and a lovely summer destination with very affordable prices.
Outdoor Activities
Hike through some of Montenegro's national parks and experience the hills and mountain views of this lovely country. The deeper into Montenegro you go, the more affordable it gets. Prices halve and hospitality doubles as soon as you venture away from the coast — so don't skip the country's green heart, where you'll find rugged mountains, glacial lakes, and UNESCO walled towns. Crno Jezero, a mountain lake surrounded by deep green-bluish forest, is a stunning destination for hiking and swimming and is completely free to visit.
For cheap food, stick to the local hearty, meaty foods like burek, a thin flaky pastry stuffed with meat, cheese, spinach, or potato. This is one of the oldest Balkan dishes, dating back to the Ottoman Empire. Buregdzinica AS in the town of Tivat is known for some of the best bureks in Montenegro.
When traveling in Europe we've come to expect that cities like Paris, Berlin, and London won't be cheap to visit, but there are a number of relatively budget-friendly countries you can and should add to your itinerary — just make sure to choose the right ones! But wherever you decide to go, and whatever you decide to do on your European vacation, I've no doubt you'll make some great memories.