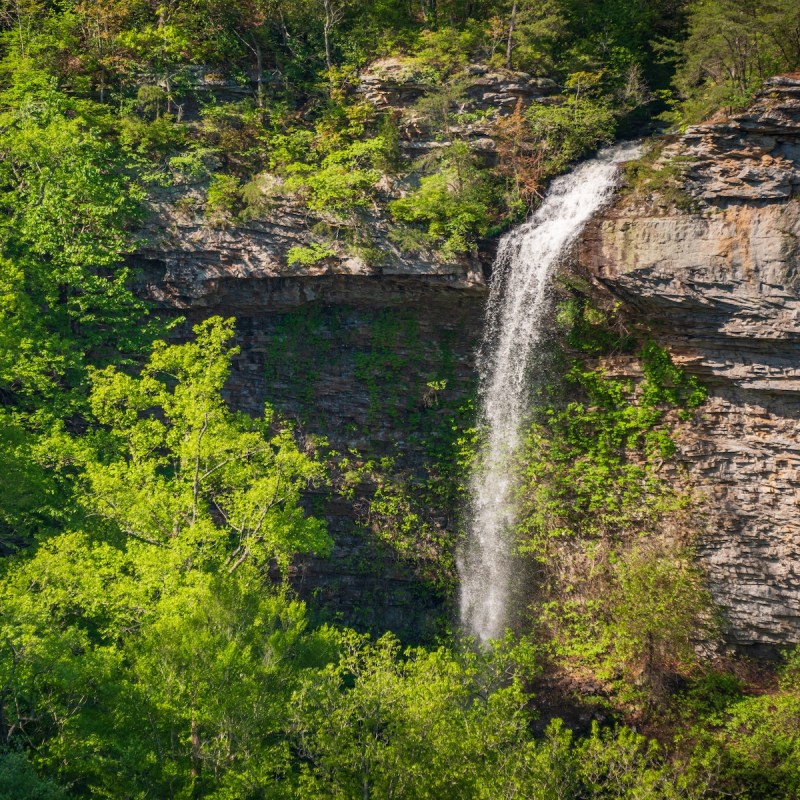 Is there anything more exhilarating in nature than a waterfall? Water tumbling over a rock face and cascading down into a crystal clear pool or rippling river is soothing to the soul. Alabama is home to more than 77,000 miles of streams that wind through its pristine state parks and wilderness, creating many opportunities to chase waterfalls.
I lived in Northeast Alabama for over 20 years and never grew tired of the natural beauty and numerous waterfalls scattered throughout the state, particularly the northeast section. While the waterfalls are gorgeous during any season, spring, with its abundant rainfall, is a fantastic time to get outside and enjoy the show that Mother Nature has provided.
Read on for a few of my favorites. Each of these Alabama waterfalls is stunning on its own, but if you're up for a road trip, and who isn't, they can be strung together for a day or two of wildflower and waterfall exploration.
1. Peavine Falls
Oak Mountain State Park, Pelham
Peavine Falls, a 65-foot tall, spring-fed waterfall, is located inside beautiful Oak Mountain State Park in Pelham, Alabama. This gorgeous waterfall gets its name from how the water twists and turns like the tendrils of a pea vine. Ideal for hikers interested in a bit of a climb, Peavine Falls is reached via several hiking trails that wind through the state park or take a direct route on Peavine Falls Trail. Peavine Falls flows into an icy cold pool, which offers a cooling shower or a refreshing dip after a challenging trek.
2. Cheaha Falls
Talladega National Forest, Delta
Cheaha Falls is a lovely three-tiered cascade in the Talladega National Forest adjacent to Cheaha State Park. The falls can be reached via the Chinnabee Silent Trail. Park at the Turnip Seed parking area to access the trailhead on the Talladega Scenic Byway. Once you park, you must cross the byway to connect with the trail. It's a moderate hike of just over a mile to reach the top of the falls. There is a side trail to the bottom of the falls. If you choose to view them from that vantage point, be aware that the short trail is very steep, with many rocks and boulders to navigate.
3. Devil's Den
Talladega National Forest, Delta
The 10-foot drop of Devil's Den waterfall is not quite as big as some others on this list, but it is beautiful and has a reasonably consistent water flow year-round. Also located in Talladega National Forest, it can be reached two ways. If you've visited Cheaha Falls, continue on the Chinnabee Silent Trail. This is a relatively long trek — clocking in at nearly 6 miles with multiple creek crossings — but you'll be rewarded with magnificent vistas, a cool wood bridge attached to a rock wall, and Devil's Den. Park at Lake Chinnabee Recreation Area for a much shorter route and hike about a mile. There are a few steep inclines; you can expect roots and rocks on the trail. There is a $3 fee to park at Lake Chinnabee, and the area closes in winter.
4. Noccalula Falls
Noccalula Falls Park, Gadsden
Not many cities can boast that they have a 90-foot waterfall within a few miles of their downtown, but Gadsden, Alabama, can! You won't have to walk far to see the falls, less than a couple hundred yards from the ample parking at Noccalula Falls Park. The more adventurous can hike into the gorge to view the falls from another vantage point on a short, albeit steep, trail. While there, consider exploring the adjacent Black Creek Trail system featuring over 12 miles of trekking options. The Cascade Trail follows Black Creek, meandering past a few mini-waterfalls and picturesque picnic spots. While there, you can read the legend of Noccalula and discover how the falls and the park got their name.
Pro Tip: Don't forget to take your picture with the bronze statue of Noccalula, recently rated the number one selfie spot in Alabama.
5. DeSoto Falls
DeSoto State Park, Fort Payne
One of the most photographed points of interest in Alabama, DeSoto Falls is also one of the tallest and most visited waterfalls in Alabama. Located in the small town of Mentone, near Fort Payne, Alabama, the thunderous falls are named after Hernando de Soto and are formed by the west fork of Little River plunging over Lookout Mountain.
Standing at 104 feet, DeSoto Falls is a fantastic sight involving minimal effort. A short walk (less than a quarter of a mile) down a path with handrails will take you to this spectacular view! The waterfall has a concrete dam above the falls, built in 1925 for Alabama's first hydroelectric power plant. Now the park's boathouse is a place to rent kayaks and ride Little River above the falls.
Nestled atop beautiful Lookout Mountain, DeSoto Falls is in DeSoto State Park, which features over 25 miles of hiking trails, including an ADA-accessible boardwalk trail. Beautiful plant life, a CCC quarry, and several smaller waterfalls make this park memorable. Lost Falls, Laurel Falls, and Indian Falls will involve some hiking to get to. Stop by the Country Store on your way in to pick up a trail map.
Pro Tip: If you've worked up an appetite, you can't go wrong with a stop in Mentone. A short drive from DeSoto Falls, Mentone, Alabama, has several restaurants, great shopping, art galleries, and more. Wildflower Cafe is a favorite spot for locals and tourists alike, but I love the Green Leaf Grill. My favorite dish is the superb fried green tomato BLT.
6. Little River Canyon Falls
Little River Canyon National Preserve, Fort Payne
Just a short drive from DeSoto State Park, you'll find Little River Canyon Falls, a lovely 45-foot waterfall surrounded by abundant natural scenery and straightforward access, flowing through one of America's deepest and most extensive canyon systems east of the Mississippi River, Little River Canyon. The flow of the falls varies with the season. Summer and fall find the river low, exposing the picturesque sandstone beneath while leaving pools of water perfect for wading in above the falls and an excellent swimming hole below the falls. Winter and spring rains bring the waterfall to its full, dangerous glory.
Access to Little River Canyon Falls can be found from the paved parking lot on the west side of the Highway 35 bridge. An ADA-accessible boardwalk leads visitors to a close view of the falls. Little River Canyon National Preserve is 14,000 acres of picturesque beauty. The preserve also offers several walking paths and trails and a visitor center.
Pro Tip: This is a fantastic spot for a picnic. There are plenty of tables at the site for packed lunches, and the pool into which the waterfall flows is big and deep enough for swimming.
7. Graces High Falls
Little River Canyon National Preserve, Fort Payne
Graces High Falls is located within the Little River Canyon National Preserve. Though only visible seasonally, this waterfall is one of Alabama's highest waterfalls. Plunging 133 feet into the canyon below, the waterfall features a view you can't find anywhere else. If there's been recent rainfall, you'll be treated to many smaller creeks and waterfalls while exploring this area.
If you're driving through the canyon on the 11-mile scenic drive, you can stop at the overlook to view Graces High Falls on Canyon Rim Drive. Hiking into the canyon at the base of the falls is not for the faint of heart and is rated as strenuous.
8. Walls Of Jericho
Skyline Wildlife Management Area, Skyline
This hidden waterfall is not easy to get to, but if you're up for an adventure, it's well worth it. The waterfall is one of the most unusual I've seen. There are actually two. At the upper falls, the cascading water disappears into a horizontal cave which comes out downstream through a vertical cave forming the cascades of the lower waterfall. You're looking at a little over 6 miles round-trip with a 1,000-foot plus descent into the canyon. Of course, what goes down must come back up, so keep that in mind when planning your hike. To reach the upper waterfall, you'll have to do a little climbing along a rock ledge about 5 feet off the ground. This is hands-down my favorite hike in Alabama.
9. High Falls
High Falls Park, Grove Oak
Marvel at the scenic vistas and majestic waterfall at High Falls Park. The centerpiece of the park is the 35-foot waterfall. The falls are home to a 25-foot natural bridge carved out of the rock by the flowing water over hundreds of years. High Falls is situated on Town Creek, which runs into Lake Guntersville, Alabama. It is reached by a short hiking trail running alongside the falls and a pedestrian bridge that spans them, offering impressive views of the flowing water.
Bonus: Hemlock Falls And Cherokee Falls
Cloudland Canyon State Park, Rising Fawn, Georgia
These two waterfalls are a bonus because they are not in Alabama. They straddle the state line between the two states in the spectacular Cloudland Canyon State Park in Rising Fawn, Georgia. This scenic park, barely across the state line, is home to the two incredible waterfalls, and if you've made it to DeSoto State Park, you are only a short drive from them.
The waterfalls I've told you about already in this article are easily accessible on short walks. Hemlock Falls and Cherokee Falls offer a bit more of a challenge. Both are in Cloudland Canyon and can be accessed by a moderately strenuous hike with many stairs. As in 600 stairs! It is well worth the effort if you're up to it.
The Waterfalls Trail begins at the Main Trailhead and drops quickly into the canyon depths. It's about a half mile to Cherokee Falls and a much steeper half mile to Hemlock Falls. The flow of water over the falls varies significantly from week to week and month to month, but in general, winter and spring offer the strongest and most constant flow. Check with rangers to gauge the current flow when you visit.
Pro Tip: I like to hike directly to Hemlock Falls, saving a stop at Cherokee Falls for the return trip. It's a nice break from the stairs on the way up.
Alabama is sometimes referred to as the land of 1,000 waterfalls. Unfortunately, many that you'll find in other articles are located on private property or are dangerous to get to. For example, Caney Creek Falls in the Sipsey Wilderness is not on private property, but the parking area is, and the owner will have your car towed. Salt Creek Falls in the Talladega National Forest is beautiful but extremely dangerous. The treacherous trek has resulted in numerous accidents and even deaths, so I can't recommend visiting.
But don't let that discourage you from seeing Mother Nature at her best. Pick a waterfall from this list and enjoy the beauty and diversity of Alabama (and a tiny corner of North Georgia).
You'll never regret the time spent in nature.