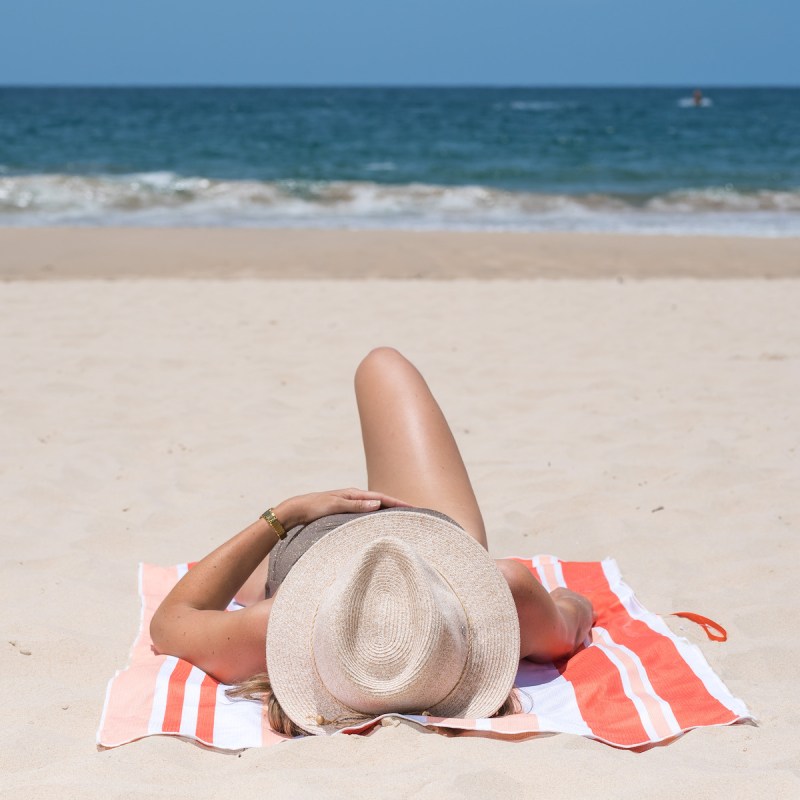 If you thought a beach towel was just a beach towel, how wrong you are. While beach towels back in the day were pretty standard and only varied in stripes or maps or beach images in the design, today you can get sand-free beach towels, super absorbent beach towels, lightweight, luxury — the list goes on.
So whether you choose your beach towel based on practicality, appearance, softness, or a combination of all of these, there's a beach towel that's right for you. I love a good beach towel and tend to save them specifically and exclusively for beach use, keeping them aside for the times we get to travel to the coast, but some beach towels are as luxurious as your bath towels at home and can be used anytime.
To find the beach towel that's right for you this year, I took a deeper look at the best beach towels for 2023.
Buy Now
Best for Sand Free
The days of trying to dry yourself after a swim at the beach with a towel full of sand are over. These days beach towels are much more innovative. The CGear beach towels use patented technology that makes them sand-free.
These sand-free towels have a two-layer design which means the sand can only travel in one direction through the towel, and back out onto the beach. One flap of the towel when you pick it up from the ground, and there's no trace of sand left on or in the fabric. It's not a big thick luxurious towel, but it is very practical.
It folds down very small, making it easy for packing, and it's lightweight, so you're not lugging around heavy towels in your beach bag. It has a handy hanging strap, so you can hang it on hooks to dry out, or for when you're at the pool. It's big enough for one adult to lie on, and it's lovely and soft to the touch.
Buy Now
Best for Quick Drying
The RockyCay towels are great for the beach, but they are especially good for around the pool and even at the spa, as they dry three times faster than traditional towels. This means you can use it when you come out of the pool, hang it up to dry, and use it again after your next dip without having to deal with any sogginess.
Because it's a fast-drying towel, it doesn't feel like a traditional towel. It isn't thick like a regular towel, instead, it's lightweight and feels silkier than normal towel fabric. It feels a little odd at first, as it doesn't really feel like a towel, but it's soft and it does its job perfectly, and you soon get used to the unusual feel of it.
These towels come with a small drawstring travel bag to keep the towel in, but you can also easily fold them up small and pack them with your regular luggage or everything you need for a day at the beach. They come in stripes and a design that looks like the surface of a pool, but I really like the aqua green one as it reflects the color of the sea.
Buy Now
Best for Luxury
This oversized, thick, and soft towel is definitely on the luxury end of beach towels. Laguna Beach has produced a towel that's big enough for tall people to use comfortably and for smaller people to wrap themselves up in for the ultimate coziness — perfect for sitting by the pool or for long afternoons at the beach.
The sheer size of this towel makes it perfect for poolside use as you can lay it out on a lounger and dry every bit of yourself when you get out of the water. It's durable, as its heavyweight and can withstand a lot of use, and washes beautifully.
It's between 25 percent and 50 percent thicker than any other towel on our list, so if you like your beach towel to be plush, this is the one for you. The thickness and size of this towel do make it less portable, but it's definitely worth making room in your suitcase for.
Buy Now
Best for Lightweight
For the perfect combination of softness for comfort and lightweight enough for traveling, try this Serena & Lily towel. The Mallorca Towel is a classic striped beach towel that comes in red, yellow, blue, green, white, and seashell. The design is simple and so is the idea of the towel. It's traditional and soft, but still lightweight enough to roll up in a beach bag and carry anywhere with you.
The towels feature fringing, which some people will like and some won't. I like it, as it adds a little something extra to your look while you're at the beach or poolside. But it's the versatility of this towel that really makes it a winner. It's soft enough to use as a regular towel, but it looks like a beach towel and is very portable.
Buy Now
Best for Absorbency
The Brooklinen beach towel is a 96 percent cotton towel, with velour softness on one side and terry toweling on the other for extra absorbency. The terry 600 GSM backing makes this towel as absorbent as any bath towel you use at home, so it's ideal for use around the pool for quick dips and for a day at the beach.
It's large enough for an adult and one child to sit on and is great for wrapping yourself up in. But its main feature is what a towel is really about: it's super absorbent. Drying yourself with this towel only takes moments and the towel itself dries quickly too, so although it's very absorbent, it doesn't hold that water.
The design is a traditional-looking beach towel, with waves of colors in orange, red, green, and blue. I like the cabana one, as the colors are of the beach.